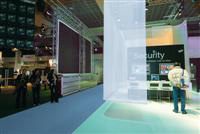 An unprecedented demand from exhibitors for stand space at ISE 2007 has prompted the show organisers to open up a fourth hall at the Amsterdam RAI. Floor space at Halls 1, 2 and 3 is at near capacity and with enquiries from potential exhibitors continuing to flood in, the organisers had to act quickly by securing further space to meet the demand. Companies wishing to take part in ISE 2007 can now book space in Hall 4. Based on the incredible success of its last edition, ISE 2007 is on target to again break all records.
Overall, 400 exhibitors are expected to attend ISE 2007, up from 300 at this years event.
Integrated Systems Europe's organisers have signed up some big names to exhibit at Integrated Systems Europe 2007. Brands including Thompson Grass Valley, Sony, Eiki, Crestron, Mitsubishi, Kramer and Extron are returning and will be occupying significant floor space at the show. And with the recent signing of Canon and Yamaha as exhibitors for 2007, these big names lend extra legitimacy to this event, which enters its fourth edition.
Integrated Systems Europe Managing Director, Mike Blackman said that a massive upturn in the AV Systems Integration market, recent strong performances at InfoComm and CEDIA was behind the surge in exhibitor interest for ISE 2007. CEDIA has just closed in London with record attendances and a packed conference programme.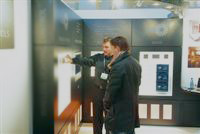 "This year, we have seen an unprecedented buzz in the industry," Blackman said. "The AV Systems Integration industry is on the increase and is gaining strength. At InfoComm and CEDIA, the shows were on fire, and we can see a similar trend happening for ISE as well."
"Even with seven months to go, this is rapidly turning into a very exciting event indeed, with some of the biggest names in the business taking part in the show. We're working hard to ensure that there will be a massive media presence to witness the huge amount of promotional activity that is being planned throughout the show. And with new innovations and displays being added all the time, ISE 2007 will become the true European hot ticket for 2007."
Download PDF version