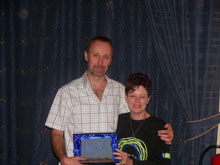 HID Global, the trusted leader in providing solutions for the delivery of secure identity, held its "Connect with Sales Day" for HID Connect™ EMEA partners at the London Hilton Stansted UK on September 19, 2007. Following the success of iNNOVATIONS 2006, the one-day event provided a forum for key stakeholders of HID Connect to meet HID solution partners, HID EMEA sales staff, business development and marketing teams and senior HID Global executives. The event also provided an unrivalled opportunity for networking amongst all attendees.
Solutions showcased at the event demonstrated the broad range of applications available from HID Connect partners. They include physical access control, ID badge printing, cashless vending, Network security, biometric readers, Mobile applications, secure printing, and long-range parking solutions. ID Identity's iDIRECTOR™ technology, a flexible and powerful platform that significantly eases the deployment of identity credentials, was also introduced at the partner event.
To recognise the dedication and commitment of the HID Connect Partners, a dinner was held in the evening of the "Connect with Sales Day", where partners were awarded for their outstanding efforts and contributions towards the Connect programme.
The awards were categorised into Registered Members, Partners and Advanced partners. Registered Members of the programme include N5, D3L, Jetmobile, NEDAP, Sagem, Vemco and Axxess TMC. Partners VMC, Morley Electronics, Nexus, TSSI, Salto and Nortech, received an award. SMI received an Advanced Partner award for their offerings to the HID Connect™ programme.
"I was delighted to see so many HID Connect Partners at this event," said Tony Ball, managing director of HID Global EMEA. "It was great to bring partners together and share HID's vision for the future with them."
Focused on expanding the use of HID Global technology beyond HID manufactured products, HID Connect promotes applications and products that use HID 13.56 MHz iCLASS® and 125 kHz proximity technologies. HID Connect provides a unique platform for software and hardware development capabilities.
HID Connect's ultimate goal is to help end-users to "do more than open the door" with their HID cards. Applications currently being developed through HID Connect include, but are not limited to, time and attendance, PC secure log-on, point-of-sale/cashless vending, biometrics, parking, arming/disarming of security alarm panels, electronic standalone battery powered door locks, first responder/handheld products and intercom and other communication systems.
Due to the success of "Connect with Sales Day", more HID Connect days are being planned for 2008.
Download PDF version
Download PDF version