Hikvision CCTV Transmitters & Controllers
(20)
Browse CCTV Transmitters & Controllers
Telemetry transmitters and controllers products updated recently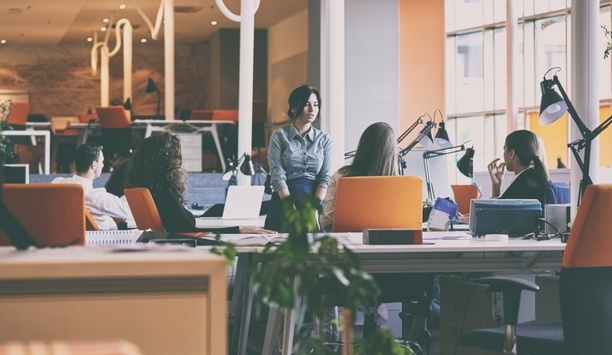 Integrated security systems for medium and large-sized offices
If you're responsible for a medium or large-sized office, it's more important than ever that you have access to a means of ensuring people's safety, managing risks and fraud, and protecting property. Any security system that you employ must therefore meet the most demanding commercial requirements of today's offices, and tomorrow's. This means thinking beyond a basic intrusion system and specifying a comprehensive solution that integrates smart features like access control, video management and intelligent video analytics. Because only then will you have security you can trust, and detection you can depend on. Reliable entry management Access control systems have been developed that guarantee reliable entry management for indoors and outdoors Access control is becoming increasingly important for ensuring the security of office buildings, but as the modern workplace evolves you're unlikely to find a one-size-fits-all solution. Today, it's commonplace to control entry to individual rooms or restricted areas and cater to more flexible working hours that extend beyond 9 to 5, so a modern and reliable access control system that exceeds the limitations of standard mechanical locks is indispensable. Access control systems have been developed that guarantee reliable entry management for indoors and outdoors. They use state-of-the-art readers and controllers to restrict access to certain areas, ensuring only authorised individuals can get in. With video cameras located within close proximity you can then monitor and record any unauthorised access attempts. The system can also undertake a people-count to ensure only one person has entered using a single pass. Scalable hardware components As previously mentioned, there is no one-size-fits-all system, but thanks to the scalability of the hardware components, systems can adapt to changing security requirements. For example, you can install Bosch's Access Professional Edition (APE) software for small to medium-sized offices, then switch to the more comprehensive Access Engine (ACE) of the Building Integration System (BIS) when your security requirements grow. And, because the hardware stays the same, any adaptations are simple. APE's 'permanent open' functionality allows employees and guests to enter designated areas easily and conveniently The APE software administers up to 512 readers, 10,000 cardholders and 128 cameras, making it suitable for small to medium-sized buildings. With functions like badge enrollment, entrance control monitoring and alarm management with video verification it provides a high level of security and ensures only authorised employees and visitors are able to enter certain rooms and areas. Of course, there will always be situations when, for convenience, you need certain doors to be permanently open, such as events and open days. APE's 'permanent open' functionality allows employees and guests to enter designated areas easily and conveniently. Growing security needs You switch to the Bosch Building Integration System (BIS), without having to switch hardware (it stays the same, remember?). This is a software solution that manages subsystems like access control, video surveillance, fire alarm, public address or intrusion systems, all on a single platform. It is designed for offices with multiple sites and for large companies with a global presence. Bosch Building Integration System (BIS) manages subsystems like access control, video surveillance, fire alarm, public address or intrusion systems, all on a single platform The BIS Access Engine (ACE) administers up to 10,000 readers and 80 concurrent workplace clients per server, and 200,000 cardholders per AMC. An additional benefit to security officers is the ability to oversee cardholders and authorisations through the central cardholder management functionality and monitor all access events and alarms from every connected site. For consistency, multi-site cardholder information and access authorisations can be created on a central server and replicated across all connected site servers, which means the cardholder information is always up to date and available in every location. Intrusion alarm systems Bosch B Series and G Series intrusion control panels can also send personal notifications via text or email Securing all perimeter doors is vital when protecting employees, visitors and intellectual property. Doors are opened and closed countless times during business hours, and when intentionally left open, your office is vulnerable to theft, and the safety of your employees is compromised. For this reason, intrusion control panels have been developed with advanced features to ensure all perimeter doors are properly closed, even when the system is not armed. If a door remains open for a period of time (you can specify anything from one second to 60 minutes), the system can be programmed to automatically take action. For example, it can activate an audible alert at the keypad to give employees time to close the door. Then, if it is still not closed, it will send a report to a monitoring center or a text directly to the office manager, and when integrated with video it can even send an image of the incident to a mobile device. Customised intrusion systems What about people who need to access your building outside of working hours, like cleaning crews? Your intruder system allows you to customise the way it operates with a press of a button or swipe of a card. This level of control enables you to disarm specific areas, bypass points and unlock doors for cleaning crews or after-hours staff, whilst keeping server rooms, stock rooms and executive offices safe and secure. Bosch B Series and G Series intrusion control panels can also send personal notifications via text or email. You can program the panel to send you opening, closing, and other event alerts, which means you don't have to be on-site to keep track of movements in and around your facility. Video management system A video management system will add a next level of security to your access control system Every office building has different video security requirements depending on the location, size and nature of the business. Some offices may only need basic functions such as recording and playback, whereas others may need full alarm functionalities and access to different sites. A video management system will add a next level of security to your access control system. For example, the video system can provide seamless management of digital video, audio and data across IP networks for small to large office buildings. It is fully integrated and can be scaled according to your specific requirements. The entry-level BVMS Viewer is suitable for small offices that need to access live and archived video from their recording solutions. With forensic search it enables you to access a huge recording database and scan quickly for a specific security event. For larger offices, embellished security functions for the BVMS Professional version can manage up to 2,000 cameras and offers full alarm and event management Full alarm and event management For larger offices, embellished security functions for the BVMS Professional version can manage up to 2,000 cameras and offers full alarm and event management. It's also resilient enough to remain operative should both Management and Recording Servers fail. Large multi-national companies often need access to video surveillance systems at numerous sites, which is why BVMS Professional allows you to access live and archived video from over 10,000 sites across multiple time zones from a single BVMS server. When integrated with the BVMS Enterprise version multiple BVMS Professional systems can be connected so every office in the network can be viewed from one security center, which provides the opportunity to monitor up to 200,000 cameras, regardless of their location. Essential Video Analytics Video analytics acts as the brain of your security system, using metadata to add sense and structure to any video footage you capture If your strategy is to significantly improve levels of security, video analytics is an essential part of the plan. It acts as the brain of your security system, using metadata to add sense and structure to any video footage you capture. In effect, each video camera in your network becomes smart to the degree that it can understand and interpret what it is seeing. You simply set certain alarm rules, such as when someone approaches a perimeter fence, and video analytics alerts security personnel the moment a rule is breached. Smart analytics have been developed in two formats. Essential Video Analytics is ideal for small and medium-sized commercial buildings and can be used for advanced intrusion detection, such as loitering alarms, and identifying a person or object entering a pre-defined field. It also enables you to instantly retrieve the right footage from hours of stored video, so you can deal with potential threats the moment they happen. Essential Video Analytics also goes beyond security to help you enforce health and safety regulations such as enforcing no parking zones, detecting blocked emergency exits or ensuring no one enters or leaves a building via an emergency exit; all measures that can increase the safety of employees and visitors inside the building. Intelligent Video Analytics Intelligent Video Analytics have the unique capability of analysing video content over large distances Intelligent Video Analytics have the unique capability of analysing video content over large distances, which makes it ideally suited to more expansive office grounds or securing a perimeter fence. It can also differentiate between genuine security events and known false triggers such as snow, rain, hail and moving tree branches that can make video data far more difficult to interpret. The final piece in your security jigsaw is an intelligent camera. The latest range of Bosch 'i' cameras have the image quality, data security measures, and bitrate reduction of <80%. And, video analytics is standard. Be prepared for what can't be predicted. Although no-one can fully predict what kind of security-related event is around the corner, experience and expertise will help make sure you're always fully prepared.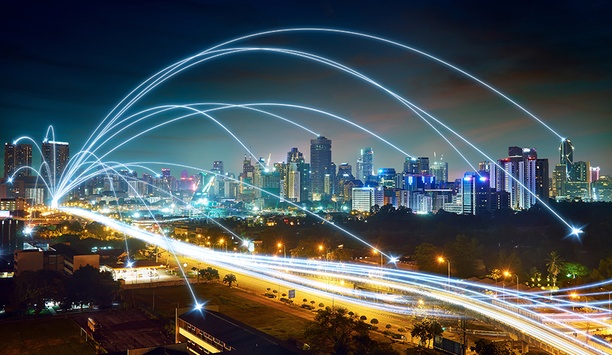 Why live video streaming is critical for safer and smarter cities
The term "smart city" gets thrown around a lot nowadays, but as different technologies that strive to be defined in this way are adopted by different countries globally, the meaning of this phrase gets lost in translation. The simplest way to define a "smart city" is that it is an urban area that uses different types of data collecting sensors to manage assets and resources efficiently. One of the most obvious types of "data collecting sensor" is the video camera, whether that camera is part of a city's existing CCTV infrastructure, a camera in a shopping centre or even a police car's dash camera. The information gathered by video cameras can be used with two purposes in mind, firstly: making people's lives more efficient, for example by managing traffic, and secondly (and arguably more importantly): making people's lives safer. Live streaming video all the time, everywhere In the smart and safe city, traditional record-only video cameras are of limited use. Yes, they can be used to collect video which can be used for evidence after a crime has taken place, but there is no way that this technology could help divert cars away from an accident to avoid traffic building up, or prevent a crime from taking place in the first place. However, streaming live video from a camera that isn't connected to an infrastructure via costly fibre optic cabling has proven challenging for security professionals, law enforcement and city planners alike. This is because it isn't viable to transmit video reliably over cellular networks, in contrast to simply receiving it. Video transmission challenges Transmitting video normally results in freezing and buffering issues which can hinder efforts to fight crime and enable flow within a city, as these services require real-time, zero latency video without delays. Therefore, special technology is required that copes with poor and varying bandwidths to allow a real-time view of any scene where cameras are present to support immediate decision making and smart city processes. The information gatheredby video cameras can beused to make people's lives more efficient, and to make people's lives safer There are many approaches to transmitting video over cellular. We've developed a specialist codec (encoding and decoding algorithm) that can provide secure and reliable video over ultra-low bandwidths and can therefore cope when networks become constrained. Another technique, which is particularly useful if streaming video from police body worn cameras or dash cams that move around, is to create a local wireless "bubble" at the scene, using Wi-Fi or mesh radio systems to provide local high-bandwidth communications that can communicate with a central location via cellular or even satellite communications. Enhanced city surveillance Live video streaming within the smart and safe city's infrastructure means that video's capabilities can go beyond simple evidence recording and evolve into a tool that allows operations teams to monitor and remediate against incidents as they are happening. This can be taken one step further with the deployment of facial recognition via live streaming video. Facial recognition technology can be added on to any video surveillance camera that is recording at a high enough quality to identify faces. The technology works by capturing video, streaming the live video back to a control centre and matching faces against any watch lists that the control centre owns. Importantly, the data of people who aren't on watch lists is not stored by the technology. Identifying known criminals This technology can work to make the city safer in a number of ways. For example, facial recognition could spot a known drug dealer in a city centre where they weren't supposed to be, or facial recognition could identify if a group of known terror suspects were visiting the same location at the same time, and this would send an alert to the police. Facial recognition technology captures and streams live back to a control centre, matching faces against any watch lists that the control centre owns In an ideal world where the police had an automated, electronic workflow, the police officer nearest to the location of the incident would be identified by GPS and would be told by the control room where to go and what to do. Most police forces aren't quite at this technological level yet, and would probably rely on communicating via radio in order to send the nearest response team to the scene. As well as this, shopping centres could create a database from analogue records of known shoplifters to identify criminals as soon as they entered the building. This would be even more effective if run co-operatively between all shopping centres and local businesses in an area, and would not only catch any known shoplifters acting suspiciously, but would act as a deterrent from shoplifting in the first place. Live streaming for police As mentioned above, live streaming video from CCTV cameras can help the police fight crime more proactively rather than reactively. This can be enhanced even further if combined with live streaming video from police car dash cams and police body worn cameras. If video was streamed from all of these sources to a central HQ, such as a police operations centre, the force would be able to have full situational awareness throughout an incident. This would mean that, if need be, officers could be advised on the best course of action, and additional police or other emergency services could be deployed instantly if needed. Incorporated with facial recognition, this would also mean that police could instantly identify if they were dealing with known criminals or terrorists. Whilst they would still have to confirm the identity of the person with questioning or by checking their identification, this is still more streamlined than describing what a person looks like over a radio and then ops trying to manually identify if the person is on a watch list. The smart, safe city is possible today – for one, if live video streaming capabilities are deployed they can enable new levels of flow in the city. With the addition of facial recognition, cities will be safer than ever before and law enforcement and security teams will be able to proactively stop crime before it happens by deterring criminal activity from taking place at all.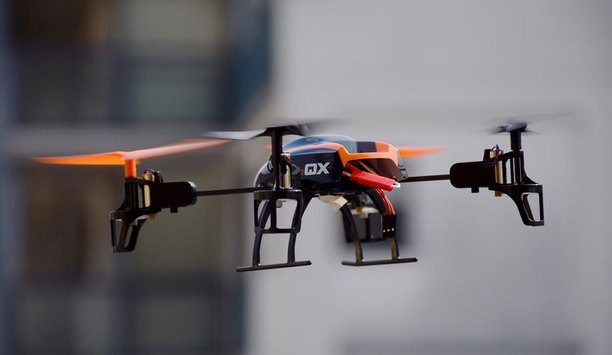 Drone terror: How to protect facilities and people
The use of drones has increased dramatically in the last few years. Indeed, by 2021, the FAA says the number of small hobbyist drones in the U.S. will triple to about 3.55 million. With that growth, drone capabilities have increased while costs have decreased. For example, the DJI Phantom 4 can deliver a 2-pound payload to a target with 1.5m accuracy from 20 miles away for the less than $1000.00. This is an unprecedented capability accessible to anyone. This new technology has created an entirely new security risk for businesses and governments. Drone security risks Already, rogue groups such as ISIS have used low cost drones to carry explosives in targeted attacks. Using this same method, targeting high profile locations within our borders to create terror and panic is very possible. Security professionals and technologists are working furiously to address the gaps in drone defence. Currently, the most common technologies in use for drone detection are video, acoustic sensors, radio, and air surveillance radar. Each of these has advantages, but they also have flaws that make it difficult to detect drones in all conditions. Both optical and thermal cameras, as well as acoustic sensors, do not operate in severe weather such as fog and snow. And while radio and air surveillance radar cover a wide area of detection, they suffer from high installation costs and limiting technical challenges, such as being unable to detect low flying drones on autopilot. Compact Surveillance Radar (CSR) Compact Surveillance Radar (CSR) is a security technology addressing the problems with other types of detection. CSR, like traditional radar, has the benefit of being able to detect and track foreign objects in all weather conditions, but at a fraction of the size and cost. The compact size allows the radar to be mounted on existing structures or even trees, providing extensive perimeter defence almost anywhere that you can imagine. CSR can also filter out clutter such as birds by using an advanced algorithm reducing the number of false alarms. While the use of CSR and the other detection technologies are legal in the US and in most locations throughout the world, the response mechanisms are generally not. Current regulations in the US prohibit the use of jamming or GPS spoofing in all cases except for a few federal agencies Regulations limiting drones Current regulations in the US prohibit the use of jamming or GPS spoofing in all cases except for a few federal agencies. This makes it difficult to stop the damage that drones can cause. The FAA has put into place new regulations that limit some uses of drones. However, in most cases it is still illegal for even state or local governments to stop or interfere with drones other than to locate the operator and have them land the drone. In 2016 the first law to neutralise a drone in the United States was passed in Utah to respond to drones in wildfire areas because of their interference with airborne firefighting. This law may very well provide a model for other states dealing with drones in situations where people's lives are being put at risk by drones. At the federal level, much effort is being put into evaluating the regulations and technology surrounding the misuse of drones. In the 2016 reauthorisation bill for the FAA, Section 2135 included a pilot program for the investigation of methods to mitigate the threat of unmanned aircraft around airports and other critical infrastructure. There are many federal agencies that are evaluating the use of a variety of technologies to respond to this threat. Both optical and thermal cameras, as well as acoustic sensors, do not operate in severe weather such as fog and snow Effective countermeasure technologies The most effective countermeasure for drones is jamming, currently off-limits to the private sector. This includes stadiums, convention centres, and other large gathering areas. A number of companies are developing new response technologies that do not require the use of jammers or hacking. Several companies have developed net guns that shoot a net at an approaching drone. These are only effective at less than 100m and frequently miss the target, especially when the drone is approaching at high speed. Several other companies have taken this method a step further, with drones that capture other drones. Once a radar detects a drone, another defence drone is launched and flies to the point of detection. Then, using video analytics it homes in on the drone and fires a net to disable the drone and take it to a safe location. While this drone capturing technique is still in its infancy, it shows a great deal of promise and will not be restricted in the same fashion as jamming. However, even this solution is difficult under current regulations, as all commercial drones in the US must be under direct control of a human operator within their line of sight. This effectively means that a drone operator is required to be on-site at all times to protect a facility, event, or persons. One thing is for certain, technology will continue to adapt and security companies will continue to invent new methods to protect their facilities and the people they are sworn to protect.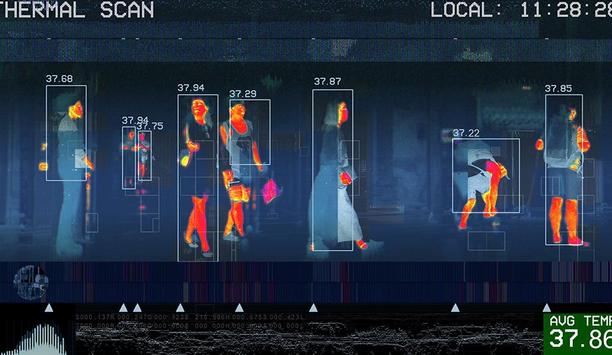 Maximising effectiveness of thermal cameras for temperature screening
Thermal cameras can be used for rapid and safe initial temperature screening of staff, visitors and customers. Used the right way, the cameras can help prevent unnecessary spread of viruses like the novel coronavirus. During the global pandemic, use of thermal cameras has increased, but they have not always been used correctly, and therefore, not effectively. Hikvision's temperature screening thermal products are currently assisting users in initial temperature screening across the global market. During 2020, demand increased in most markets, and the company highly recommends that Hikvision's thermographic cameras be used in accordance with local laws and regulations. Limitations of the technology include throughput and the impact of ambient conditions. Detect viruses and fever Hikvision releases a video that illustrates how skin temperature measurements are normalised within minutes Thermal cameras cannot detect viruses and fever and should only be used as a first line of screening before using secondary measures to confirm, says Stefan Li, Thermal Product Director at Hikvision. "We also believe it is important for businesses and authorities to use [thermal cameras] alongside a full programme of additional health and safety procedures, which includes handwashing, regular disinfection of surfaces, wearing protective clothing such as masks, and social distancing." Hikvision has released a video that illustrates how skin temperature measurements are normalised within minutes after someone emerges from the cold. Mr. Li says the video demonstrates the accuracy of forehead measurement under difficult circumstances when people come inside from a cold outdoor environment. Temperature screening facilities "There have been some claims that measuring the forehead temperature is not as accurate as measuring the inner canthus, and we believe this video demonstrates the accuracy of forehead measurement very well," he says. "We also illustrate how the skin temperature will experience a process of recovery (warming up), no matter if it is measured by a thermal camera or a thermometer." Mr. Li adds that people should wait five minutes in such circumstances before starting a temperature measurement. "We hope that stakeholders who are involved in the design of temperature screening facilities and associated health and safety procedures will recognise how important it is to consider the skin temperature recovery time, and that forehead measurement can provide accurate test results," says Mr. Li. Thermal imaging manufacturers The algorithm is based on a large number of test results to obtain a value that tends to be dynamically balanced The temperature measurement principle of thermal imaging is to detect the heat radiation emitted by the human body. The detected heat value often does not reflect the true internal body temperature of an individual. Furthermore, the temperature varies among different parts of the human, such as the forehead, ears, underarms, etc. A temperature compensation algorithm can be used to adjust the measured skin temperature to align with the internal body temperature. The algorithm is based on a large number of test results to obtain a value that tends to be dynamically balanced. At present, thermal imaging manufacturers in the market, and even forehead thermometer manufacturers, have developed their own algorithms to map the skin temperature measured by the camera to the internal body temperature, so as to compensate the skin temperature to the internal body temperature. Thermal cameras This is also why Hikvision recommends that the "actual body temperature" should be checked with a secondary device for confirmation. The calibration work for a thermal camera is completed in the production process at the factory, including calibration of reference values and detection point and so on. At the same time, the equipment parameters should be adjusted before on-site use to ensure accurate temperature reads. Hikvision does not deny the accuracy of temperature measurement at the inner canthus but prefers forehead temperature measurement and algorithms based on actual use scenarios, says Mr. Li. A large amount of test data and practical results indicates that the forehead is a correct and easy-to-use temperature measurement area, says the company. There are advantages and disadvantages of choosing different facial areas for temperature measurement. Default compensation temperature Two main approaches direct the measurement area and how compensation algorithms are applied: Forehead area + default forehead compensation algorithm value Upper half face (forehead + canthus) + default inner canthus compensation algorithm value. Both methods deploy compensation algorithms, but the default compensation temperature of the inner canthus will be less than the default compensation temperature of the forehead, generally speaking. The reason is that the temperature of the inner canthus of most people is higher than their forehead, so the temperature compensation is relatively low (i.e., closer to the actual temperature inside the body.) Upper face area Hikvision found that selecting the upper face area plus the default compensation value for the inner canthus resulted in situations when the calculated temperature is lower than the actual temperature. For the Hikvision solution, the forehead is a relatively obvious and easy-to-capture area on an entire face Mr. Li explains: "The reason is that when the camera cannot capture the position of the inner canthus (for example, when a person is walking, or the face is not facing the camera), the camera will automatically capture the temperature of the forehead. Then the result that appears is the sum of the forehead temperature plus the default compensation temperature of the inner canthus, which is lower than the actual temperature of the person being measured. Therefore, errors are prone to occur." Thermal imaging products But for the Hikvision solution, the forehead is a relatively obvious and easy-to-capture area on an entire face. Also, the default forehead compensation temperature is based on rigorous testing and can also correctly mimic the actual temperature of the person being measured, says Mr. Li. After many test comparisons, considering that the results of forehead temperature measurement are relatively more stable, and in order to avoid the false results from inner canthus temperature measurement, Hikvision chose the forehead temperature measurement approach. "We look forward to bringing thermal imaging products from a niche market where there is a relatively high-end industry application to a mass market and serving more users," says Mr. Li. Facial recognition terminals Additional application parameters can maximise effectiveness of thermal cameras for measuring body temperature: Positioning and height - All cameras must be mounted appropriately to avoid loss of accuracy and performance. The installation height of each camera must be adjusted according to camera resolution and focal length, and stable installation is needed to avoid errors caused by shaking. Ensuring a 'one-direction path' - The detection area must ensure that cameras capture the full faces of all those passing by or stopping, and obstacles should be avoided in the field of view, such as glass doors that block the camera. Adequate start-up and usage - A waiting time of more than 90 minutes is required for preheating, after the initial start-up. Before conducting a thermal scan, people should be given three to five minutes to allow their body temperature to stabilise. When Hikvision MinMoe facial recognition terminals are used, people must stand at a fixed distance, pass one by one, make a short stop, and face the camera directly. Hikvision cameras support efficient group screening, but one-by-one screening is suggested for more accurate results, says Mr. Li. Unstable environmental condition An unstable environmental condition may affect the accuracy of thermal camera systems Environmental factors can impact the accuracy of thermal cameras, and the idea of using a black body is to provide the camera with a reference point that has a stable temperature. The black body is heated to a specific temperature and helps the thermal camera to know how much error is caused by environmental factors in the room, and how the camera should calibrate itself in real time to improve its accuracy. A black body can help increase the temperature measurement accuracy, and the most common improvement is from ±0.5 degrees to ±0.3 degrees. However, it also increases the cost of the installation. In some markets, customers may require black bodies in order to comply with regulatory accuracy requirements. An unstable environmental condition may affect the accuracy of thermal camera systems for measuring temperature. Medical temperature measurement Therefore, Hikvision suggests that the ambient conditions should be met for installation and use. First of all, users should avoid installing devices in hot or changeable environments. All cameras require indoor environments with calm air, consistent temperature and no direct sunlight. Installation should also be avoided in semi-open locations that may be prone to changes in ambient conditions, such as doorways, and there should be enough stable, visible light. All devices should be installed to avoid backlighting, high temperature targets, and reflections in the field of view as far as possible. "We often see the misconception that thermal cameras can replace medical temperature measurement equipment, which is not the case," says Mr. Li. Rapid preliminary screening "Temperature screening thermographic cameras are designed for the detection of skin-surface temperatures, and the measurement should be conducted to achieve rapid preliminary screening in public areas. It is really important that actual core body temperatures are measured subsequently with clinical measurement devices."
Hikvision AcuSense Technology responds effectively to human and vehicle intrusion events
A feeling of security is a universal human need. And beyond physical, bodily security, people need to know that their environment, investments, and belongings are safe as well. Security systems are installed in homes and businesses every day to create that sense of security. Compared to conventional sensor-based alarm systems, a surveillance system that utilises cameras has several advantages: The ability to watch events in real-time, Obtaining key data around those events, and Providing solid and accurate evidence for law enforcement. AcuSense technology Hikvision AcuSense technology distinguishes people and vehicles from other moving objects Empowered by deep learning algorithms, Hikvision AcuSense technology distinguishes people and vehicles from other moving objects. AcuSense is the perfect choice for an accessible and intelligent security system. AcuSense technology helps to focus on human and vehicle events in two ways: The device will only trigger an alarm when the preset intrusion type (human or vehicle) takes place, and Videos related to alarm events are sorted into human and vehicle categories for easier footage searches. With AcuSense Technology, users get some powerful functions, such as: Accurate alarm for humans and vehicles - Focus on alarms triggered by humans and vehicles while false alarms triggered by animals or irrelevant objects are vastly reduced. Visual and auditory warning - On-site response and deterrence methods using visual and customisable auditory warnings add another layer of protection. Search targets quickly by type - Video clips sorted by human and vehicle categories, and object classification improves search efficiency. Searching video clips gets easier Video clips are already sorted into the 'Human Files' and 'Vehicle Files'. Users just need to click one of these categories and use time or location data to quickly locate the clip that they want. Compared to the conventional method that displays all video files at once, AcuSense technology enables carrying out searching much more easily. Ideal applications Residential – Intrusion detection and deterrence for home security Whether choosing to keep an eye on the house or hiring a professional service provider to look after security of the home, there are two functions that users will surely want to have: Prompt notification via smartphone Users will get a notification on the app or via SMS, when the alarm is triggered. Irrespective of who takes care of looking after intrusion events, it's always good to have first-hand information. Users will get a notification on the app or via SMS, when the alarm is triggered. Then, they can check out the live video from their smartphone. Light and Sound Intruder Deterrence Knowing what the suspect looks like is important, especially for providing evidence to police. However, property losses have already occurred at that time. It would be even better if there were means that can provide on-site deterrence and prevent any loss at all. Network Cameras with AcuSense technology Network Cameras with AcuSense technology, white light and audio alarm can be set to react to intrusion events with a flashing light and customisable siren, alerting any would-be intruder that they are being monitored and have already been spotted. Turbo DVR with AcuSense technology requires a PIR/TurboX camera for visual and audible alarm. Factories – Accurate trespass alarm, 24 hours a day Factories and warehouses store high-value raw materials or commodities. Security here is crucial. However, there is usually only limited manpower to perform such tasks. Replace security patrols with camera monitoring Using AcuSense technology can greatly improve perimeter monitoring efficiency and ensure that limited human resources can be deployed only where most needed. Accurate Trespassing Alarm for Human Targets Factories and warehouses mostly deal with human intrusion events, which might turn into burglary or vandalism. The security team can set devices with AcuSense to send alerts only upon the detection of a human intrusion. Wild animals crossing the line will no longer trigger the alarm.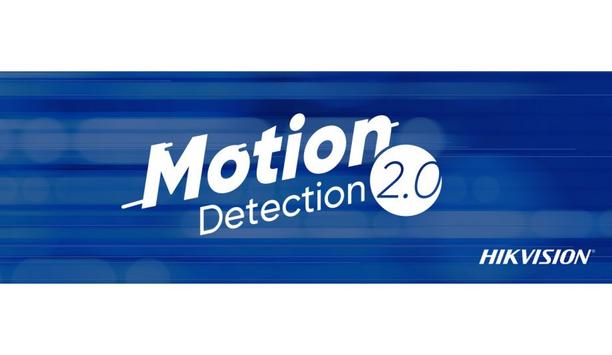 Hikvision points out how AcuSense technology supports faster detection of real security threats
Security teams using traditional motion detection technologies regularly experience false alarms caused by everything from heavy rain to falling leaves, flowing water, or even passing wildlife. To help teams identify and respond to real security breaches faster, Hikvision has embedded its flagship AcuSense technology in its Motion Detection functionality, which supports identification of human and vehicle targets, and take security teams straight to the video evidence they need. Until recently, most systems with traditional motion detection used 'pixel changes' to trigger alerts. While this approach can pick up real security threats, like an intruder breaching a perimeter wall, there is also a high risk of false alarms. Potential security threats This is especially the case in 'movement intensive' environments, such as areas close to running water, busy roads, or farms where large animals roam. In these types of spaces, many motion detection systems are unable to distinguish between normal or expected movements and potential security threats - rendering them ineffective. Additionally, there's the challenge of actually finding video evidence once a breach has occurred. In spaces where movement is constant, teams need to review every minute of footage manually - increasing workloads, frustration and - ultimately - costs as well. To address the challenges, Hikvision has upgraded its Motion Detection with its AcuSense technology. This takes motion detection to the next level with features for distinguishing human beings and vehicles from other objects in any given environment, and tools to make video searches as smart and quick as possible. Real security threats Security teams capture every potential security threat as soon as the system is up and running The first key way that Hikvision Motion Detection 2.0 improves security is by allowing administrators to easily configure alerts when people or vehicles enter an environment. If an area is usually busy with visitors or pedestrians, the systems can be configured to ignore certain areas of the screen and only generate alerts if a person or vehicle enters an unauthorised zone, for example. With automated alerts for vehicles or people entering restricted areas, security teams can respond much more quickly and effectively to potential security breaches - helping to increase protection for people and assets. The second major advantage of Motion Detection 2.0 is the ability to search video footage based on appearances of people or vehicles during a specific period of time. Activate motion detection This is to say that administrators can call up and playback video clips of people and vehicles that have been recorded on the back-end devices like NVRs or DVRs, with no need to pore over hours of video footage. This feature means that hours or even days of security footage can be reviewed in just a few minutes, and that teams can quickly find high-quality video images of critical security breaches that have occurred. While systems with Hikvision Motion Detection 2.0 offer sophisticated functionality to improve security, they are also quick and easy to configure and use. One reason for this is that the new systems activate motion detection automatically, ensuring that security teams capture every potential security threat as soon as the system is up and running. Alerts triggered by movements or by positive identification of people or vehicles are sent automatically to security teams, enabling a fast, effective response.