AMG CCTV Power supplies & batteries
(1)
Browse CCTV Power supplies & batteries
Power supply & battery products updated recently


Surge protection for security installations: 2017 saw increased investment
In 2017, DITEK saw how power surges from the many natural disasters that took place damaged many businesses. In a natural disaster, or even everyday business operations, a facility's entire investment in security, life safety and surveillance systems technology can be disabled or rendered useless in a few seconds. Surge protection solutions can mitigate those risks and protect security investments. Proactive approach to risk mitigation Throughout 2017, we also witnessed a change in how enterprises view surge protection, which included how investments are being made in surge protection to protect valuable security, life safety and surveillance systems, while also reducing downtime, manpower costs, liability vulnerabilities, and possibly compliance issues that can force businesses to actually cease operations. Effective security management is about mitigating risks. But risks cannot be mitigated without a proactive approach. Enterprises and integrators, who take the time to assess risk and to develop a strategy to incorporate effective detection, deter and response criteria to protect physical assets will be successful in 2018. 2018 and beyond That strategy includes designing surge protection into new security systems, while also adding surge protection to existing systems. Enterprises and security integrators who implement a surge protection strategy during security planning processes – or after – will be exercising prevention and mitigation, and they will be successful in 2018 and beyond. Surge protection devices have an untapped potential for enterprise surveillance and security systems In 2017, Ditek continued to offer security end users a solid surge protection solution. We also successfully educated system integrators, who are seeking value-added products or services to incorporate into their portfolios, on the importance of surge protection devices. Educating security integrators We believe that surge protection devices have an untapped potential for enterprise video surveillance and security systems, because they can and do meet safety and security challenges that have been rarely identified in the past. We are looking forward to 2018, when we will continue to develop new surge protection products – including a new product engineered to protect up to twelve individual fuel dispensers, which is critical to the financial operation of convenience stores. We will also continue to educate security integrators about the importance of including surge protection in the design/build RFP, to not only secure an enterprise's valuable security equipment, but also to help integrators to differentiate their capabilities and knowledge from the competition.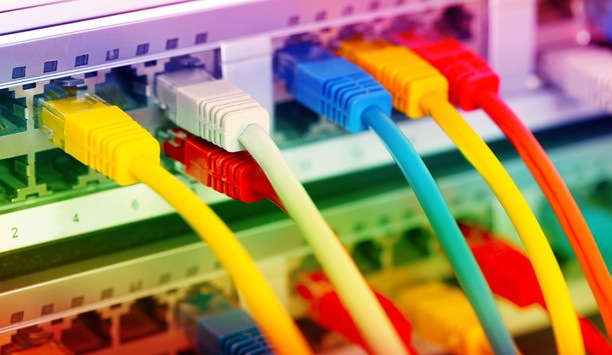 Adaptive transmission systems evolve with advanced communications
The security market in 2016 saw an uptick in the economy, the introduction of new technologies, increased compliance requirements in key verticals, and rising concerns over the need for greater security. Users interested in upgrading or deploying new systems consistently chose networked system platforms. This trend further drove the demand for adaptive transmission solutions as a means of repurposing existing analogue infrastructure to accommodate IP devices on a networked platform. As this migration accelerated, product feature sets continued to evolve with the inclusion of advanced communications that let you monitor, control and report power/diagnostics from anywhere. These new products have also helped to stimulate new business opportunities for integrators by expanding their service offerings to include remote monitoring of these devices as a new source of recurring monthly revenue (RMR). PoE and adaptive transmission solutions In last year's 2016 forecast, we discussed the integration trend and how PoE and adaptive transmission solutions with network communications were rapidly gaining traction and market share. As the year progressed, the trend increased with customers migrating towards systems that provided more data, faster transmission rates and more versatility, and accessibility anytime from anywhere. Altronix responded with more advanced product solutions. This growing trend makes it more critical than ever for the core power and transmission infrastructure that make up the foundation of these systems to include network communications for true integration. As effective and efficient as integrated IP systems have become, the cost to upgrade or install new networked systems can be prohibitive. In 2017, security professionals will require expanded options to capitalise on existing infrastructure while accommodating IP devices with new levels of performance. These new products will greatly reduce installation and maintenance costswhen deploying orupgrading systems We will see the introduction of new products that offer greater levels of integration with bundled capabilities such as PoE, network switches, versatile adaptive transmission capabilities to accommodate different types of cabling, greater bandwidth and speed, and management capabilities. These new products will greatly reduce installation and maintenance costs when deploying or upgrading systems. Altronix 2016 business overview Altronix's evolution as a designer and manufacturer of versatile power supplies and accessories – and the addition of innovative PoE and adaptive transmission solutions with network communications – was significant in 2016. We have continued to deliver new products incorporating advances in power and communication technologies that solve real-world installation issues with the highest levels of performance and cost-efficiency. One of the most significant technologies contributing to our extensive portfolio of power and adaptive transmission products is our innovative LINQ™ Technology, which provides remote control of power, along with monitoring and reporting of diagnostics from anywhere you have internet access. LINQ completes the network communication cycle for networked systems by providing true integration for power supply and adaptive transmission products that are the foundation of every system. Altronix will continue to design, manufacture and introduce new power and adaptive transmission solutions in 2017 that live up to our longstanding reputation for outstanding quality, performance and reliability. See the full coverage of 2016/2017 Review and Forecast articles hereSave Save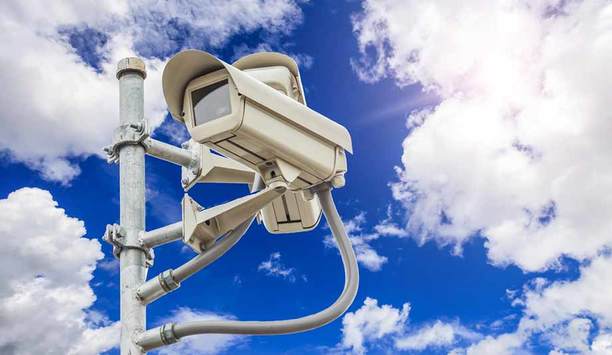 Extenders convert media for longer video distance runs
IP/PoE systems eliminate the need for local power, thus saving installation costs Cost considerations are an important reason to use existing installed cable as part of a new system infrastructure. Extenders in the form of media converters can help. For almost three decades, video surveillance systems existed in the form of analogue systems. Video coaxial cable was the primary method of transmission with a limited distance of about 750 feet. Analogue systems required separate power supply located at each security camera site. Today, new technology often solves one problem and creates another. Internet Protocol/Power over Ethernet (IP/PoE) systems eliminate the need for local power supply, thus saving installation costs. The drawback is the restriction to only 328 feet and the required use of Cat 5e or above cable. Extended transmission distance So tens of thousands of video surveillance cameras are waiting to be converted to IP, and have been transmitting over coax at distances two-and-a-quarter-times greater than the Ethernet limit. The advent of extenders helps to solve this problem. In addition, the use of extenders for Cat cable and even single-pair alarm wire helps to add to the types of IP/PoE conversions while extending distance as far as three thousand feet. Tens of thousands of camerasare waiting to be converted to IP,and have been transmitting overcoax at distances two-and-a-quarter-times greater than theEthernet limit Considerations while using extenders Use of extenders requires taking several considerations into account. First and most important is a careful reading of specifications. A statement can be true while not applying to your applications. Let's take IP/PoE transmission over coax as an example. A manufacturer's product can state it has this feature and will meet your transmission requirement of X number of thousand feet. However, a careful reading reveals that achieving this requires RG 6 cable while you have RG 59 installed. You need to maintain a 100Mbps bandwidth and provide your cable with 12.95 watts of power. But as both bandwidth and power decrease with distances obtainable from many types of extensions, you realise that both are much less at the extended distance you require. In short, just depending on a product to make a simple specification statement is not enough when it comes to infrastructure considerations and especially with regards to extenders. Save Save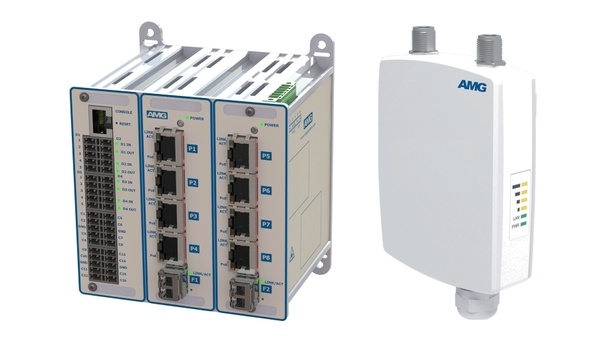 AMG to showcase latest range of IP and wireless transmission technologies at IFSEC 2019
AMG, the ISO 9001:2015 approved UK manufacturer and provider of environmentally robust fibre, analogue, IP/ethernet, wireless & hybrid communication transmission solutions, is inviting visitors to IFSEC 2019 to see their latest range of transmission technologies, at stand number IF131. To be found on AMG partner stand, ICAD, who provide world-class technology services for facilities, AMG will be exhibiting models representing their latest industrial switches with up to 90W PoE capability and new Skywave 3F Wireless range. Web-browser interface Visitors will see AMG's range of managed 'PLUS' industrial Ethernet switches which feature 90W PoE per port On the ICAD stand, visitors will see AMG's range of managed 'PLUS' industrial Ethernet switches which feature 90W PoE per port and offer full Layer 2 Managed Ethernet functionality. Compliant with all IEEE 802.3 variants (u/ab/x/z), the new switches have up to 8 Fast or Gigabit Ethernet ports, with up to 2 additional Dual Speed SFP ports for data uplink, and as with all AMG Managed 'Plus' switches, a console port as standard, and a web-browser interface for configuration of all aspects of the device. Supporting 10/100/1000Mbps data rates, full duplex, the DIN rail mountable devices are ideally suited for connecting and powering field based equipment (such as IP CCTV cameras and industrial controllers) to Ethernet networks, using all variants of multimode and single mode fibre to cover distances up to 120Kms. Wireless communication Extremely compact and lightweight, AMG will also show the new AMG8870F-06 Skywave 3F Outdoor Wireless Radio, designed to deliver the highest performance and stability available in the 5GHz 802.11ac class. Skywave 3F's feature-rich operating system is optimised for ultra-high performance wireless communication Skywave 3F's feature-rich operating system is optimised for ultra-high performance wireless communication with 450Mbps compressed video throughput, utilising a powerful hardware platform and incorporating a QCA 9563 CPU (750 MHz), QCA 9882 radio, 64Mbs of RAM and 16Mb flash memory. The AMG8870F-06 radio is an ideal solution for capacity demanding point-to-point or point-to-multipoint network applications. Industrial switches "We're looking forward to discussing AMG's existing and new range of technologies that offer a broad range of high-performance transmission solutions for any application," says Sara Fisher, Business Development Director at AMG. "We're delighted to be involved with ICAD and will be co-promoting the deployment of our industrial switches, up to 90W PoE capability and new wireless range, to support world-class system projects." At the show, AMG's Sara Fisher, Alan Hayes and Leona Hayes will be on hand to discuss any technology or project requirement.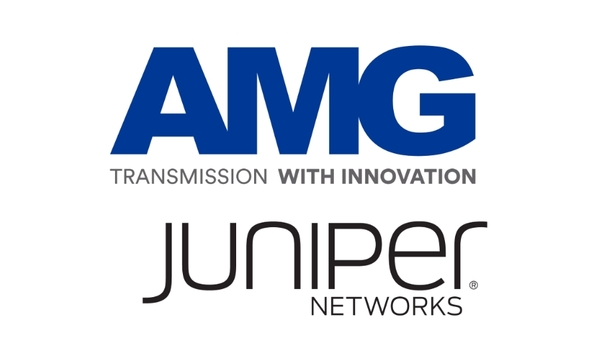 AMG Systems partners with Juniper Networks to provide single-source, enterprise-level networking solution
AMG Systems is proud to announce that it has partnered with Juniper Networks, a provider of automated, scalable and secure networks, to offer its clients a single-source, enterprise-level, total networking solution. Customers will now be able to take advantage of both AMG's specialised edge of network transmission systems for video security and other devices and Juniper's core Layer 3 backbone networks, all provided by a single-source supplier. AMG Systems is the only UK-based IP and Ethernet switch product manufacturer and solution provider. Aiming to create simplicity through engineering, Juniper works to solve the world's most difficult problems in network technology. Enhanced customer support Utilising a single supplier for an end-to-end networking solution can lower risk for usersThe new partnership means that AMG Systems will become an authorised reseller of Juniper Networks solutions through added value EMEA distributor, Nuvias. AMG Sales and Technical Support Manager, Ian Creary, says this will provide enormous benefit to customers. "They'll receive even greater support with system design and product specification from AMG," he says. "We have a reputation for providing the highest quality service and support, and that will only be enhanced now that our offering has expanded to include this full network provision capability." AMG Business Development Director, Sara Fisher, says utilising a single supplier for an end-to-end networking solution can lower risk for users. "They have the peace of mind that only comes when both aspects of a network are designed and implemented together," she says. Software-defined networking solutions The partnership between Juniper and AMG is significant and exciting because it offers users the very best of both worlds""There's no danger that the core network and the specialist edge network will be working at cross-purposes because they both come from the same reliable source. The partnership between Juniper and AMG is significant and exciting because it offers users the very best of both worlds, but with a single point of contact." Rob Neal, Area Partner Director, UK and Ireland at Juniper Networks, says with video security and related smart devices as one of the IoT use cases, these systems can provide peace of mind and protection for people, assets and infrastructure. "Implementing and integrating these systems into an existing network can be complex, and means overcoming new infrastructure, security, and innovation challenges," Neal says. "Juniper is ready to help with software-defined networking solutions that address and simplify the tasks that could otherwise derail big IoT projects."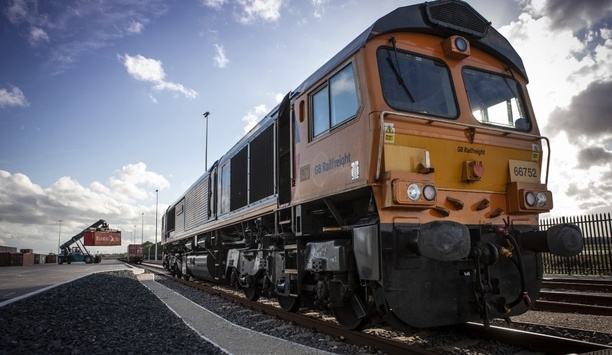 Daemon and AMG Systems provide video surveillance network for new iPort Rail terminal in the UK
A video surveillance system installed by Daemon Fire & Security, based on an AMG Systems-supplied Ethernet switch network, is helping to protect the UK's first new inland rail freight hub for over a decade: iPort Rail. The iPort project near Doncaster, South Yorkshire, offers 6 million square feet of space across 337 acres. The massive park is already home to enormous distribution facilities for companies like Amazon, CEVA, Fellowes and Lidl, and its occupancy is set to expand in the coming years. The newly developed iPort Rail terminal, located on its own 30-acre site within iPort, is connected to the electrified East Coast Main Line via the South Yorkshire Joint Line. It offers integrated access to iPort, meaning occupiers can directly approach the rail terminal using their own specialist vehicles on the facility's private roads. Implementing video surveillance system The cameras we are using are from Bosch, and they are monitored and recorded using the Bosch Video Management System"The terminal can handle up to six trains a day, operating 24-hours, six days a week. Each train can be the maximum UK length of 775m. iPort Rail has an 800m reception siding and two 400m handling sidings, with storage capacity for 1,500 shipping containers. With iPort Rail playing such a crucial role in developer Verdion's iPort transportation strategy, there was a pressing need to ensure that the terminal has effective ongoing video monitoring. Buckingham Group Contracting Ltd was responsible for the work on iPort Rail, and they worked with CCTV specialist Daemon Fire & Security to implement the video surveillance system for the perimeter of the terminal. Chris Tattersall, Technical Director at Daemon, said the system runs on a redundant fibre optic network. "AMG Systems assisted us with the fibre optic network design." Tattersall said. "The cameras we are using are from Bosch, and they are monitored and recorded using the Bosch Video Management System. The cameras are on towers from Altron, and the networking is from AMG." Cameras for intrusion detection The cameras utilise Bosch analytics, monitoring the perimeter fence for people approaching and trying to climb over or cut through"There are 32 cameras mounted on 18 towers around the rail terminal site perimeter. Tattersall explained that the cameras are primarily used as detectors to monitor for trespass or intrusion. "The cameras utilise Bosch analytics, monitoring the perimeter fence for people approaching and trying to climb over or cut through," he said. "The cameras are monitored live by the 24-hour security team in the site gatehouse. The system is networked using equipment and expertise from AMG Systems. Daemon and AMG designed a failsafe fibre optic ring system together," Tattersall said. "From the gatehouse there's a fibre optic cable which goes and loops around every camera tower and goes back to the gatehouse," he said. "It's a redundant ring, so if they get a fault or deliberate cut, everything will carry on working. We're using industrial PoE Ethernet switches in the towers so they can withstand low temperatures, which is particularly important during cold winters in a relatively open site like this." Operative in extreme temperatures The industrial managed switches are able to operate in temperatures ranging from -40 deg C to 75 deg CThe industrial managed switches, 20 of which were used in this project, are able to operate in temperatures ranging from -40 deg C to 75 deg C and are designed for medium to large network environments to strengthen network connections. AMG Business Development Director Sara Fisher said AMG was thrilled to be involved in this project. "We were delighted to be asked by Daemon to contribute our design and product expertise to help protect this important and growing freight hub," she said. Daemon's video surveillance project took around 10 weeks in total, including implementation and commissioning. It was handed over on time and installed on target. Tattersall said the smooth running of the project could be put down to Daemon's good working relationship with contractor Buckingham, distributor Pro-Vision, networking and transmission expert AMG Systems, and product suppliers Bosch and Altron.
Featured white papers
5 steps to finding the right access control system for you
Download
Why outdated access control systems are a big problem
Download
Five things to consider for AI with video technology
Download