Sony CCTV Power supplies & batteries
(12)
Browse CCTV Power supplies & batteries
Power supply & battery products updated recently


Surge protection for security installations: 2017 saw increased investment
In 2017, DITEK saw how power surges from the many natural disasters that took place damaged many businesses. In a natural disaster, or even everyday business operations, a facility's entire investment in security, life safety and surveillance systems technology can be disabled or rendered useless in a few seconds. Surge protection solutions can mitigate those risks and protect security investments. Proactive approach to risk mitigation Throughout 2017, we also witnessed a change in how enterprises view surge protection, which included how investments are being made in surge protection to protect valuable security, life safety and surveillance systems, while also reducing downtime, manpower costs, liability vulnerabilities, and possibly compliance issues that can force businesses to actually cease operations. Effective security management is about mitigating risks. But risks cannot be mitigated without a proactive approach. Enterprises and integrators, who take the time to assess risk and to develop a strategy to incorporate effective detection, deter and response criteria to protect physical assets will be successful in 2018. 2018 and beyond That strategy includes designing surge protection into new security systems, while also adding surge protection to existing systems. Enterprises and security integrators who implement a surge protection strategy during security planning processes – or after – will be exercising prevention and mitigation, and they will be successful in 2018 and beyond. Surge protection devices have an untapped potential for enterprise surveillance and security systems In 2017, Ditek continued to offer security end users a solid surge protection solution. We also successfully educated system integrators, who are seeking value-added products or services to incorporate into their portfolios, on the importance of surge protection devices. Educating security integrators We believe that surge protection devices have an untapped potential for enterprise video surveillance and security systems, because they can and do meet safety and security challenges that have been rarely identified in the past. We are looking forward to 2018, when we will continue to develop new surge protection products – including a new product engineered to protect up to twelve individual fuel dispensers, which is critical to the financial operation of convenience stores. We will also continue to educate security integrators about the importance of including surge protection in the design/build RFP, to not only secure an enterprise's valuable security equipment, but also to help integrators to differentiate their capabilities and knowledge from the competition.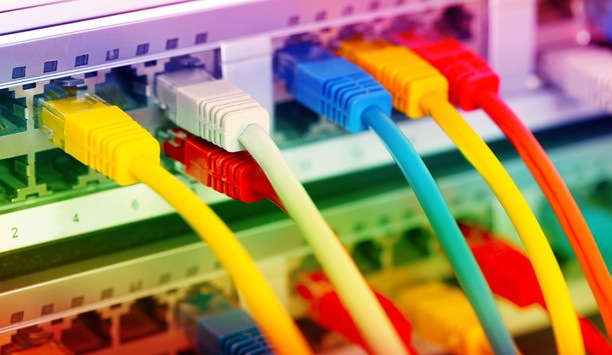 Adaptive transmission systems evolve with advanced communications
The security market in 2016 saw an uptick in the economy, the introduction of new technologies, increased compliance requirements in key verticals, and rising concerns over the need for greater security. Users interested in upgrading or deploying new systems consistently chose networked system platforms. This trend further drove the demand for adaptive transmission solutions as a means of repurposing existing analogue infrastructure to accommodate IP devices on a networked platform. As this migration accelerated, product feature sets continued to evolve with the inclusion of advanced communications that let you monitor, control and report power/diagnostics from anywhere. These new products have also helped to stimulate new business opportunities for integrators by expanding their service offerings to include remote monitoring of these devices as a new source of recurring monthly revenue (RMR). PoE and adaptive transmission solutions In last year's 2016 forecast, we discussed the integration trend and how PoE and adaptive transmission solutions with network communications were rapidly gaining traction and market share. As the year progressed, the trend increased with customers migrating towards systems that provided more data, faster transmission rates and more versatility, and accessibility anytime from anywhere. Altronix responded with more advanced product solutions. This growing trend makes it more critical than ever for the core power and transmission infrastructure that make up the foundation of these systems to include network communications for true integration. As effective and efficient as integrated IP systems have become, the cost to upgrade or install new networked systems can be prohibitive. In 2017, security professionals will require expanded options to capitalise on existing infrastructure while accommodating IP devices with new levels of performance. These new products will greatly reduce installation and maintenance costswhen deploying orupgrading systems We will see the introduction of new products that offer greater levels of integration with bundled capabilities such as PoE, network switches, versatile adaptive transmission capabilities to accommodate different types of cabling, greater bandwidth and speed, and management capabilities. These new products will greatly reduce installation and maintenance costs when deploying or upgrading systems. Altronix 2016 business overview Altronix's evolution as a designer and manufacturer of versatile power supplies and accessories – and the addition of innovative PoE and adaptive transmission solutions with network communications – was significant in 2016. We have continued to deliver new products incorporating advances in power and communication technologies that solve real-world installation issues with the highest levels of performance and cost-efficiency. One of the most significant technologies contributing to our extensive portfolio of power and adaptive transmission products is our innovative LINQ™ Technology, which provides remote control of power, along with monitoring and reporting of diagnostics from anywhere you have internet access. LINQ completes the network communication cycle for networked systems by providing true integration for power supply and adaptive transmission products that are the foundation of every system. Altronix will continue to design, manufacture and introduce new power and adaptive transmission solutions in 2017 that live up to our longstanding reputation for outstanding quality, performance and reliability. See the full coverage of 2016/2017 Review and Forecast articles hereSave Save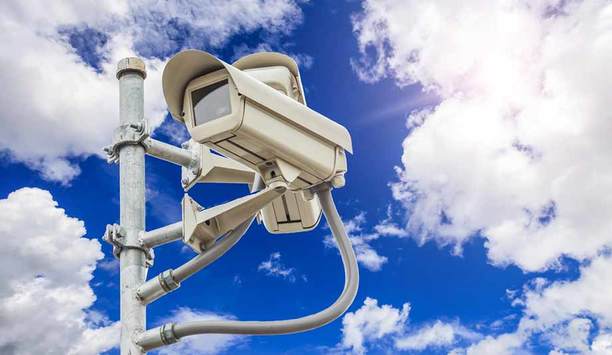 Extenders convert media for longer video distance runs
IP/PoE systems eliminate the need for local power, thus saving installation costs Cost considerations are an important reason to use existing installed cable as part of a new system infrastructure. Extenders in the form of media converters can help. For almost three decades, video surveillance systems existed in the form of analogue systems. Video coaxial cable was the primary method of transmission with a limited distance of about 750 feet. Analogue systems required separate power supply located at each security camera site. Today, new technology often solves one problem and creates another. Internet Protocol/Power over Ethernet (IP/PoE) systems eliminate the need for local power supply, thus saving installation costs. The drawback is the restriction to only 328 feet and the required use of Cat 5e or above cable. Extended transmission distance So tens of thousands of video surveillance cameras are waiting to be converted to IP, and have been transmitting over coax at distances two-and-a-quarter-times greater than the Ethernet limit. The advent of extenders helps to solve this problem. In addition, the use of extenders for Cat cable and even single-pair alarm wire helps to add to the types of IP/PoE conversions while extending distance as far as three thousand feet. Tens of thousands of camerasare waiting to be converted to IP,and have been transmitting overcoax at distances two-and-a-quarter-times greater than theEthernet limit Considerations while using extenders Use of extenders requires taking several considerations into account. First and most important is a careful reading of specifications. A statement can be true while not applying to your applications. Let's take IP/PoE transmission over coax as an example. A manufacturer's product can state it has this feature and will meet your transmission requirement of X number of thousand feet. However, a careful reading reveals that achieving this requires RG 6 cable while you have RG 59 installed. You need to maintain a 100Mbps bandwidth and provide your cable with 12.95 watts of power. But as both bandwidth and power decrease with distances obtainable from many types of extensions, you realise that both are much less at the extended distance you require. In short, just depending on a product to make a simple specification statement is not enough when it comes to infrastructure considerations and especially with regards to extenders. Save Save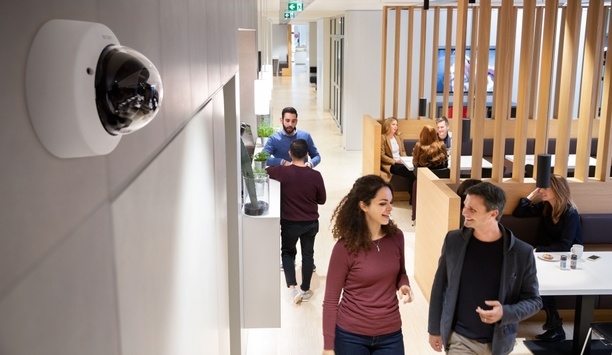 Sony and Bosch exhibit multi-sensor dome and mini-dome network cameras together at ISC West 2019
Shown for the first time at ISC West (April 10-12, 2019) in Las Vegas, a range of new network cameras underlines the successful partnership between Sony and Bosch that leverages both companies' complementary skills in cutting-edge digital image sensing and processing technologies. Rugged dome cameras Sony's star product at ISC West is the SNC-WL862 Multi-Sensor Adjustable Dome Network Camera. Ideal for high quality 'all round' video monitoring in corporate environments and public spaces, it captures detail-packed images with a total resolution of 20 megapixels via four independent five megapixels CMOS image sensors and varifocal lenses. Inside SNC-EMX30 models, Sony's Exmor CMOS sensor captures Full HD video at 30fpsThis allows to view four different regions of interest simultaneously, simplifying installation and lowering costs by reducing the total number of cameras needed. Offering 360° video coverage from one camera with a single IP address, the rugged SNC-WL862 is armored with a robust IP66 and IK10-rated housing to withstand rain, dust and vandalism. In addition, six brand new EMX-series minidome cameras answer customer demand for smooth, stable images and intelligent analytics at a compelling price. Inside SNC-EMX30 models, Sony's Exmor CMOS sensor captures Full HD video at 30fps. SNC-EMX50 models upgrade quality and sensitivity even further with a five-megapixel Exmor R CMOS sensor. Cameras with an 'R' suffix in the model name include an integral infrared (IR) illuminator, delivering clear B/W images in conditions of complete darkness. Video analytics and network security On-board Essential Video Analytics bring extra intelligence to security applications, combining high-resolution images with associated metadata that is most useful to users. Network security is also a key focus, with the cameras' Trusted Platform Module and latest encryption/authentication measures guarding against malicious attacks. The new SNC HMX72 is a ruggedised 360-degree hemispheric-view camera version that is ideal for outdoor environments In common with the multi-sensor camera, all EMX-series models feature on-board wide dynamic range technology to ensure evenly exposed footage, even in high contrast scenes with bright highlights and dark shadow detail. Intelligent streaming and Intelligent Dynamic Noise Reduction techniques combined with the efficient H.265 codec reduce bandwidth requirements by up to 80 percent and save storage while maintaining superb video performance. Edge recording onto removable microSD card ensures superior reliability in case of network interruptions, while compliance with ONVIF Profiles S, G and T facilitates interoperability with other network video systems. Sony video cameras Complementing the portfolio, the new SNC HMX72 is a ruggedised 360-degree hemispheric-view camera version that is ideal for outdoor environments like railway stations, campuses and pedestrian areas. The market leading quality and reliability of all video security cameras from Sony is backed by a 3-year warranty with fuss-free extension options from Bosch. Registered video security partners can access additional benefits including an Advanced Exchange scheme.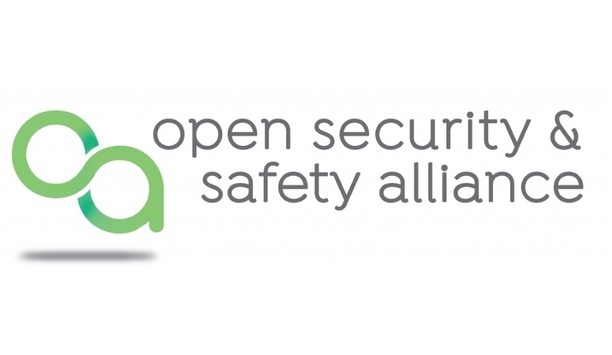 The Open Security & Safety Alliance membership doubles within six months; attracts players from different sectors
The newly established Open Security & Safety Alliance (OSSA or 'the Alliance'), a non-profit, non-stock corporation formed to outline specifications for a common standardised platform for security and safety solutions, announced that since its formation in Fall 2018, the organisation has grown by 50% and initiatives are in full-swing. The Alliance is quickly attracting players ranging from device manufacturers, software developers and system integrators to distributors and system on a chip (SoC) companies. "We're extremely pleased OSSA is drawing strong support from progressive companies across various sectors, as our purpose is to all start from a common platform business model to spur innovation and add real value for customers and users as they manage and monitor property, people and surrounding circumstances," said Johan Jubbega, President, Open Security & Safety Alliance. "Each new member brings diverse insight and expertise to the bigger picture we're working to bring into focus for stakeholders in the security, safety, building automation solutions and associated industries." OSSA member roster The Open Security & Safety Alliance's five founding companies – Bosch Building Technologies, Hanwha Techwin, Milestone Systems, Pelco by Schneider Electric and VIVOTEK Inc. – today are working alongside 15 inventive international players that currently comprise the OSSA member roster: OSSA Member Business Focus Aitek Management Software Provider Ambarella Inc. SoC Manufacturer AndroVideo Inc. Video Surveillance Device Manufacturer Anixter Inc. Distributor HiSilicon Technologies Co., LTD SoC Manufacturer Hunt Electronic Video Surveillance Device Manufacturer Kings Secure Technologies Installation/Commissioning Services NetApp Inc. Recording/Storage Device Manufacturer QUALCOMM Incorporated SoC Manufacturer Security & Safety Things GmbH (SAST) Service Provider SOCIONEXT Inc. Video Surveillance Device Manufacturer Sony Imaging Products & Solutions Inc. Imaging Products & Solutions Topview Optronics Corp. Video Surveillance Device Manufacturer Wavestore Global Ltd Management Software Provider United Technologies Access Control Device Manufacturer Differentiating security and safety use cases Workgroups have been instrumental in launching key programs throughout the past six months. To support the Alliance's mission to drive the development of differentiating security and safety use cases – including those utilising Artificial Intelligence (AI) and machine learning – members have already achieved valuable outputs including: Specification of a common Technology Stack to cater to innovation and reduce market fragmentation Definition of a common and vendor-agnostic operating system (OS) that together with the Technology Stack will fuel the development of value-added solutions for customers and users Description of a common market approach to data security and privacy Establishment of an ecosystem of like-minded companies Keynote speeches at Milestone's Integration Platform Symposium and VIP customer events in the U.S., EMEA and Asia-Pacific region First prototype cameras based on the commonly defined Technology Stack and OS have been realized and will be showcased at ISC West 2019 Benefits of joining OSSA The Alliance is designed to include everyone and offers membership levels to meet the needs of companies big or small. Benefits of joining OSSA include access to the Alliance framework and the ability to connect, discuss, influence and collaborate with other Alliance members to steer change for the betterment of the industry. Together, OSSA members are providing standards and specifications for common components including an operating system, IoT infrastructure, collective approach for data security and privacy, and a drive for improved levels of performance across products, solutions and services. Visitors for ISC West are invited to hear first-hand about the benefits of OSSA membership. Many members will be exhibiting at the event.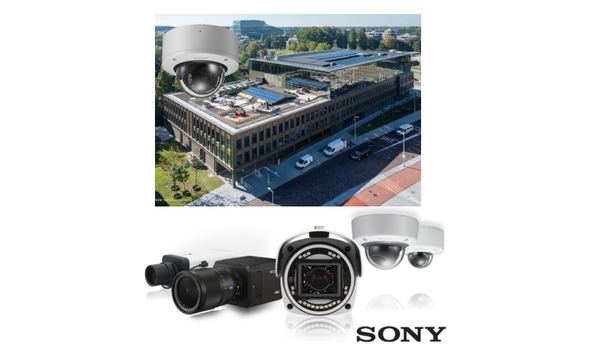 Sony 4K security cameras are the 'intelligent eyes' at Amsterdam's iconic EDGE Olympic
Sony 4K security cameras act as 'intelligent eyes' at EDGE Olympic, one of Amsterdam's most technologically advanced sustainable buildings. The rugged minidome cameras give a clear picture of the flow of workers and visitors into and around the premises. In addition, their excellent low-light sensitivity is an asset for the reinforcement of security at entrances and car parking areas. Playing a key role in EDGE Olympic's intelligent design are thirteen Sony SNC VM772R 4K minidome cameras EDGE Olympic is an exciting landmark in sustainability. Opened in May 2018, the building constructed by EDGE offers over 11,000m2 of innovative co-working space close to Amsterdam's Olympic Stadium. Providing a creative and energy-efficient workspace for commercial tenants, the building's design is focused on a sophisticated digital infrastructure that connects people, devices, sensors and information via a secure cloud platform. Sony SNC VM772R 4K minidome cameras Playing a key role in EDGE Olympic's intelligent design are thirteen Sony SNC VM772R 4K minidome cameras installed by Netherlands security specialist, Lancker Wolters. The cameras are integrated with Genetec's video management system to create a comprehensive video security and monitoring solution. Ruggedly built for all-weather outdoor operation around the clock, the SNC VM772R camera features a large, highly sensitive 1.0-type back-illuminated Exmor R CMOS image sensor. Offering four times higher resolution than Full HD, the camera is capable of capturing smooth, crisply detailed 4K video in conditions of near darkness. This allows people and objects to be seen clearly in a wide range of lighting conditions – and thus helps to ensure round-the-clock safety and security of employees, co-workers and visitors to the building. Video data in building operations optimisation In the future, it is expected that video data will also be used to optimise building operations In the future, it is expected that video data will also be used to optimise building operations. For example, intelligent analysis of traffic patterns could enable more efficient room bookings and use of resources such as heating, lighting and cleaning services. Further, SNC-VM772R cameras monitor the EDGE Olympic car park, scanning the registration license plates of vehicles and checking the number against a database to admit authorised staff and visitors only, while automatically raising the barrier to let vehicles exit. This also allows instant confirmation whether a particular employee is present in the building: this overview can be beneficial, for example, in the event of an emergency evacuation. Sony 4K surveillance cameras "The initial price of a particular camera doesn't matter" comments Erik Ubels, CTO, EDGE Technologies. "It's the usability over its lifetime that makes it a better investment. That's why we chose Sony 4K cameras for this landmark building and other properties that we're planning in the near future."
Featured white papers
Five things to consider for AI with video technology
Download
OSDP is the strongest access control for your business
Download
Preparing your organisation with quality situational awareness
Download