Tim Palmquist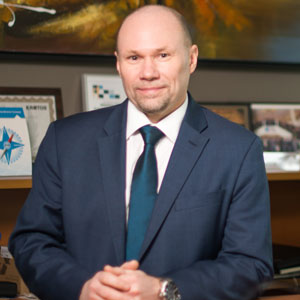 Tim Palmquist
VP Americas,
Milestone Systems
Tim Palmquist has an extensive background in management and sales in high-tech companies. He brings 25 years of experience in the technology industry and is the Vice President, Americas, for Milestone Systems, responsible for all general management of that world region. Tim joined Milestone in 2007 as the Central Territory Sales Manager. He then took on the Director of Sales West US and Canada role and later the Vice President of Sales Operations. Before coming to Milestone, Tim worked in IT sales for 14 years and healthcare administration for 4 years. During his IT sales career he helped build a new IP security practice at ISG Technology, a well-regarded VARBusiness 500 IT integration company that today continues to be one of Milestone's top systems integrators in the Midwest. His educational background includes a Bachelor of Science in Finance from Kansas State University, USA.
Round table contributions
Articles by Tim Palmquist
The landscape for end-to-end solutions is not designed to address thelong-term evolving needs of customers The video surveillance industry has reached an important crossroads where manufacturers can choose to continue in one direction that solely focuses on their own products and profits, or to move forward in another direction that emphasises building partnerships for the greater good of the community. On one side lies the short road of end-to-end, proprietary solutions from companies looking to protect their own interests by locking customers into their products alone. This road dead ends fast when a customer wants to add new functionality to their system, and it has not yet been created by their single vendor (and may never be). This limited short-term way of doing business puts existing investments in jeopardy and places integrators in a very awkward situation. On the other side lies an entire network of roads that stretch far and wide with open platform solutions designed by a collaborating community. This choice is filled with components from technology partners that work together to create a comprehensive solution to meet each customers' evolving needs. At any time, solutions can be upgraded or added as partners develop new technologies and functionality while maintaining existing investments. The industry is at this important crossroads and Milestone Systems is forging confidently forward to continue blazing the trail of open platform solutions. We are taking the next step in this evolution by moving from the open platform company to the open platform community. Milestone's open platform community serves customers best With the open platform community, we're putting the focus on partnerships first. This move from an open company to an open community can best be illustrated by comparison with a small town. Envision a town centre with a courthouse and city hall, a bank, doctor's office and school, the local market – all anchored by Main Street where the community gathers to do business. As time passes, small towns grow into cities. But in order to accommodate the growth and thrive, two key elements must be in place: leadership and critical infrastructure. The landscape for end-to-endsolutions is not designed toaddress the long-term evolvingneeds of customers. It's designedto address the sale of the day First, it takes leadership with a vision for growth to move forward. Second, it takes critical infrastructure—water, power, electricity, bridges, streets and highways—to grow and scale out a town. With leadership and critical infrastructure in place, the small town can grow and welcome more people, new industries and jobs over time. At Milestone, we're building our global community with solid leadership and a commitment to expand the infrastructure needed to underpin the open platform scalability. From a technology perspective, the critical infrastructure is having an application programming interface (API) built into our software that is purpose-built for communication with third-party solutions. It's also the software development kit (SDK), the toolbox of resources, that allows developers to create third-party solutions. By virtue of moving from the open platform company to the open platform community, we are doubling down on the critical infrastructure that reinforces the community. We're putting our SDK on the roadmap and investing more resources toward building more tools needed for third parties to have an easier, more streamlined way to create integrations with our products. This will greatly accelerate development in the overall marketplace, increasing the size and well-being of the community. Additionally, a Milestone Developers Forum will act as a fulcrum for technical stakeholders to openly share their successes and learnings as a way to help move innovation forward and expand value for the customers. We're working to build an even stronger community of open platform development partners, to highlight and recognise their progress, and dedicate resources to further develop new opportunities together. Milestone are building a global community to expand the infrastructure needed to support the open platform scalability Partnerships move the industry forward The market and customer requirements can change drastically over time. These evolving needs necessitate new innovations and technologies that allow customers to implement additional functionality in a way that maintains their existing investment. This is best accomplished with open platform technology, where APIs, SDKs and people in an organisation are dedicated to working with third parties to encourage development and build up the community. Certification that tests and documents solutions from multiple manufacturers further reassures customers and integrators that the components of their customised solutions will work together. There are many companies that claim to provide an open platform, but at Milestone we prove our commitment in the way we embrace and enable third party partnerships in the community. Today there are integrations with 152 different brands of camera manufacturers with device driver support at 5,000 and growing - and only one of those is the ONVIF driver, which supports many thousands more. There are over 360 known solutions integrated with the Milestone XProtect platform today and 170 of those are documented on the Solutions Finder for commercial use. One year ago there were just over 100 on the Solutions Finder — evidence the community is growing quickly. As of Q1, 2016, 45 solutions have been tested and certified with documentation for best practice in operation, with 35 more in the certification queue. We are working to scale this certification faster as it's clear there is demand in the marketplace: we have more than 1,600 enrolled solution partners and over 5,500 SDK downloads. One year ago there were only 3,500 downloads, meaning our SDK has been downloaded 2,000 times in the last 12 months. As we look at innovation in the market, we see amazing things happening. So many unique and powerful integrations are presented on our website: laser, radar, sound, traffic analysis, licence plate recognition, vehicle brand ID, gunshot locator, live incident tracking, retail analytics, video synopsis and more coming constantly. All of these new innovations are available to add on to existing Milestone video deployments to meet the unique needs of individual customers and facilitate their needs of tomorrow. Open platform communities allow for collaboration and innovation by working and integrating with third parties Why open solutions win Imagine if the technology landscape was filled with manufacturers who believed only in end-to-end solutions. What if their sole focus was putting together a VMS, cameras, access control and analytics, to solve the end customer needs today, but not thinking much about how their needs will evolve? The landscape for end-to-end solutions is not designed to address the long-term evolving needs of customers. It's designed to address the sale of the day. End-to-end solutions are inherently limited because a manufacturer can only deliver so much technology on their own. These short-term solutions create a vulnerability for the customer and for the system integrator that deploys an end-to-end solution. The integrator is put in a particularly perilous position when they deploy an end-to-end solution because it is unknown whether the solution will be able to evolve with the customer's needs, whether it's next year or ten years down the road. Meanwhile, open solutions built within a wide and diverse community of partners are a win-win for customers and integrators alike. Open solutions and partnerships create great long-term value for customers. In turn, integrators can feel confident about the solution they are selling and installing, without fear of future repercussions. Technology is quickly evolving. The Milestone community's ability to deliver innovation to the marketplace and address customer demands is key to maintaining investments for the long term. End-to-end solutions are not well suited to do this because they are a short-sighted business approach that's really about the manufacturer first. The community model is about putting the customers and the partnerships first. End-to-end is truly a dead end. The open platform community is a philosophy we live by. Putting partnerships first is a mentality, and it has always been a key part of our business model. The road to the future is open — let's go there together.
Experts sections