Steven Humphreys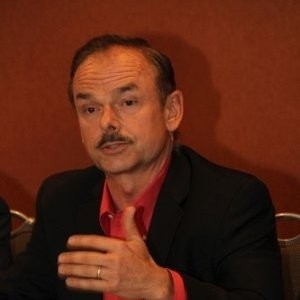 Steven Humphreys
Chairman and CEO,
Identive Group
Steven Humphreys is currently serving as the chief executive officer and chairman at physical security and secure identification solutions provider firm, Identiv. Prior to this, he worked as CEO of Flywheel Software. He has also worked as chairman of Giraff Technologies AB and chairman-cum-co-founder of Organ-I, Inc. Steven holds an MBA degree in Business from the prestigious Stanford University Graduate School of Business and an MS degree in Industrial Engineering from Stanford University. He also holds a BS degree in Mechanical Engineering from Yale University.
News mentions
Identiv, Inc., a global provider of physical security and secure identification, has secured new agreements with two major customers in the banking vertical. The first new agreement is a three-year software and services agreement with an existing customer that has been using Identiv's 3VR video and analytics solution for bank branch security, fraud detection and ATM skimming prevention. Expanding recurring revenue base This top 5 U.S. bank customer has contracted with Identiv to provide maintenance services to support its video security and analytics infrastructure, which encompasses over 10,000 video surveillance cameras throughout North America. The aggregate value of the contract exceeds $3 million. Additionally, the company recently secured a win with a leading Mexican banking conglomerate. The initial deployment across more than 100 locations combines video security, customer experience and business enablement. Business-enabling solutions "These two wins reflect our focus on expanding our recurring revenue base, as well as continued growth and momentum in our banking vertical," said Steven Humphreys, Identiv CEO. "It is representative of our emphasis on strategic verticals, as well as growing our recurring revenues across our customer base. "Through our comprehensive solutions and our strong customer relationships, we are expanding the software revenue and services aspects of our business, as well as expanding from pure security applications into business-enabling solutions. As we continue to leverage our installed base and secure new customers, we expect our recurring revenue business to continue to increase, generating more sustainable growth and margin expansion over time."
Identiv, Inc., a global provider of physical security and secure identification, has entered into a definitive agreement to acquire Thursby Software Systems, Inc., an Arlington, Texas-based provider of security software for mobile devices. The acquisition is expected to strengthen Identiv's identity offerings with complete solutions for secure and convenient logical access across smart cards and derived credentials on Apple iOS and Android mobile devices. It is also a major strategic step towards Identiv's vision of converged, highly secure yet frictionless access to information and places through a single identity and a single infrastructure platform. Thursby's software solutions provide strong security for enterprise and personal mobility, supporting bring-your-own-device (BYOD) and two-factor authentication (2FA) on mobile devices. The company enables Department of Defense (DoD) issued Common Access Cards (CAC), federally issued Personal Identification Verification (PIV) cards, derived credentials, and commercially issued PIV-I cards to access, sign, encrypt, and decrypt information and emails from Apple iOS and Android mobile phones or tablet devices. The company's deep government strengths and mobile app expertise are core elements in our vision for federal and commercial security solutions" Accessing information on-the-go These capabilities have allowed over a hundred thousand DoD and federal employees, including the U.S. Navy Reserve via the Ready-2-Serve (R2S) mobile application, to use personal and government-furnished mobile devices to access needed information on-the-go. Thursby has sold more than one million software licenses to a range of customers and industries, including government, healthcare, finance, energy, education, research, Fortune 500, Global 2000, and OEMs. "This combination substantially strengthens our position as a trusted provider of convenient high-security solutions to government and enterprise customers," said Steven Humphreys, CEO of Identiv. "Thursby has built deep, long-standing customer relationships, completely aligned with our strategy of providing secure software platforms that are customisable to specific customer preferences. Thursby's solutions truly deliver beyond its customers' expectations, providing both high security and terrific end-user convenience. The company's deep government strengths and mobile app expertise are core elements in our vision for federal and commercial security solutions." Supplier of smart card readers "Thursby's seamless support of both government-grade smart card deployments and derived credentials also aligns with our philosophy of supporting customers' adoption of technologies at their own pace, optimised for their own use cases. We believe this accretive acquisition is a strategic step that moves us closer to achieving our long-term target business model, generating higher margins, improving profitability, and delivering a solutions platform that transforms our industry." We are excited to be joining the Identiv team who shares our passion for bringing together security and innovation for our customers" Bill Thursby, President and Founder of Thursby Software Systems, commented: "In our 32 years, we have prided ourselves as being a leader in technology while remaining small and responsive. By becoming part of the Identiv family, we will retain our strengths while taking on the additional benefits of a large international company with an excellent reputation." "We first partnered with Identiv in 2011 as both a supplier of smart card readers and a customer by adding the Thursby Sub Rosa license to the Identiv mobile reader line-up. We are excited to be joining the Identiv team who shares our passion for bringing together security and innovation for our customers." Securing BYOD and mobile access "We started working with Thursby and Identiv in 2016 to enhance productivity and secure BYOD and mobile access for our Reservists," said Tim Bentjen, Director of IT Development, Navy Reserve. "Thursby has been a key partner in making sure our applications are highly secure, yet convenient, in the field. To ensure compatibility of our secure mobile applications on Android platforms, we have leveraged the Identiv smart fold reader/mobile dongle."
Identiv, Inc, a global provider of physical security and secure identification, has entered into a definitive agreement to acquire 3VR Security, Inc., a video technology and data analytics company. It is anticipated that this combination will provide Identiv with a full range of technologies to deliver its vision for secure, pervasive yet frictionless premises security, situational awareness and business insights. 3VR's video intelligence solutions provide a single platform for real-time security and customer insights, enabling organisations to protect employees, customers and assets as well as improve store operations and shopping experiences. 3VR's open, pluggable platform leverages existing customer infrastructure and allows customers to expand their systems' capabilities seamlessly. 3VR serves customers in the financial services, retail, hospitality and other industries. Video intelligent solutions "We are advancing our global strength in the premises security industry, particularly in the attractive and fast-growing video segment," said Jim Ousley, Chairman of Identiv's Board of Directors. "This accretive acquisition is part of our communicated plan to grow both organically and inorganically. Overall, we believe 3VR takes us closer to achieving our long-term model and becoming an at-scale growth company." Steven Humphreys, CEO of Identiv, stated: "Customers are looking for integrated solutions for access, video and analytics. The acquisition allows us to address this demand by including video security as part of our overall premises security and technology platform. Since access control and video management go hand-in-hand, we believe 3VR is a great fit from a technology, strategic, and financial perspective. The combined companies' breadth of solutions across our Hirsch Access Control, 3VR video surveillance, real-time analytics, our access readers, RFID and identity cards would represent a complete solution for customers to adopt an entire physical security platform that's extensible into real-time people and item tracking, consumer experience enhancement and business optimisation." Security and business intelligence solutions Al Shipp, CEO of 3VR, commented: "The 3VR team is excited to be joining the Identiv team who shares our passion for innovation enabling a new level of security and business intelligence solutions. This combination offers greater scale that will accelerate that innovation, creating more value for customers which has been a core tenet of 3VR's since our founding." Mark Allen, General Manager, Physical Access of Identiv, said: "Our DNA has always been to build trusted relationships with our customers and partners. Our companies' vertical expertise and anchor customer strengths reflect our shared strategy as a trusted advisor to our customers. Since the video industry has arrived at the point where everything is digital — from the camera to the screen — the focus now is on usability. The combination of Identiv and 3VR not only makes sense but when we integrate 3VR's video technology into our Hirsch PACS platform, we anticipate creating a seamless user experience. Today, Identiv is substantially deepening the scope of the solutions and bringing these benefits to the physical world of people, places and things." Investments towards premises segment revenue Identiv expects 3VR to add between $10 million and $11 million to the company's premises segment revenue in fiscal year 2018. Identiv also expects 3VR to contribute a mid-term target non-GAAP adjusted EBITDA margin of approximately 10% post synergies. Identiv's acquisition of 3VR is subject to customary closing conditions and is expected to close no later than February 20, 2018. The total consideration at close is expected to be $6.9 million, comprised of $1.6 million in cash; $2.0 million in subordinated promissory notes; and $3.3 million in shares of Identiv common stock. Additionally, in the event 3VR achieves certain significant shipment targets in 2018, Identiv would be obligated to issue additional earnout consideration in shares of Identiv common stock, and in the event that 3VR generates certain additional gross margin concerning a supply arrangement, Identiv would pay a portion of the additional margin as consideration, as further described in the definitive agreement.
Experts sections
Featured white papers
Schooling the market on education security
Download
Lawrence, Massachusetts deploys FLIR video system for safety
Download
The security behind financial security
Download