Sebastian Blum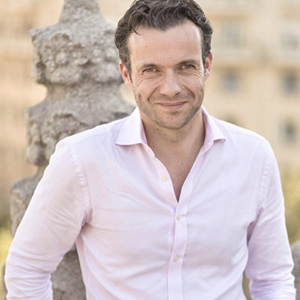 Sebastian Blum
Vice President of Business Development,
Dedrone Inc.
Sebastian Blum serves as the Vice President of Business Development at Dedrone. He previously served Active Venture Partners as a Venture Partner.
News mentions
Dedrone, a security company that developed the world's first software to detect drones and protect high-value airspace from drone threats, announced their operations are expanding into serving the federal market, through the addition of three U.S. military veterans to their salesforce and advisory board, as well as expanding operations to a third office in Washington, D.C. Dedrone currently is headquartered in San Francisco and has operations in Kassel, Germany. The addition of former military advisors and expansion to the D.C. market represents the drone security company's commitment to protecting federal airspace and operations from all drone threats.Drone detectionLisa Meserve joins Dedrone as a Federal Sales Manager. Meserve is an Air Force veteran, having served for over 13 years. She was a government contractor and DoD civilian for Air Force Space Command before her passion for the start-up world was ignited and she joined SecureLogix Corporation. She comes to Dedrone from Globalscape.Phillip Pitsky joins Dedrone as the Federal Business Development Lead. Before Dedrone, Phil worked for The Boeing Company for more than eight years where he held various roles in strategic development and management positions. Phil served in the US Navy for more than ten years as a Cryptologic Collection Operator where prior assignments included the Naval Security Group Activity Kunia, Hawaii and the USS Gettysburg (CG64) where he deployed to the Persian Gulf, Northern Atlantic, and Eastern Pacific in support of Global War on Terrorism.Protecting airspace"Dedrone's system is designed to be accessible and integrated for individuals, enterprises, and militaries, and bringing on Phil and Lisa to the team advances our knowledge of the needs of federal agencies, intelligence providers, and national defence leaders, and find the best way to provide them custom solutions," shares Joerg Lamprecht, CEO and Co-founder of Dedrone. "Our commercial, off-the-shelf software is a proven drone detection system, unlike any that is on the market. We're acutely aware of the rise in drone terrorism across the world, and we look forward to working with new partners and customers in the federal space to combine efforts and protect our airspace from all drone threats." "Dedrone's offering is nexus between physical, cyber, and airspace security, and it's the next frontier of communications technology" David Prantl, Dedrone's Vice President of Technology, will be heading operations in Washington, D.C., where he will coordinate with Meserve, and Pitsky to expand the start-up's presence and service to the federal market. Prantl joined Dedrone in January 2016 and was previously based in the company's office in Kassel, Germany.Physical and cyber security"Dedrone's offering is nexus between physical, cyber, and airspace security, and it's the next frontier of communications technology," shares Dedrone Vice President of Business Development, Sebastian Blum. "With the rise in drone technology, there is a clear connection between rogue, hacker drones, and the security gaps that now exist for enterprises and government administrations, including the U.S. military. That is why we've brought on Lisa and Phil to the team, and expanded our on-ground operations for government service providers."
Experts sections
Featured white papers
RFID and smartphone readers in physical access control
Download
Access control & intelligent vehicle screening
Download
How plate reader technology increases your perimeter security
Download