Mike Ellis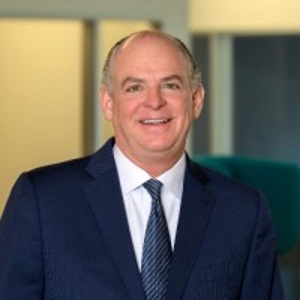 Mike Ellis
Chief Customer & Digital Officer,
Johnson Controls, Inc.
Mike Ellis is currently working in the capacity of Chief Customer and Digital Officer at Johnson Controls. He has previously served as Global Managing Director at Accenture, CEO and Chairman at ForgeRock and Global VIce President at SAP AG. Mike is an alumnus of the prestigious University of Minnesota - Twin Cities.
News mentions
Johnson Controls, a global provider of smart and sustainable buildings, is launching OpenBlue - a complete suite of connected solutions and services that combine the Company's 135 years of building expertise with cutting-edge technology. This open digital platform, when integrated with Johnson Controls core building systems and enhanced by Fortune 100 technology partners, will make shared spaces safer, more agile and more sustainable. Johnson Controls OpenBlue is the culmination of years of research and development by the Company's industry renowned engineers and data scientists around the globe, to create the "blueprint for the future" to guide smart, sustainable buildings. The new suite of connected solutions enables previously unimaginable occupant experiences, respectful safety and security, and impactful sustainability, driven by cutting-edge connected technology. Artificial intelligence Connectivity is critical to achieve this goal: building systems must work together and communicate to be effective. OpenBlue was designed with agility, flexibility and scalability in mind, to enable buildings to become dynamic spaces. In leveraging the OpenBlue platform, customers will be able to manage operations more systemically, delivering buildings that have memory, intelligence and unique identity. The platform infuses the OpenBlue suite of solutions and services with award-winning artificial intelligence (AI), combining data from both inside and outside of buildings. Safety and sustainability The launch of OpenBlue reflects how we think buildings are evolving from inflexible assets to dynamic resources" "How we interact with our environments and how buildings and shared spaces are managed for safety and sustainability is top of mind everywhere, and now more than ever we recognise how complex these systems are. Johnson Controls has been making buildings efficient and safe for 135 years, and this year, our obligation to deliver comprehensive, best in class solutions to our customers has never been more important," said George Oliver, Chairman and CEO, Johnson Controls. "The launch of OpenBlue reflects how we think buildings are evolving from inflexible assets to dynamic resources. As a result, this is a critical element of our business strategy, enabling us to lead customers around the world to the solutions and services required to transform their spaces for the future." Indoor air quality By combining traditionally separate systems, OpenBlue will enable the connection of every part of a building to create new possibilities for smarter, more efficient and sustainable spaces. OpenBlue customers will be able to: Respond with dynamic flexibility: OpenBlue will enable buildings to switch into different modes to address various critical situations. Modes can include management of building access, air flow, elevator movement, door locks, lighting, and open collaboration, as well as other environmental and safety settings. Deploy COVID-19 solutions: OpenBlue connects Johnson Controls products, technology and services to help customers get back to work as safely and efficiently as possible. These solutions and services include contact tracing, social distance monitoring, thermal cameras, clean air, touchless environments, compliance and reporting management, energy optimisation, advanced safety monitoring and more. Select from tiered services for their needs: OpenBlue will contain a suite of tiered, AI-infused service solutions delivering advanced capabilities such as remote diagnostics, predictive maintenance, advanced risk assessments, compliance monitoring and more. Security at the center of the solutions: OpenBlue was designed with safety at its core and will enable customers to access secure by design solutions. Each of the OpenBlue offerings are developed with robust design protocols for security and privacy process. Increase energy savings and improve indoor air quality (IAQ): By connecting HVAC equipment with new data and AI, users of the platform can expect 20-60 percent cost savings by optimising the performance of the full HVAC system across energy costs and IAQ parameters. Traditional operational technology Johnson Controls OpenBlue platform brings together traditional operational technology, existing IT systems and cloud applications infused with AI and cutting-edge technology such as digital twins, enabling insight, integration and collaboration. OpenBlue will enable operating technologies to seamlessly communicate and integrate across a broad range of systems. "Connectivity is the key to making buildings work harder for us," said Mike Ellis, Executive Vice President, Chief Customer and Digital Officer, Johnson Controls. Unique software capabilities Open refers to an optimistic future and the platform's open architecture to enable products to work with various solutions" "This new suite of solutions will enable previously unimaginable outcomes for our customers by connecting buildings to unique software capabilities, providing insight to deliver high customer value. We are partnering with a number of leading technology companies and thought leaders in various sectors to roll-out tailored solutions in the coming months." "The launch of OpenBlue is a radical approach to dynamic spaces," said Phil Clement, Vice President and Chief Marketing Officer, Johnson Controls. "The brand identity was created with a number of factors in mind: Open refers to an optimistic future and the platform's open architecture to enable products to work with various solutions. The colour blue is core to Johnson Controls branding for the past 135 years and gives a nod to our strong heritage in the buildings space." Open data platforms OpenBlue technology experts will lead proprietary 'OpenBlue - Blueprint of the Future' customer workshops, thought leadership webinars and insight sessions to help customers reimagine the possibilities of built environments and map out capabilities for spaces and places to power a unique customer mission. Johnson Controls partners with global Fortune 100 companies to bring together leading expertise with open data platforms, leading software applications and AI, core building systems and smart edge devices. The new technology ecosystem delivers new vision, while reimagining the future of workplaces, including hospitals, schools, stadiums, cities and more.
Johnson Controls, a globally renowned company in creating smart buildings solutions and helping reopen buildings, as part of the 'new normal' in COVID-19 pandemic period, announced the launch of its smart elevated skin temperature scanning solution, the Tyco Illustra Pro Thermal EST. A healthy and safe environment starts with a holistic approach that encompasses not only a building's heating, ventilation, and air conditioning (HVAC) infrastructure, but adds temperature screening among protocols including contact tracing, frictionless entry and exits, and the practice of social distancing. Tyco Illustra Pro Thermal EST The Tyco Illustra Pro Thermal EST is a contactless and highly accurate solution that will be another tool in the first line of defence for building owners and operators as part of their pandemic safety measures. At the heart of the Johnson Controls' smart elevated skin temperature scanning solution is the Tyco Illustra Pro Thermal EST camera, which provides rapid scanning at accuracy levels that exceed standards set by the International Electrotechnical Commission (IEC), as tested and confirmed by Underwriters Laboratories (UL). In addition, the solution has been designed to meet the U.S. Food & Drug Administration's (USFDA) April 2020 Enforcement Policy for Telethermographic Systems. Skin temperature scanning Advanced facial detection technology and rapid scanning quickly alert operators to elevated skin temperature reading Skin temperature scanning is done while people continue to walk. Embedded, advanced facial detection technology and rapid scanning times quickly alert operators to an elevated skin temperature reading. People don't need to stop or be approached by operators. This helps to reduce crowding and contributes to a contactless building entry experience for visitors and employees at businesses, schools, sporting and transportation venues, and other buildings. Smart, sustainable building solutions "How we interact with our environments, buildings and shared spaces has become top-of-mind as a result of the COVID-19 pandemic. With a 135-year history of creating smarter, safer, more sustainable buildings, Johnson Controls has unmatched expertise, technology and the solutions to rethink our physical spaces at this critical time," said Mike Ellis, Executive Vice President, Chief Customer & Digital Officer, Johnson Controls. Mike adds, "This camera provides added measures in a rapid and contactless fashion. Johnson Controls is very proud to be providing a solution that not only meets, but exceeds IEC standards." The solution is equipped with the technical features for accuracy and rapid response: 5-megapixel color/thermal camera with built-in, AI-enabled face detection technology that isolates the forehead and performs a multi-point temperature measurement, accurate to within ±0.2ºC/0.4ºF, when deployed in compliance with proper installation and condition requirements. Blackbody temperature calibration device, with a 24-month calibration certificate, for sustained accuracy. Customisable, real-time alerts for local or remote monitoring via a browser or through compatible video management systems. Integration with other security systems, such as an access control solution that can automatically prevent the person from further access. Using secondary evaluation methods Elevated skin temperatures identified by the solution should be confirmed with secondary evaluation methods, such as clinical thermometers. Temperature measurements should not be solely or primarily relied upon to diagnose or exclude a diagnosis of COVID-19, or any other disease. Pro Thermal EST should be used to measure only one individual's temperature at a time, in accordance with FDA guidelines. The Tyco Illustra Pro Thermal EST is now available for sale in the United States and will be released globally in phases.
Johnson Controls has announced that it has appointed Phil Clement as the company's chief marketing officer responsible for all global activities related to conceptualising and implementing market strategy and demand generation, including achieving marketing targets through in-depth market development, research and planning. Market strategy expert Clement most recently served as global chief marketing and communications officer for Aon. As Aon's first ever global CMO, Clement was responsible for developing the company's global CRM systems, common sales processes and a single global brand. Prior to joining Aon, Clement was the founder of a management consulting firm specialising in growth strategies. Clement will report to Mike Ellis, executive vice president, and chief digital & customer officer, Johnson Controls. "Phil brings a wealth of strategy, brand and marketing experience to Johnson Controls and he will play a critical role in making sure our teams can successfully support our growth goals and our customers," said Ellis. Clement attended the University of Southern California, and has a Master's of Business Administration and Public Policy from the University of Chicago.
Experts sections