Magnus Ekerot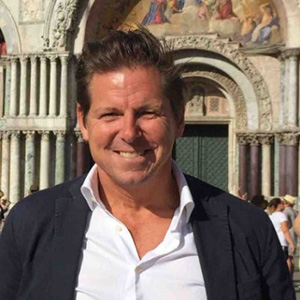 Magnus Ekerot
Magnus Ekerot serves as the Chief Executive Officer at TKH Security Solutions. He has previously served as the Chief Executive Officer and Chief Sales Officer at MOBOTIX AG. Prior to that, he served as the Managing Director for Axis Communications.
News mentions
Effective March 1, 2020, Michael Seiter (48) and Magnus Ekerot (51) have taken over newly established roles within Bosch Building Technologies. Michael Seiter has assumed the role of Senior Vice President, responsible for the Video Systems & Solutions business. Magnus Ekerot has joined Bosch as Senior Vice President, responsible for the global marketing of the company's comprehensive Security offering as well as for sales coordination and product management of the Video Systems & Solutions business. "With Michael Seiter and Magnus Ekerot, Bosch Building Technologies has gained two highly experienced managers. We are very happy to have them on board." Footprint in the global video market They will both play very important roles in advancing and further strengthening our footprint in the global video market. This includes the further expansion of our portfolio as well as putting an even stronger focus on software. Simultaneously, we want to keep and enhance the offering of comprehensive security solutions to our customers, including video systems, intrusion detection, access control and management software," says Tanja Rückert, the President of Bosch Building Technologies. Ekerot has a strong background within and profound knowledge of the video security market Seiter has extensive experience within the areas of sensor, software and data based innovations, previously holding the position of Senior Vice President with responsibility for engineering at the Bosch division Car Multimedia. "In light of rapid developments in areas like IoT and AI, the video security business provides great opportunities and potential. Coming from the automotive sector within Bosch, I am also looking forward to further exploring and leveraging existing and future technology synergies between the businesses," says Seiter. Voice evacuation systems "In times of transformation and digitisation, it is great to join a company with such a strong focus on innovation and future-proof development. I am excited to be a part of this journey and to support in shaping the future of the industry with the whole team," complements Ekerot. Having previously worked in different senior management roles at major industry players, he has a strong background within and profound knowledge of the video security market. The Bosch division Building Technologies is a globally established supplier of security, safety, and communications products and systems. The product portfolio includes video security, intrusion detection, fire detection and voice evacuation systems as well as access control and management systems. Professional audio and conference systems for communication of voice, sound and music complete the range. In 2019, about 9,000 associates generated sales of roughly 2.0 billion euros.
TKH Security Solutions is a cluster of five highly specialised security companies As of the first of April, 2017, all security vision products from Siqura will be branded TKH Security Solutions. This change comes as a direct response to the large number of partners and end users that utilise Siqura products and services, and want to engage in small, medium and large scale security and safety projects with the TKH Group. Strong identity name "The TKH Security Solutions brand is nothing new. We have delivered many projects, including several high-level projects under the TKH Security Solutions name over the last few years," explains Dr. Magnus Ekerot, CEO of TKH Security Vision Group. "What is new is that we are now taking the final step in branding and collecting our products under this strong identity name, to show our partners and end users our commitment to them and their work." Turnkey security solutions TKH Security Solutions is a cluster of five highly specialised security companies. Together their individual know-how and expertise combine to offer total turnkey security solutions for a wide range of applications, partners, and end users. One high-profile and successful example of the strength and versatility of TKH Security Solutions, is the security project of the International Criminal Court in The Hague. "I believe that by changing the name in combination with our strong product and solutions portfolio, TKH Security Solutions will have an even bigger impact within the security and safety marketplace. Nothing changes for our partners and customers, except for gaining an even stronger brand name with greater possibilities," concluded Ekerot.
Experts sections