Jose Larrucea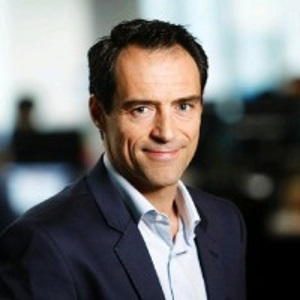 Jose Larrucea
Senior Vice President for EMEA & Latin America,
RealNetworks Inc.
Jose Larrucea is currently working in the capacity of Senior Vice President for EMEA and Latin America region at RealNetworks. He has previously held the profiles of Contributor at E-Commerce Brasil, Mentor at Move2 The Next Level and CEO at Movile. Jose is an alumnus of the prestigious Harvard Business School and FranklinCovey Business School.
News mentions
SAFR from RealNetworks, Inc. has announced a global partnership with German tech company G2K Group GmbH to revolutionise real-time video analytics. SAFR features including face recognition, mask detection, person detection, and demographic analysis have been integrated into Parsifal, a robust AI platform providing actionable video analytics for verticals such as retail, transportation, smart cities, and sports and entertainment. Contactless temperature scanning SAFR's mask detection and Parsifal's contactless body temperature scan were key features that won G2K a contract from the Union of European Football Associations (UEFA) to provide entry screening for spectators attending the Super Cup Final 2020. "SAFR from RealNetworks' partnership with G2K Group is characterised by the innovation, quality, and professionalism of both companies. SAFR's computer vision features add critical data to the Parsifal platform enhancing the overall video analytics offering and unlocking new customer use cases such as mask detection," said Jose Larrucea, Senior Vice President (SVP) EMEA & LATAM regions at RealNetworks. SAFR and Parsifal software integration SAFR's high performance on live video makes it a natural fit for integration into Parsifal SAFR's high performance on live video makes it a natural fit for integration into Parsifal, which relies on actionable real-time insights to improve general surveillance, behavioral predictions, access control, and response to COVID-19 health and safety measures. The first major deployment of Parsifal featuring SAFR was in September at the UEFA Super Cup Final 2020, in Budapest, Hungary, where a partial return of fans was tested under guidelines by the Hungarian Public Health Authorities. The SAFR-enabled Parsifal platform enabled more than 15,000 spectators to return to the stadium under the required health and safety conditions. Parsifal was deployed on cameras at each entry, performing rapid, automated fever scanning and mask detection while alerting attendants of any anomalies. Automated screening technology According to Andreas Schaer, Chief of Venue Operations for the Union of European Football Associations (UEFA), "The automated screening technology deployed by G2K helped UEFA and the Hungarian Football Federation deliver a safe and secure major football event with public attendance for the first time since the COVID-19 pandemic began." Georg Von Rennenkampff, G2K Vice President for Partnership Management stated, "The cooperation with SAFR has reached its next stage with the very successful project with UEFA for the Super Cup Final 2020. The use of SAFR's highly accurate mask detection algorithm strengthened the overall Parsifal solution, making it better able to serve customers dealing with the realities of a global pandemic." Georg adds, "G2K is looking forward to many more projects and further strengthening its prosperous partnership with SAFR."
Otay-Tijuana Venture LLC, a US-Mexican group of companies operating Tijuana International Airport's Cross Border XpressTM (CBX), has chosen SAFR from RealNetworks' video analytics technology to be used throughout the San Diego - Tijuana terminal in order to optimise operations and improve passenger flow. The first building to connect the United States to a foreign airport terminal, CBX serves millions of passengers that cross the border as part of their trip, helping them avoid unforeseen delays in the congested border crossings of San Ysidro and Otay. Video analytics technology "We are very satisfied with the performance, specific dashboards, and team support that SAFR offers, providing the necessary insights that are required to run such an important operation like CBX," said Julio Armentariz, CTO of CBX. The 390 ft long bridge is a hub for many daily situations where technology, process, and people work together to create a safe and efficient passenger experience. AI video analytics technology ensures CBX staff have actionable data at their fingertips as they monitor passenger flows and make real-time decisions. Mask detection feature SAFR has recently added additional features specifically designed to help customers respond to the global COVID-19 "We are extremely proud to help CBX in their day to day operations, contributing to more efficiency and quality of journey for the thousands of passengers that frequent the terminal every day," said Jose Larrucea, RealNetworks Senior VP of International Sales. SAFR has recently added additional features specifically designed to help customers respond to the global COVID-19 pandemic including mask detection and occupancy counting. CBX has applied the mask detection feature to passenger flow monitoring to better track mask compliance and gather critical operations data. Face recognition technology "We see optimal potential in RealNetworks' technology and we are looking into expanding its use in other areas within CBX in order to increase operational efficiency," added Armentariz. SAFR offers highly-accurate, fast, low-biased face recognition and additional face and person-based computer vision features. SAFR's NIST (National Institute of Standards and Technology) scores for speed, accuracy, and bias combine to distinguish SAFR as one of the leaders in real-world accuracy and performance.
SAFR from RealNetworks, Inc., the world's premier facial recognition and computer vision platform for live video, has announced the appointment of José Larrucea as Senior Vice-President of International Sales covering both Sales and Business Development in the EMEA and Latin America regions. Following his success building the SAFR business in Latin America, Larrucea will now also be responsible for driving the company's ambitious growth plans throughout EMEA. AI technology industry expert Larrucea, who joined RealNetworks in 2017 as Vice-President for Latin America, brings over 20 years' experience working in technology startups in Europe and consolidated companies in Latin America where he held C-Level positions at various Naspers-invested companies in Brazil. "Under José's leadership, SAFR has grown its market presence at a rapid rate in Brazil and throughout Latin America. With his industry connections, deep understanding of the markets we serve, and the fact that Jose speaks Spanish, Portuguese, English and French fluently, he is uniquely qualified to expand SAFR's adoption in the fast growing EMEA markets," said Massimiliano Pellegrini, President at RealNetworks. SAFR AI-powered facial recognition SAFR is an AI-powered facial recognition solution, optimised for live video SAFR is an AI-powered facial recognition solution, optimised for live video and architected to economically scale with high performance and rapid processing to detect and match millions of faces in real time. SAFR's 99.9% accuracy rate, according to NIST latest results, is balanced by high performance that delivers results 3-5 times as fast as competing facial recognition algorithms. "The rapid adoption of a top-performing Facial Recognition solution like SAFR, coupled with smart processes, brings key benefits to multiple industries where situational awareness, efficiency in checkpoints and process streamlining are needed. I look forward to expanding SAFR's AI capabilities and RealNetworks' know-how into Europe," said Jose Larrucea. Facial recognition systems He adds, "Europe, as much as Latin America, is proving to be an excellent market that requires top-of-class solutions in both technology performance and ethical practices." Jose Larrucea, who is a Spanish national, holds a bachelor's degree in communications from the University of the Basque Country and a master's degree in e-Business from the Polytechnic University of Catalonia.
Experts sections