John Allen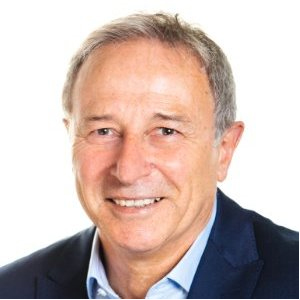 John Allen
Business Development Manager at Axis Communications,
Axis Communications
John Allen is the Business Development Manager at Axis Communications. He has completed his education Kingston University, United Kingdom.
News mentions
Innovating for a smarter, safer world, industry leaders from Axis highlight the latest trends in surveillance and analytics technology. Ranging from cybersecurity and IoT audio products in retail, to new radar detection technology and access control, the innovations on show are substantial Industry leaders including Axis Communications, the market leader in network video, have taken to the floor at IFSEC 2017 to discuss how innovative security and intelligent IoT devices have the power to transform security and safety levels, as well as increase operational efficiencies for business success. In a video of news and views directly from the event, Martin Gren, Co-Founder of Axis and IFSEC's top influencer of the security industry for 2017, was on hand alongside Axis experts, exploring: The importance of audio Internet of Things (IoT) technology within retail environments Axis' push for greater cybersecurity expertise among its partner network The addition of analytics in retail contributing to the rise of the intelligent high street Axis' access control integration with HID Global and SimonsVoss New radar detection technology to provide high-end perimeter security Innovations that address the key challenges of our time Martin Gren, Co-Founder of Axis Communications, states, "It's a great pleasure to be voted as the leading influencer in the security industry for pioneering work in driving video surveillance from analogue to IP. Of course, we aren't standing still and we continue to innovate for the future, driving towards an increasingly connected world. We have some great new technologies that can be integrated with security systems – horn speakers, IP door stations and even radar detection. Alongside our smart Zipstream compression, Axis' radar detection is one of the most interesting new offerings on show." Collaboration to ensure cybersecurity "When it comes to applying best practice to networks or security systems, there's a gap in the cybersecurity market which Axis and its partners are directly addressing" Atul Rajput, Regional Director for Northern Europe, highlighted the scope and challenges of cybersecurity within the industry, stating, "We saw the Mirai botnet last year, and more recently the WannaCrypt ransomware. In the security industry, we have tremendous risk management expertise in relation to people, property, and assets. When it comes to applying best practice to networks or security systems, there's a gap in the cybersecurity market which Axis and its partners are directly addressing." "We have been extending IoT capabilities from video to audio, and these products are some of the solutions we're most looking forward to showcasing at IFSEC this year. The ability for retailers to have a camera looking at a queue, then sounding an alert should that queue reach a certain size, really highlights the potential of synergistic IoT technology in retail." Integrated analytics and the intelligent high street Andy Martin, Business Development Manager, Retail, confirmed, "The intelligent high street is about using the IP platform to connect new devices, giving it functionality for marketing, operations and sales departments, and of course security and loss prevention specialists. It not only includes connecting devices like tagging systems and Point of Sale, but also adding analytics to increase the value added. Real-time analytics can help retail specialists know how to respond to the number of people within, or the way people are behaving, in a store. Through analytics, retailers can start to change and flex their labour." IoT access control Speaking on Axis' latest innovations in the access control sphere, John Allen, Business Development Manager, Access Control, noted, "What we're showing here is a combination of access control linked to audio and outdoor management solutions, to try and give visitors an idea of how we can deliver a solution to their taste, not to our product requirements. The two most important things we're highlighting are our collaborations with HID Global and SimonsVoss, showcasing mobile access and wireless locking – there's a fantastic demonstration available that's been very popular."
Axis Communications has collaborated with SimonsVoss Technologies GmbH to launch a fully integrated, IP-based digital locking and access control system. The integration represents an advanced, cost-effective wireless lock and access control solution that is ideal for replacing physical keys in buildings. SmartIntego battery-powered digital locks in the form of either cylinders, padlocks or door handles connect wirelessly via its GatewayNode to AXIS A1001 door controller and AXIS Entry Manager software. The solution represents a complete, scalable, fully integrated, and future-proofed access control system without limitation. Integration facts Useful facts about the integration: Each SimonsVoss GatewayNode has a 16-wireless digital lock capacity Each A1001 manages one GatewayNode This means that each Axis A1001 door controller can manage up to; Sixteen SimonsVoss wireless locks One hard-wired door reader Axis and SimonsVoss solutions can be stand-alone (no server) or fully integrated solutions using an Axis software partner for enterprise installations Axis solutions are open, IP-based, and ONVIF-compliant Seamless integration between wireless locks and access control Online integration between the AXIS A1001 door controller and SmartIntego wireless lock components via AXIS Entry Manager is seamless as all products are built on open, IP-based architecture. IT administrators can setup and manage the entire integration via a single AXIS Entry Manager interface. The integrated solution allows for management of wired and wireless doors, with real-time monitored access and detailed audit trails. SmartIntego locks are compatible with European and Scandinavian door profiles. Wireless lock technology has been enjoying strong growth globally in recent years as it begins to replace traditional physical keys Wireless lock technology has been enjoying strong growth globally in recent years as it begins to replace traditional physical keys. This is not only because physical keys provide very low security levels. Wireless keys are cost-effective, too. Wireless locks also enable multiple functionalities, previously only available through wired doors, for a much lower cost. Reducing lifecycle costs by 60% "A door with wireless locks typically reduces lifecycle costs by 60% when compared to a wired door. This is thanks to simple, cable-free installation as well as the high costs of key re-suiting when a physical key is lost," says John Allen, Business Development Manager, Access Control in Northern Europe for Axis Communications. "Compared to physical keys, Axis' integration with SmartIntego offers superior security and convenience." "The integration of our SmartIntego wireless locks will enable a scalable access control solution that meets today's needs," states Larissa Kaiser, Head of System Integration at SimonsVoss Technologies GmbH. SmartIntego wireless locks are embedded with integrated RFID-readers, so there's no need for expensive or time-consuming cabling during installation. As important, the AXIS A1001 eliminates the need for power cables to wired doors and the door controller as it is a Power over Ethernet system.
Experts sections
Featured white papers
3 reasons to migrate to a new access control system
Download
Schooling the market on education security
Download
Lawrence, Massachusetts deploys FLIR video system for safety
Download