Arjan Bouter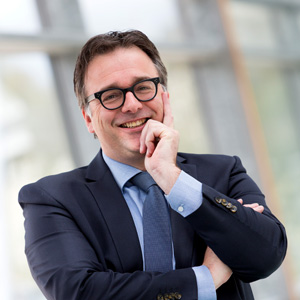 Arjan Bouter
Sales Director,
Nedap Security Management
Since taking up office in April 2001 at Nedap, Arjan Bouter has guided the Nedap Security Management organisation from a direct business model into an indirect model.
Specialisation:
Business processing; system integration between access control, intrusion detection, IP video, intercom and fire detection
Round table contributions


Articles by Arjan Bouter
Many security solutions available today have the problem of being insufficiently open, offering very limited flexibility. Integrating third-party products is practically impossible. Customers therefore very often have to make a long-term bet on just one vendor. Upgrading or expanding security systems is often complex, expensive and time-consuming. But the industry is changing. Initiatives like open standards and cooperation between suppliers are emerging to help companies react faster to changing security demands. For 2016 we see customers facing challenges such as new means of identification, changing regulations and the impact of cyber threats on physical security. Because a security system is always used for the longer term, it is almost certain that new security requirements will be introduced during the service life of the system. Therefore, we believe that an open, software-based security system is getting more important. Introducing open standards In IT, the decoupling of hardware and software has been a proven principle for many years, and so has the use of open standards. The paradox is that the use of generic hardware will make it easier to implement open standards, as it only requires development of software, not hardware. The adaptation of these standards offers many benefits to security system customers, the most important of which might be freedom of choice and dealing with future needs. Introducing open standards allow companies to mix and match not only the cameras they need or the card readers that best fit their budget, it also allows them to select the functionality that suits their security policy. As companies want their security always to be well arranged, Nedap believes that making a choice now should not limit them in future. Customers need to be able to meet new requirements without investing in an entire new system prematurely. Not only do they need a security system that is fully equipped to cope with the security requirements of today and tomorrow, they also need a supplier that continuously invests in its product and has an extensive partner network, so that companies are able to adapt their system anytime they need to. See the full coverage of 2015/2016 Review and Forecast articles here
Regular upgrading ensures all systems communicate correctly In the IT world, innovation moves quickly. New versions of software are launched every day to keep business processes running smoothly. So frequent upgrading isn't even a choice anymore – it's a must to avoid losing valuable time and data. In this article, Dirk Kappert, IT specialist and CEO of the German company ACEA, explains about the relevance of upgrade assurance and how it applies to physical security as well. Why do companies view it as a necessity to upgrade their IT systems but not their physical security systems? In the IT business, upgrade assurance is very common. Because new software versions are developed every day, you need to upgrade frequently to ensure your systems keep communicating with one other. There's a clear difference between the worlds of IT and physical security in this respect. For instance, in the world of IT, hardware is less important. This is because software is developed to run on every kind of device. In the world of physical security, hardware still plays a leading role when selecting a system. Although practically all security controllers nowadays are IP-based, they're still pretty much always dedicated to perform one single functionality, such as access control. This makes many physical security systems inflexible and hard to integrate with IT systems. Why is it relevant for a physical security system to integrate with IT systems? In practice, customers often require smart integrations between IT systems and physical security systems. For example between an access control system and an HR system and intranet. The benefit of this is that you only have to enter a new employee's personal data, for example, into the HR system and you can automatically import it into your access control system to create a card for them. You don't have to enter their personal data twice in different systems, so the chance of making mistakes is lowered. To obtain exchange of data between a physical access control system and other systems such as SQL Server and interfaces, updating an access control system is mandatory. What difference does upgrade assurance make? Ninety percent of our customers have a service agreement with us to provide upgrade assurance. We visit them once a year to upgrade all of their software and, very often, we link their access control system to their IT systems. Because if we don't upgrade their access control along with the rest of their IT systems, it can easily cause miscommunication between systems, meaning their security is compromised. Regular upgrading not only ensures all systems communicate correctly, it means our customers always have the latest new features, so their security is always up-to-date. And what about the ten percent that don't choose to include upgrade assurance in their service contract? Some customers don't opt for it at first because they don't think they need it. But the complexity of today's IT world has greatly increased. To obtain exchange of data between a physical access control system and other systems such as SQL Server and interfaces, updating an access control system is mandatory. That's why upgrade assurance in physical security is just as relevant as in the world of IT. What characteristics should a physical security system have to ensure it integrates easily with IT systems? When selecting a physical security system to add to our portfolio of IT solutions, we looked at database structures and the role of software and hardware. When we checked Nedap's AEOS system, we found its principles are very similar to those in the IT world. For example, the system is based on generic IP-controllers in combination with behavioural software components. This makes it possible to build a system according to a customer's specific requirements – a bit like Lego. Some time ago, a customer asked us if we could add Airlock functionality to a complex entrance situation. He'd already asked his access control supplier for the cost to develop this and they quoted 40,000 euros. With a system like AEOS, which is based on software components, we could have just configured a software solution that he could adapt himself. This would have cost less than 10 percent of the price. So AEOS is as beneficial to customers as it is to us; maintaining it is easy and cost-effective. We're truly happy being a certified Nedap Business Partner.
Uncoupling software from hardware allows manufacturers to respond faster to changes Nedap Security Management 2014/2015 Review and Forecast:Threats such as Mifare hacking, the European General Data Protection regulation coming in 2016, and the need for security to integrate with other IT-based systems – these are just some of the challenges security manufacturers and system users have to deal with and respond to. External factors such as these do provoke change in physical security systems, but it's reactive change. Whereas, in the IT world, innovation and product development occur quickly and proactively. So why do manufacturers of physical security systems have a more reactive attitude towards the changing world? Why does it take external pressure to bring about innovation? Hardware and softwareThe physical security industry doesn't seem to have caught up with the idea that systems should be developed to meet future change. With almost any current physical security solution, dedicated software and hardware combine to provide specific functionality. A change in functionality, therefore, requires both software and hardware development. Such systems don't allow for fast responses to changes affecting the industry. And they don't anticipate future needs. From a client's perspective, systems based on dedicated hardware and software require significant investment for changes to be made, making them inflexible and expansion unnecessarily expensive. Decoupling in the physical security industryIn IT, the decoupling of hardware and software has been a proven principle for many years, and so has the use of open standards. The latter approach is now being adopted by the physical security industry. Almost all video management systems and cameras, for example, have adopted ONVIF standards. And, from an access control perspective, card technologies and readers are interoperable. Recently, a new standardisation protocol was introduced for integrating offline locks within access control systems (Standardised Offline Access Application – SOAA). The paradox is, the use of generic hardware will make it easier to implement these standards, as it only requires development of software not hardware. In IT, the decoupling of hardware and software has been a proven principle for many years, and so has the use of open standards Hardware and open standardsThe adoption of these standards offers many benefits to security system users, of which freedom of choice and dealing with legacy might be the most important. Introducing standards allows clients to mix and match not only the cameras they need or the card readers that best fit their budget, it also allows them to select the specific functionality that suits their security policy. The adoption of both generic hardware and open standards will benefit clients significantly and, in fact, transform the industry. Uncoupling software from hardware allows manufacturers to respond faster to changes. Moreover, it will allow for innovation, as the time to get new products and features to market will decrease. This will allow the entire security industry to react to change quicker, and it will also encourage the industry to be proactive and innovative. The adoption of open standards will, ultimately, result in a different type of competition. Openness will make products more transparent and create fair competition focused on added value, unique features, product usability, design and innovative ideas, instead of hardware prices.Physical security like IT networks Nedap believes physical security systems should behave like an IT network and it should be possible to embed it into your existing IT architecture. That's why 15 years ago, we decided to separate software and hardware on the controller. That means we can both define the functionality of the hardware through the software and also easily adapt that functionality to changing requirements and needs. Just like you would expect from your computer. We continue to develop this security management platform on every level by improving the AEOS software and hardware. Our new cost-effective hardware line, AEOS Blue, puts all the functionality of the AEOS software in your hands. See the full coverage of 2014/2015 Review and Forecast articles here
News mentions


Experts sections