Aleksandr Konotopskyi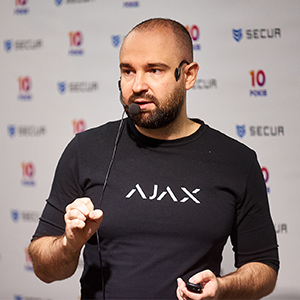 Aleksandr Konotopskyi
Chief Executive Officer (CEO),
Ajax Systems
Aleksandr Konotopskyi is currently working in the capacity of Chief Executive Officer at Ajax Systems. He has previously served as the CEO of SECUR LLC. Aleksandr is an alumnus of the prestigious National Technical University of Ukraine 'Kyiv Polytechnic Institute'.
News mentions
Ajax Systems, globally renowned manufacturer of innovative security solutions, announces a partnership with Oprema, renowned and rapidly growing independent security distributor in the UK. Oprema's customers now have access to a full range of Ajax wireless products for complete protection of residential and commercial properties from intrusion, fire, and leaks. Remote access management Ajax users can remotely manage their systems, control appliances, and check the CCTV streams via mobile apps Ajax users can remotely manage their systems, control electrical appliances, and check the CCTV streams via mobile apps. Whenever the detectors spot a potential threat, the hub notifies the users via push-notifications, calls, and SMS. If an alarm response company oversees their property, it will also receive an alert. Ajax products are notable for their user-friendly design that gently fits any interior and a straightforward installation process. Jeweller radio-protocol connects all of the devices in the system on a distance of up to 2000 m from the hub central panel and allows them to serve up to 5-7 years on the pre-installed batteries. ReX intelligent signal range extender The system's radio coverage area extends to up 16 sq. m using the ReX intelligent signal range extender. If an intruder attempts to interfere with the signal or jam it, the hub immediately raises an alarm. Ajax devices have earned the highest reliability grade available to the wireless security systems after testing in five independent accredited laboratories. The system runs on a proprietary software OS Malevich. It is immune to viruses, resistant to cyber-attacks, and regularly updates over the air to expand functionality. Oprema - Ajax Systems partnership Together with Oprema, we're excited to bring Ajax, the next generation of wireless systems, to the UK security market" Aleksandr Konotopskyi, CEO/Founder at Ajax Systems, stated, "Oprema's team is demonstrating an impressively profound dedication towards customer service, marketing, and operations management. Their far-sighted vision for innovative technologies and business qualities resonate with the core values at Ajax Systems. Together with Oprema, we're excited to bring Ajax, the next generation of wireless systems, to the UK security market and stimuli its future development." Ross Hawkins, Operations Director at Oprema said "We are always searching for the latest technology advancement in the industry for our customers. We are excited about this new partnership with Ajax. The new technology will provide our customers with new opportunities and advancements within the industry. We look forward to the future and working with Ajax as a key strategic partner."
Horizon Capital, a U.S. private-equity firm investing in high growth export-oriented and domestic companies in Ukraine and the near region, and Ajax Systems, a producer of smart security systems in Ukraine, have announced that Horizon Capital's latest $200 million fund, Emerging Europe Growth Fund III, LP (EEGF III) has acquired a minority stake in the Company for $10 million. EEGF III's investment was made through the purchase of a portion of the shares held by SMRK, an early-stage financial investor in Ajax Systems, and a portion of the shares held by Company management. Founded in 2011, Ajax Systems is one of Europe's professional security systems manufacturers. Today, the Company's products are sold in over 75 countries world-wide. Ajax Systems enjoys an impressive track record of revenue growth and profitability and is well-positioned for continued expansion given the smart home security market is projected to grow by 25% per year to $24 billion by 2022. Innovative product offering Horizon Capital looks forward to supporting Ajax Systems in its pursuit of excellence" "We are honoured to partner with Aleksander Konotopskyi, Ajax Systems' talented founder and their impressive management team, and look forward to contributing to the Company's continued success in the years ahead. We were attracted to this Company by Aleksander's vision, the stellar results achieved, their innovative product offering and success in serving customers both in Ukraine and in international markets", said Lenna Koszarny, Horizon Capital's Founding Partner and CEO. "This deal fits very well into our investment thesis of backing Ukraine's new generation of visionary entrepreneurs. These are young men and women who dare to be bold, who take an idea and put their energy, skills and passion behind it, who leverage the talents of professionals within Ukraine and seek to develop product that compete on a global stage. Horizon Capital looks forward to supporting Ajax Systems in its pursuit of excellence and quest to become a true global champion." Ambitious growth plans "We are thrilled to welcome Horizon Capital as our partner in Ajax Systems. Our Company has been successful in launching our products in international markets and we are confident that through our collaboration with a reputable and experienced fund as Horizon Capital, we will reach even greater heights in the future. The partnership with Horizon Capital is truly an important milestone in achieving our aspirational targets and ambitious growth plans," – commented Aleksander Konotopskyi, Founder & CEO of Ajax Systems. "Our results achieved to date would not have been possible without the tremendous commitment to quality, high performance levels, hard work and sense of mission of our strong team, as well as the early backing of SMRK. Ajax Systems has been growing at a tremendous rate with over 70% of revenue coming from export sales to over 75 countries, predominantly the European Union." Private equity investors This deal sends a message about investment opportunities in Ukraine for venture capital investors" "We are blessed that the foundation of our team are world-class Ukrainian engineers and developers who take enormous pride in their work and the products that we develop. We are committed to continue our international expansion for the benefit of our employees, customers and shareholders. We look forward to expanding Ajax Systems' position as a global leader in the security market." "This deal sends a strong and clear message about investment opportunities in Ukraine, both for venture capital and private equity investors. We expect the Ajax Systems example to encourage more Ukrainian entrepreneurs to found start-ups, in order to achieve even greater success", said Andriy Dovzhenko, the Managing Partner of SMRK. Wireless security system Ajax is the most awarded wireless security system in Europe, recognised for its revolutionary design and high-quality standards with the titles of "Intruder Alarm of the Year" (Security & Fire Excellence Awards), "Best Innovative Product" (MIPS Securika), silver medal for "Security & Firefighting Risks" (Expoprotection), and finalist at Intersec. The Company's entire production and R&D team are based in Ukraine.
Experts sections
Featured white papers
3 reasons to migrate to a new access control system
Download
Schooling the market on education security
Download
Lawrence, Massachusetts deploys FLIR video system for safety
Download