Alan Stoddard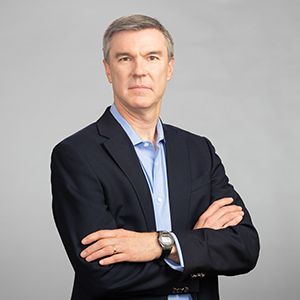 Alan Stoddard
President,
Cognyte
Alan Stoddard is President of Cognyte North America where he leads business strategy and leadership efforts for the company. An experienced global technology executive with a proven record of delivering earnings and revenue growth, he focuses on delivering innovative intelligent security solutions to mission-critical organizations. Over the course of his career, he has held senior level positions with Honeywell, Flexjet, and AMX Corp. He holds an MBA in Finance and Operations from Duke University, and a B.S. in Astronautical Engineering from MIT.
Round table contributions
Articles by Alan Stoddard
We've just endured an event that was unprecedented in recent history. COVID-19 greatly affected our lives: our daily activities, the health and well-being of our families and friends, and business operations as we know it. Now that stay-at-home restrictions have been lifted, organisations are preparing for employees to return to work. Confidence surrounding the return to the office hinges on the employees' perceptions of how well they will be protected while at work. One thing is certain: There is a lot of work ahead. Let's look at some of the challenges enterprises can expect to face and how to best address them. Addressing the Return to the Office To say that the COVID-19 pandemic has disrupted operations around the world, is the understatement of the decade. That being said, businesses and governments are under mounting pressure to restart their operations as quickly as possible. With 'social distancing' and other measures helping to curtail the spread, organisations are turning their attention to a critical question, "How do we effectively restart operations, while protecting our employees' and citizens' health and safety?"As organisations begin to "reboot," they must be able to take a variety of factors into consideration and focus on what they can actually control In the absence of defined contingency plans, industry standards or regulatory guidance, organisations are looking for innovative ways to help address a host of new challenges. Businesses are not just focused on response or monitoring of hot zones during the pandemic; they're also thinking about afterward, when people return to the daily activities and the workplace under a different, new set of circumstances. Embarking on this journey and being successful requires a key element: the insight to adapt. As organisations begin to "reboot," they must be able to take a variety of factors into consideration and focus on what they can actually control: their employees' safety, operating models, and existing compliance requirements. Building Confidence Adjusting these elements demands a pragmatic approach that addresses the potential risk to employees in various environments while also delivering a degree of confidence to customers that an organisation is taking a meaningful, proactive posture to keep people safe and healthy. Also, as circumstances change, obtaining the insight to adapt to those changes is crucial for businesses to stay one step ahead and remain agile. One example of this, that we expect to impact the future of business, is the increased use of mobile applications to provide remote health checks of employees while delivering push notifications of wellness tips, rapid communication when issues arise, and response to a call for help in case of emergency changes in health status. Employee monitoring To illustrate the point, having employees provide current symptom status and temperature before arriving at work can help to establish a baseline. Upon arrival, they complete a quick check-in to verify the information before entering the premises.It is important to remember that private health information is being shared, requiring adherence to existing privacy requirements In this instance, it is important to remember that private health information is being shared, requiring adherence to existing privacy requirements, documentation, record keeping and accuracy checks. Doing so manually is a significant challenge, hence the need for a systemic approach. Organisations are looking for applications that map to their current needs, can scale to larger populations as needed and remains adaptable to emerging requirements and legal mandates as they evolve. We expect to continue to see new use cases like this evolve as organisations implement new approaches to daily operation. Regardless of the use case, the underlying driver is that access to information and flexibility is critical and the ability to respond quickly is vital. Looking to the Future As we all adjust to different ways of operating, business and security leaders need to keep a few guidelines in mind. First, it is critical to identify the mission-critical challenges that are most relevant to your operations. What works for an organisation down the road, may not work for your business. Next, you need to implement processes and policies that are flexible enough to fit your situation, scalable to larger or smaller groups and adaptable to new requirements be they regulations, standards, processes or new technologies. And lastly, above all else, be pragmatic. The solution should not be worse or more complex than the problem. As we move out of this phase and into the weeks, months and years ahead, there is hope. By empowering your team and the overall business to realise stronger risk awareness, deeper threat detection and prevention, and broader visibility, you can develop a return-to-work strategy that enables you to get your operations up-and-running quickly and efficiently.
Though they may sometimes elicit a hectic and fast-paced experience, airports are a necessary cornerstone of traveling for many people around the world. Whether they represent the ability to see family, the need to attend a business event, or the chance to get away on a relaxing vacation, airports are central to allowing travelers to get from one destination to the next. In 2019, more than four billion scheduled travellers passed through the world's airports, and that number is projected to grow. As the flow of travellers increases, airports are facing many new challenges. Passengers, by nature, are highly diverse, transient and in continual motion. As a result, airports are taking on greater responsibility of ensuring that people arrive and depart in a timely — and safe — manner. Effective security operations Effective security operations are therefore critically important to allowing these entities to protect what matters most. Unfortunately, this is not an easy task, as airports have evolved from traditional ports-of-call to highly complex environments. With the introduction of shopping, dining, interconnected rail and more amenities, they are seeing many of the same challenges facing cities. That includes theft, fraud, medical concerns and even domestic violence spilling over into facilities that are already popular targets for bad actors. They are seeing many of the same challenges facing cities The various threats that airports face on a daily basis present the potential for extreme damage. Any type of incident can carry significant risk to people, assets, passenger traffic, and brand reputation. Traditional security risks in the airport ecosystem, such as theft, violence, terrorism, and insider threats, continue to evolve, while overarching cyber attacks targeting physical security systems have also become more prevalent. Airport industry demands Aside from the constantly shifting risk landscape airports face, they also maintain a unique set of needs due to the high-level nature of the overall operation, such as: Constant surveillance. Airports, like many other transit hubs, utilise systems and technologies that must function constantly in order to keep passengers, employees, and environments safe 24 hours a day, 7 days a week, and 365 days a year. The ability to monitor device health is instrumental in preventing equipment failures as well as ensuring that no suspicious behavior goes unnoticed. As airports grow and change with the addition of new shops, terminals, or runways, they also need a set of security solutions that can easily adapt and incorporate new protective infrastructures. Coordinated security. The societal growth of at-your-fingertips accessibility and mobile capabilities increases convenience, but with this connectivity comes an expanded risk for threats and breaches. Security is no longer limited to just physical assets; network elements must also be considered to ensure comprehensive coverage throughout an airport's infrastructure. Data collection. Data that is derived from internal and external threat intelligence efforts plays a significant role in mitigating threats, but the sheer amount of data far outweighs the ability of many airports to organise what's collected and make it actionable. The answer: intelligence-powered solutions The complex risks, demands, and challenges that airports must contend with call for exceptionally sophisticated and coordinated security strategies that leverage intelligence-based solutions. A traditional security system is not enough for such a high-leverage atmosphere; airport security operators require the greatest level of insight and information possible to ensure protection for travelers and staff at all times. Airport security operators require the greatest level of insight and information At the core of an intelligent airport security system must exist a video-based security operations center (SOC). Operators need to be able to track incoming data and identify relevant information on a daily basis, but this can become challenging given the number of security systems and sensors that are typically integrated within an SOC, such as video surveillance, access control, perimeter detection, PSIM software, and more. Operators require solutions that integrate the existing controls of a security operation into a single view, assimilate analytical data, and provide critical insights to empower personnel to manage and respond to situations efficiently and effectively. This can be achieved through an intelligent SOC, giving operators real-time visibility into security system information and analytics that facilitates a proactive approach to security rather than reacting after the fact. Operators therefore benefit greatly from increased insight and the ability to see both the security and business sides of airport operations, from passenger and employee identification to cargo handling and flight coordination. Essential intelligent SOC components Because airports are such vast, fast-paced environments with several elements to consider when it comes to safety, an intelligent SOC in these facilities must incorporate various levels of intelligent technology, such as: Video management software (VMS). A data-driven security management and response system that leverages advanced artificial intelligence (AI) and predictive analytics is critical for viewing airport operations and investigating potential vulnerabilities or threats. When integrated with components such as dynamic GIS maps and event management, airport security teams can gain full situational awareness and control with the intelligence to act as needed. Emergency dispatch and response. In the event of a security incident, airports need to share insights in real time between dispatchers, first responders, and other aligned stakeholders. Next-generation mobile technologies within an intelligent SOC can enable operators to see the full picture of both the situation and the organisation's response team, helping to facilitate immediate action and informed decisions. Integrated security operations. As mentioned previously, today's airports are forced to look beyond the traditional physical security threats of the past and incorporate the element of cyber risk. This means that an intelligent SOC must also consider web-based vulnerabilities, such as through social media monitoring and geo-fenced surveillance and integrate this information within the guidelines and techniques that are being used to secure the airport in a physical sense. The deployment of intelligent security solutions in airport environments helps streamline all aspects of security management while enabling data analysis to ensure day-to-day airport operations run smoothly. In the end, these facilities become more prepared to deal with incidents proactively while providing a positive experience for travellers. As airports look to draw more passenger traffic and expand in scale, selecting security solutions powered by sophisticated intelligence and analytics helps protect what matters most: people, property, and the continuity of operations.
Airport environments have become more sophisticated and complex over the course of the last 20 years. What was once a simple structure to facilitate travel from point A to point B has now been transformed into a hustling and bustling setting that offers passengers the comforts and conveniences of a small city. As a result, the complexity of risks that airport operators face has grown exponentially. Security personnel must now mitigate risks like terrorism, theft, personal safety and insider threats all while streamlining operations to help preserve a positive passenger experience. Beyond the visual of long and winding security checkpoint lines, most travelers are unaware of the vast amounts of work that take place behind the scenes to ensure their safety. Increasing passenger numbers On top of the typical, day-to-day concerns security operators face, airports are only becoming busier. According to the United States Department of Transportation's Bureau of Transportation Statistics, 2018 was a record-breaking year for air passenger travel. U.S. airlines and foreign airlines operating in the United States saw 1 billion passengers fly, which was a 4.8% increase from 2017. As these numbers continue to increase, the demand on airport security personnel to keep people and property safe also increases. This is why the latest advancements in security technology are critical as part of a comprehensive and cohesive airport security strategy. Let's take a look at some of these advancements and how they are helping airport security operators mitigate risk. U.S. airlines and foreign airlines operating in the United States saw 1 billion passengers fly, which was a 4.8% increase from 2017 Video-based command and control Airports are operational 24 hours a day, 7 days a week, which means it is paramount (and typically mandated) to have video as the heart of modern-day security operation centres (SOC). In today's data-focused environment, security personnel rely on a multitude of solutions and systems, which often include video surveillance, access control, alarm notifications, and more, to ensure comprehensive protection of passengers. What's needed is a single, unified platform with integrated event management and response The rising influx of information from these systems can often be overwhelming, and in most cases, manual processes are used to manage across these domains in an attempt to achieve a coordinated response. These manual processes are not scalable. What's needed and is now being introduced to the market is a single, unified platform with integrated event management and response to allow security operators to maximise situational control and determine the appropriate intelligence-powered response. Real-time situation management The combination of real-time video, with information from a variety of additional sensors, devices and applications is changing the game for airport security personnel. Now, in the event of an incident, security officials can use this data to gain enhanced situational awareness of what's happening and deliver actionable insights to efficiently and effectively respond to the incident. Through numerous information sources and security systems, airports can benefit from a modernised and enriched investigative experience for a broad and deep understanding of routine or emergency situations. Advanced analytics Analytics are a powerful resource that gives security teams the ability to discover significant patterns and obtain insightful knowledge from video surveillance data. Advanced algorithms can be the key in providing early warnings to assist in detecting threats, helping to establish a proactive security strategy. By effectively correlating and assessing data, airport officials can bring latent intelligence to the forefront and present a more complete view of security situations. Additionally, analytics can automate predefined standard operating procedures to help minimise human error and optimise resource utilisation. By effectively correlating and assessing data, airport officials can bring latent intelligence to the forefront and present a more complete view of security situations Mobile reporting The Internet of Things (IoT) and ubiquitous connectivity have brought remote capabilities to airports, where instantaneous information sharing is paramount. Mobile reporting solutions allow passengers and employees to act as additional "eyes and ears", bringing critical safety alerts to the attention of security officials. Information shared by passengers and employees can be extremely beneficial to help shed light on a security incident and enable faster and more efficient response. Some solutions even offer the ability to share video and audio with the command centre through a passenger's smartphone. Facial recognition technology Facial recognition can provide situational intelligence through detecting, tracking, and alerting on persons-of-interest A powerful and versatile security solution, facial recognition can provide situational intelligence to security operations centres through detecting, tracking, and alerting on persons-of-interest appearing in video streams across multiple sites and thousands of cameras simultaneously. These systems are capable of forensic-search recognition capabilities and can be compared against national, local or custom databases to make investigations faster and more efficient. Interest and adoption of the technology is growing, with new use cases being introduced daily. The solution is sure to become a valuable tool in the years to come. In short, airports are very much like small connected cities, featuring a landscape with a variety of assets, a wide range of stakeholders, and numerous sites that keep safety at the forefront of the public eye. However, while global risks and day-to-day challenges can be difficult for security operators to manage, today's advanced and intelligent technologies can ultimately help improve the overall traveler experience.
Experts sections