Genetec CCTV Observation Kits
(1)
Browse CCTV Observation Kits
CCTV observation system products updated recently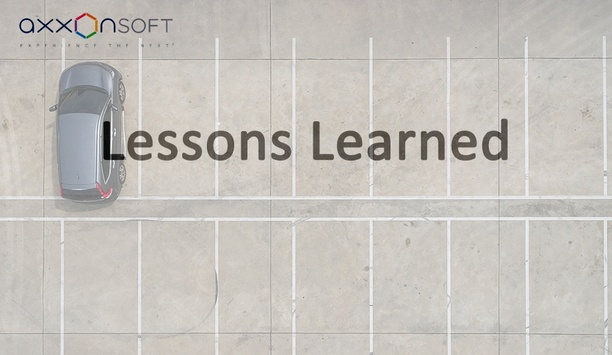 Lessons Learned with AxxonSoft: How have you adapted to the COVID-19 pandemic?
The coronavirus pandemic has brought about an unprecedented crisis for businesses and individuals. It has also created a new normal, notwithstanding the disruption to our lives, ultimately changing life as we knew it. However, our resilience as humans will ensure that we survive and become better, stronger, and more determined than ever before. As I mentioned, both businesses and individuals have struggled significantly to balance the need for safety versus survival. But at AxxonSoft, we remain committed to keeping our people safe, while ensuring that our support and commitment to our clients are not compromised. Ensuring business continuity At AxxonSoft, our vision has always been to ensure business continuity through enhanced safety and video surveillance offerings. Adhering to the COVID-19 regulations, we are prescribing to social distancing to slow the spread of the virus. As such, we are utilising this time to ensure that our service offering is optimised to afford our clients the ability to repurpose and extend their remote working viabilities. As an essential service provider, we have ensured that we are providing the right tools to our clients to comply with regulations. Our video analytics and face recognition services have no reliance on on-site control rooms and, therefore, clients' security solutions and personal safety are not compromised. Innovation reimagined During these precarious times, our focus remains on support and service. Our development team continues to work tirelessly to ensure that you can use our software during the lockdown and have accelerated innovation to this end. While we must maintain social distancing, we can and will still be of service to our community Therefore, we are proud to present version 4.11 of the Intellect PSIM, which offers our clients a neural network-based analytical tracker which recognises specific types of objects, such as humans and vehicles. We have also equipped this version with video wall management interface, automatic object tracking and a web reporting subsystem. Behavioural analytics generates data by detecting specific postures, like crouching, shooting or any potentially dangerous scenario. Our surveillance software operates on a three-pronged approach: calibration, detection and measurement, offering a comprehensive bird's-eye view to clients. This upgrade also upholds mandated social distancing measures and keeps any face-to-face meetings to a minimal. The silver lining is that you can even use this technology when the pandemic is over. Now that's what I call experiencing the next with AxxonSoft! Finding solutions to the challenges Our specialist technology and frontline technical support staff will ensure that your business is protected during and post-lockdown. We will continue to ensure that we provide solutions to the new challenges that the coronavirus brings, ensuring that our clients can emerge stronger and more responsive to any changes in the future. Our surveillance software operates on a three-pronged approach: calibration, detection and measurement While we must maintain social distancing, we can and will still be of service to our community. After all, change is not just about technology but about mastering mindsets. The COVID-19 disaster has demanded that businesses embrace tech disruptions as early as possible and apply technology in imaginative ways to define the new world of work. Until next time, stay safe!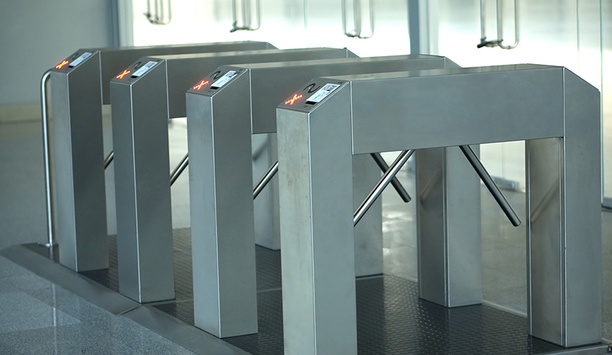 The digital transformation of access control solutions
The safeguarding of premises through the monitoring of entrance and exit points has traditionally been a very manual aspect of security. Human operators have been relied on to make decisions about who to admit and deny based on levels of authorisation and the appropriate credentials. But the access control business, like many industries before it, is undergoing its own digital transformation; one where the protection of premises, assets and people is increasingly delivered by interconnected systems utilising IoT devices and cloud infrastructure to offer greater levels of security and protection. Modern access control solutions range from simple card readers to two factor authentication systems using video surveillance as a secondary means of identification, right through to complex networks of thermal cameras, audio speakers and sensors. These systems, connected through the cloud, can be customised and scaled to meet the precise requirements of today's customer. And it's the ease of cloud integration, combined with open technologies and platforms that is encouraging increasing collaboration and exciting developments while rendering legacy systems largely unfit for purpose. Remote management and advanced diagnostics Cloud technology and IoT connectivity means remote management and advanced diagnostics form an integral part of every security solution.Cloud technology and IoT connectivity means remote management and advanced diagnostics form an integral part of every security solution. For example, as the world faces an unprecedented challenge and the COVID-19 pandemic continues to cause disruption, the ability to monitor and manage access to sites remotely is a welcome advantage for security teams who might otherwise have to check premises in person and risk breaking social distancing regulations. The benefits of not physically having to be on site extend to the locations within which these technologies can be utilised. As an example, within a critical infrastructure energy project, access can be granted remotely for maintenance on hard to reach locations. Advanced diagnostics can also play a part in such a scenario. When access control is integrated with video surveillance and IP audio, real-time monitoring of access points can identify possible trespassers with automated audio messages used to deter illegal access and making any dangers clear. And with video surveillance in the mix, high quality footage can be provided to authorities with real-time evidence of a crime in progress. Comprehensive protection in retail Within the retail industry, autonomous, cashier-less stores are already growing in popularity The use of connected technologies for advanced protection extends to many forward-looking applications. Within the retail industry, autonomous, cashier-less stores are already growing in popularity. Customers are able to use mobile technology to self-scan their chosen products and make payments, all from using a dedicated app. From an access control and security perspective, connected doors can be controlled to protect staff and monitor shopper movement. Remote management includes tasks such as rolling out firmware updates or restarting door controllers, with push notifications sent immediately to security personnel in the event of a breach or a door left open. Remote monitoring access control in storage In the storage facility space, this too can now be entirely run through the cloud with remote monitoring of access control and surveillance providing a secure and streamlined service. There is much to gain from automating the customer journey, where storage lockers are selected online and, following payment, customers are granted access. Through an app the customer can share their access with others, check event logs, and activate notifications. With traditional padlocks the sharing of access is not as practical, and it's not easy for managers to keep a record of storage locker access. Online doors and locks enable monitoring capabilities and heightened security for both operators and customers. The elimination of manual tasks, in both scenarios, represents cost savings. When doors are connected to the cloud, their geographical location is rendered largely irrelevant. Online doors and locks enable monitoring capabilities and heightened security for both operators and customers They become IoT devices which are fully integrated and remotely programmable from anywhere, at any time. This creates a powerful advantage for the managers of these environments, making it possible to report on the status of a whole chain of stores, or to monitor access to numerous storage facilities, using the intelligence that the technology provides from the data it collects. Open platforms power continuous innovation All of these examples rely on open technology to make it possible, allowing developers and technology providers to avoid the pitfalls that come with the use of proprietary systems. The limitations of such systems have meant that the ideas, designs and concepts of the few have stifled the creativity and potential of the many, holding back innovation and letting the solutions become tired and their application predictable. Proprietary systems have meant that solution providers have been unable to meet their customers' requirements until the latest upgrade becomes available or a new solution is rolled out. This use of open technology enables a system that allows for collaboration, the sharing of ideas and for the creation of partnerships to produce ground-breaking new applications of technology. Open systems demonstrate a confidence in a vendor's own solutions and a willingness to share and encourage others to innovate and to facilitate joint learning. An example of the dynamic use of open technology is Axis' physical access control hardware, which enables partners to develop their own cloud-based software for control and analysis of access points, all the while building and expanding on Axis' technology platform. Modern access control solutions range from simple card readers to two factor authentication systems using video surveillance as a secondary means of identification Opportunities for growth Open hardware, systems and platforms create opportunities for smaller and younger companies to participate and compete, giving them a good starting point, and some leverage within the industry when building and improving upon existing, proven technologies. This is important for the evolution and continual relevance of the physical security industry in a digitally enabled world. Through increased collaboration across technology platforms, and utilising the full range of possibilities afforded by the cloud environment, the manufacturers, vendors and installers of today's IP enabled access control systems can continue to create smart solutions to meet the ever-changing demands and requirements of their customers across industry.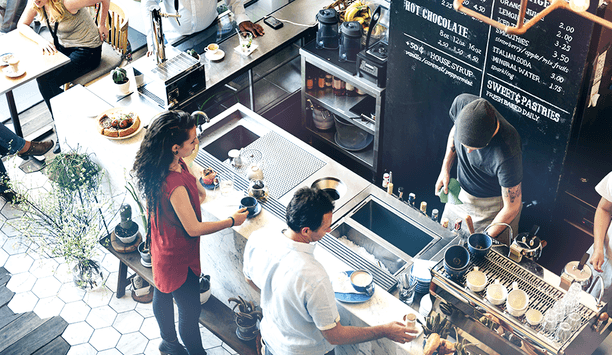 Video analytics trends: Security and business intelligence
In the physical security space, video analytics have historically over-promised and under-delivered, often leaving end users sceptical about their capabilities. However, increased integration with security solutions and other business systems, as well as developments in deep learning and artificial intelligence (AI), have given video analytics a significant boost in recent years. Here, we take a look at the key trends putting video analytics in the spotlight, and how this opens up new opportunities for increased security and business intelligence. Deep learning and AI will enhance video analytics capabilities At the start of 2018, our security industry experts commented on how deep learning technology and Artificial Intelligence (AI) would extend to the video surveillance industry, allowing security professionals to gain very specific insights into human behaviour. Our experts predicted that this would permit organisations to reduce risk, enable efficiencies, reduce costs, ensure compliance and provide faster access to stored video. With AI-enables video systems, video analytics are set to perform more complex applications at a higher level of accuracy. Image processing developments allow intelligent analytics According to Ambarella's Chris Day, advancing chip technology combined with the neural network approach to computer vision is game changing for video analytics. Since the problem of higher resolution has already been solved, the key differentior for video surveillance systems will be the ability to add computer vision in parallel with image processing and high-resolution encoding – ideally in a chip that is low-power. Integration with security systems increases video analytics value Video systems produce an immense amount of data that is often wasted, says Bosch Security Systems' Sean Murphy. When video analytics alerts are integrated with other security systems, video events can trigger responses from other parts of the security solution. For example, cameras with video analytics can initiate intrusion detection system events initiate intrusion detection system events, prompting the panel to take action by alerting the central station or sending video to security personnel. Video analytics add value with actionable business intelligence Adding network video to the current generation of Internet of Things (IoT) solutions provides actional value beyond situational intelligence for security purposes. With increasingly intelligent sensors, interactions between business systems are becoming more sophisticated, providing a value greater than the sum of the parts. Organisations can use smart applications to reduce energy consumption, allocate workspace, and reduce operating costs. In a retail environment, analytics are now capable of assessing a scene for occupancy and crowd control, even generating reports of trends over time. Video analytics detect abnormalities to predict incidents Camera-based video analytics can go beyond assessing a current scene to predicting potential risks before they occur, explains Pelco's Jonathan Lewitt. Based on predetermined factors or analysis of prior events, systems can collect all available information to determine the level of severity of a situation and whether an action needs to be taken. At the same time, systems can correlate data from video and other sources to help analyse similar occurrences in the future. Video analytics increasingly supplemented with audio analytics Audio analytics are often overlooked, notes Hanwha Techwin's Paul Kong, perhaps due to differing privacy laws from video surveillance. However, audio analytics processed in a camera can help provide a secondary layer of verification for events, as well as identifying gunshots, screams, or other sounds indicating an incident is taking place. This makes audio analytics ideal for dealing with active shooter events at schools and campuses. As Louroe Electronics' Richard Brent explains, audio analytics software can detect rising levels of human aggression, as well as recognising firearm discharge. This can trigger alerts to ensure incidents are dealt with swiftly.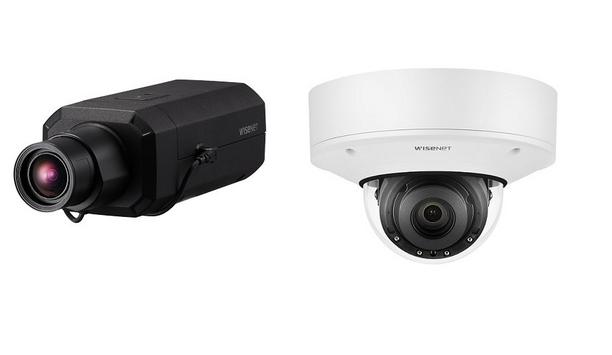 Hanwha Techwin America announces 4K AI Cameras with deep learning analytics
Hanwha Techwin America, a global supplier of IP and analogue video surveillance solutions, announced a line of 4K AI cameras. Part of the Wisenet P series, the new AI-based cameras capture pristine images at up to 4K resolution while including powerful, in-camera deep learning algorithms for advanced object detection, classification and error-free analytics. Utilising object recognition versus motion detection all but eliminates false alarms while also providing valuable business and operations insight. AI cameras analytics "Our new AI cameras have solid performance in both analytics and deep learning applications," said Ray Cooke, Vice President - Products, Solutions, and Integration, Hanwha Techwin America. "The included, licence-free analytics detect and classify a range of objects including people, vehicles, licence plates, and faces. This technology will provide more reliable edge based intelligence, and open new opportunities in security as well as business and operations intelligence." Unique attributes of the objects are also stored as metadata alongside the video information including: Colours of people's clothes for both top and bottom People's clothing length for both top and bottom People wearing of glasses or not People wearing or carrying a bag Age group Gender Vehicle types Vehicle colours Hanwha's plugin for Video Management Software This metadata can be read by a VMS server and used in post-event forensic search to significantly reduce time spent investigating specific events. Wisenet P series AI cameras offer integration with Wisenet WAVE and other popular VMSs from Milestone and Genetec using Hanwha's plugin. As businesses re-open with new policies regarding social distancing and occupancy limits, it's never been more important to accurately count customers and employees as they enter and exit the premises. Unlike traditional, imprecise methods of people counting with dedicated overhead cameras, the Wisenet P series AI cameras deliver the accuracy with people counting based on the camera's AI object detection algorithm. Reducing Server bandwidth for analytics Wisenet P series AI cameras are equipped with a 'BestShot' feature which ensures that only the most suitable image of classified objects is sent to a backend server. The full video image can be up to 4K resolution to see details of objects, along with tagged attributes metadata. Users have the option to set the image resolution to less than 4K for full video streaming or use BestShot to minimise bandwidth and storage requirements for server-based analytics. Additional key features include: Digital auto-tracking: provides two simultaneous streams of video, enabling operators to see the camera's full field of view, whilst simultaneously viewing a Full HD digital PTZ auto-tracked image of a person or vehicle Upgraded Business Intelligence: integration with Wisenet Retail Insight providing gender and age group counting 12V DC power supply (50mA max): provides power for external sensors including LEDs, PIR sensors, and glass break detectors, eliminating the need for an additional power supply AI Dome cameras series The new Wisenet P series AI cameras are available in the following configurations: PND-A9081RV – 4K AI dome camera with built-in IR illumination PND-A9081RF – 4K AI flush-mount AI dome camera with built-in IR illumination PNV-A9081R – 4K AI vandal-resistant dome camera with built-in IR illumination PNO-A9081R – 4K AI bullet camera with built-in IR illumination PNB-A9001 – 4K AI box camera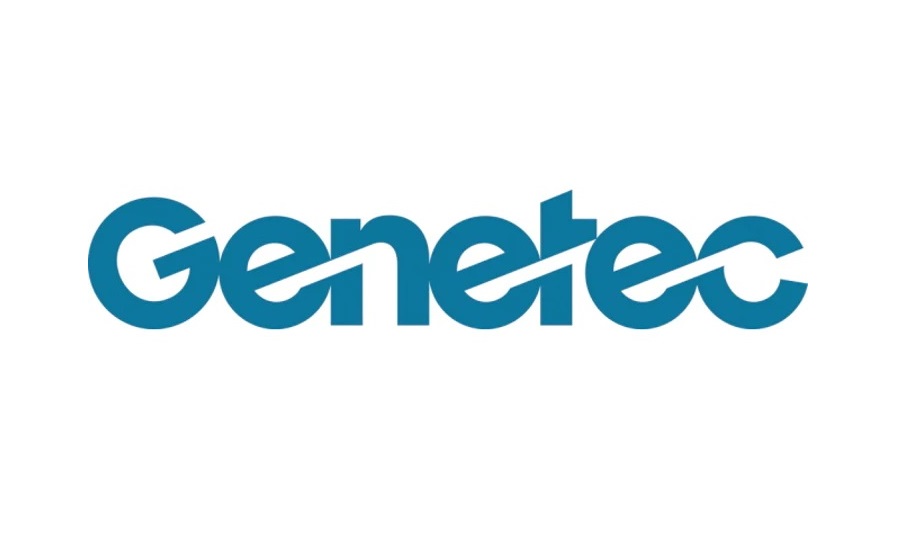 Genetec's focus on unified platform, cyber-security and privacy cited as core to its recognition as top global video surveillance software firm
According to latest research from its video surveillance and analytics intelligence service, Omdia (Informa), Genetec Inc. ('Genetec'), a global technology provider of unified security, public safety, operations, and business intelligence solutions, continues to build its position as the world's major developer of video surveillance software with a widening share of the global market. Overall, Genetec grew at three times the pace of the global video surveillance solutions market and demonstrated the fastest growth of all major software companies across all geographies (based on Omdia reported 2018 and 2019 data). Video surveillance software major "Genetec is encouraged by this news but we remind ourselves that the true measure of success is not to be found in market share figures but whether or not our partners and customers feel like we have delivered against the service levels and outcomes they expect," states Pierre Racz, President, Genetec Inc. Pierre adds, "Our independence and single-mindedness have helped us earn the trust of the market, and our investment in research and development have helped us deliver products at the cutting edge of client needs." Importance of privacy and cyber-security We strongly believe that security and privacy can coexist and deliver greater benefits together than in isolation" He continues, "We have a broader obligation to our communities and society. As such we have been outspoken about privacy and cyber-security. We strongly believe that security and privacy can coexist and deliver greater benefits together than in isolation. We also believe that this is what fuels our continued success with organisations that share these values. We will continue to work hard to earn their trust." Enterprise, government, education, and public safety organisations alike are seeking greater privacy and cyber-security functionality, as well as additional operational value and return on investment from their physical security systems. Unified physical security platform Their requirement for a secure video surveillance solution as part of a truly unified physical security platform has resulted in Genetec outpacing market growth across all geographies. "The Genetec share of the global video surveillance software market continues to grow year on year," said Jon Cropley, Principal Analyst, Video Surveillance at Omdia, adding "The company reported high growth in all regions including in EMEA where, in spite of a slower market that contracted by over 3%, Genetec revenues increased by 19%." Video encoders, recorders and software provider Additionally, according to the report, Genetec is now the top Western supplier for back-end video surveillance equipment that includes recorders, encoders and software, demonstrating an increasing demand for trustworthy devices from a recognised firm in privacy and cyber-security. Comparing year-on-year Omdia Research Statistics (2018 to 2019): Genetec increased its lead as the top video surveillance software in the world, with 11.9% market share (up from 10.6% in 2018). Genetec global market share growth increased 18.7% year on year, from 10.6% in 2018 to 11.9% in 2019. Genetec saw the fastest growth of the ten largest vendors in EMEA at 19% in 2019. Genetec posted Asia's highest video surveillance software growth at 37%, compared to 11.1% growth for the market in general.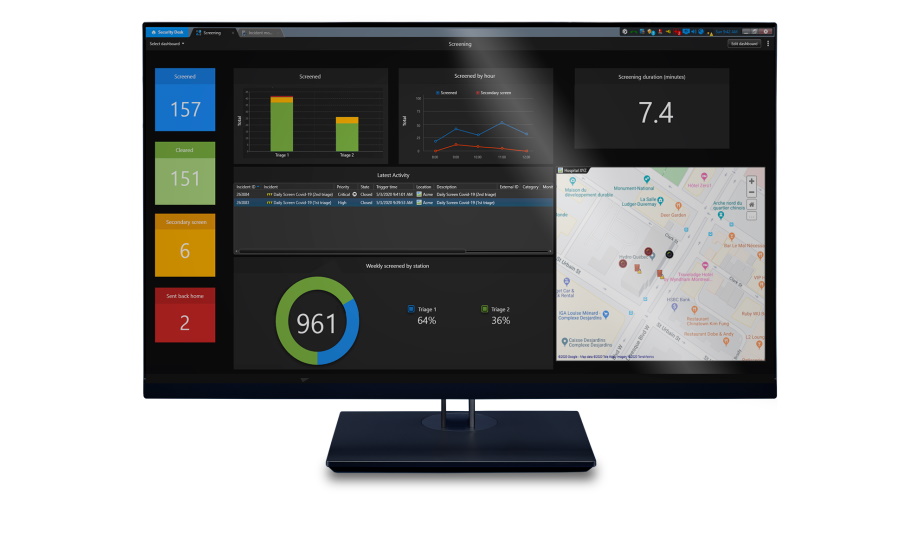 Genetec customers use Mission Control decision support system to screen employees and visitors
As hospitals, manufacturing establishments, large retail stores, and public-facing businesses strive to put in place health screening measures to minimise the risks of outbreaks, they often have to rely on manual processes that are time-consuming and error-prone. To address the challenge, Genetec Inc., a renowned technology provider of unified security, public safety, operations, and business intelligence solutions is working with customers on new ways of using Genetec Mission Control, the decision support system of Genetec Security Centre, to help automate the screening process for employees and visitors entering facilities. Decision management system Mission Control also keeps track of every step of the response process, enabling comprehensive after-action review Genetec Mission Control is a collaborative decision management system that is already widely used by airports, critical infrastructure organisations, and security departments to coordinate incident response through greater situational intelligence and guided action. Designed to eliminate doubt, it filters out noise to provide the essential data, insights, and tools needed to respond to situations quickly and collaboratively. Mission Control also keeps track of every step of the response process, enabling comprehensive after-action review and continuous improvements to standard operating procedures. Mission Control can also be used to streamline screening processes and ensure accurate record-keeping. Maintaining safety compliance The system digitises the screening questionnaire used by the organisation and walks admission personnel through each step to identify individuals requiring additional assessment. It also centralises the data collected and automates supervisor notification. With Mission Control, customers can significantly speed up the screening process while maintaining safety compliance and minimising operational disruption. Whereas most solutions either require custom coding or the involvement of the manufacturer, Mission Control provides an intuitive configuration interface that lets administrators create a tailored questionnaire to guide personnel performing the screening and automatically identify the need for additional verification. Connected security systems "This is a great example of the unique value offered by Mission Control," said Gabriel Labrecque, Mission Control Product Manager at Genetec. "Where traditional decision management systems are slow to adapt and hard to use, customers are able to tap into the capabilities of Mission Control to rapidly address an emerging challenge. This is done by simply using out-of-the-box Mission Control features and tapping into data from their existing security systems." Key features of Mission Control for screening applications include: Centralised data: Mission Control leverages data from connected security systems to streamline screening, eliminating the need to extract and record data in multiple locations. Guided operating procedures: The system automatically identifies individuals requiring secondary screening based on questionnaire responses, instead of relying on personnel following offline procedures. Automation: When employees are delayed by secondary screening or sent back home to self-isolate, data is automatically tracked, and managers and employees can receive a copy of the screening questionnaire. Dashboards: Using Security Center dashboards, customers can keep track of the latest screening metrics to measure efficiency, track trends, and assess resource allocation, as well as the impact of screening on an organisation. Centralised data collection Mission Control offers an intuitive design and administration interface. Procedures can be created and customised in a few clicks, so that screening staff can easily keep up with changes to guidelines. Its centralised data collection provides real-time data from each screening station.
Featured white papers
Automatic vehicle identification: State of the industry 2020
Download
How analytics engines mitigate risk, ensure compliance and reduce cost
Download
11 considerations for embedded system RFID readers
Download