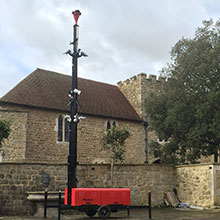 The two-day Heritage Security event included Argus+ anti-terrorism training for the attendees
With the summer holidays now well underway, various attractions across the country are enjoying higher numbers of visitors; bringing in important revenue, but also increasing security risks. Trigion Security Services recently hosted the first Heritage Security Forum designed to help owners and managers keep England's historic buildings safe from modern security threats.
Heritage Security Forum highlights
The Forum took place at Leeds Castle in Kent and was attended by representatives of Treasure Houses from across the country. The two-day event – introduced by Leeds Castle Chief Executive, Vice Admiral Sir David Steel KBE DL – included Argus+ anti-terrorism training for the attendees.
Neil Ricketts, Technical Security Director at Trigion Security Services, said: "These days the security threats are rather more sophisticated than when castles could be defended with boiling oil and archers. With priceless artwork and antiques to protect from thieves, and the current threat level for international terrorism in the UK assessed as severe by MI5, it is important that iconic buildings, such as the Treasure Houses of England, take all reasonable security precautions to protect their staff, visitors and the buildings themselves."
The Treasure Houses offer a number of challenges for security experts, including maintaining the structural integrity and feel of a building, and managing large crowds at events.
Save
Save
Download PDF version