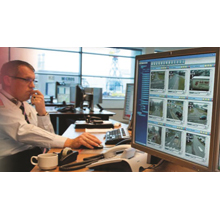 The building is monitored remotely at Trigion's security operations centre
Thanks to the innovative use of technology by Trigion Security Services, a leading insurance company based in the City of London no longer needs manned guards operating 24 hours a day, 7 days a week.
The 'remote reception' facility operated by Trigion means that while guards continue to work during the day, interacting with staff and visitors, they aren't required outside office hours. Instead the building is monitored remotely at Trigion's security operations centre. Nominated individuals can still enter the building when they want to thanks to 'entry call points', which Trigion uses to visually verify their identity remotely.
The result is that guards no longer have to work unsocial hours or attend the building on call with keys to grant access. The 'remote reception' also produces savings of around £50,000 a year on guarding costs for the insurance company; after the first year when the costs of the system installation have to be accounted for.
Trigion remote security benefits
Neil Ricketts, Technical Director (Electronic Security) at Trigion Security explained: "Although the City of London may not be considered a hotbed of crime, there were nearly 6,000 reported incidents in the Square Mile in 2015, and burglaries accounted for 248 of them."
"When you have expensive equipment and more importantly thousands of customers' sensitive personal data, it is vital that your premises are completely secure. Our innovative 'people plus technology' solution means that constant security is maintained in a more cost effective manner."
As well as the direct savings on security, Trigion estimates that there are savings of £13,000 a year on electricity alone now that the building can be unoccupied overnight and at weekends.
Download PDF version