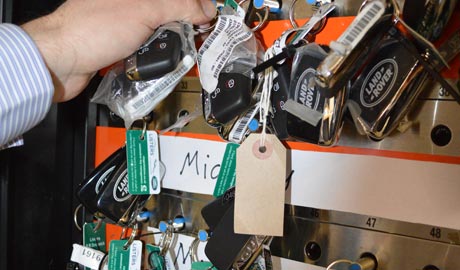 Traka Automotive launches key management software across operating systems to remotely locate, assign and hand over vehicle keys
Traka Automotive, the UK's most advanced electronic key management solution for car dealers, has developed a mobile application for accessing its key management software from any Windows, Android or iOS mobile device. The new Traka Automotive Mobile App allows dealer staff to locate, assign and hand over vehicle keys, even when they are away from their desks.
The Traka App, which is being piloted by several dealers right now, allows users to search key records, assign and unassign keys to/from authorised staff and even complete key handovers between registered staff, in a fully audited manner; all via their mobile device of choice and without physically returning keys to cabinets or being tied to their desktop PCs. The full version of the Traka App will be offered to all existing Traka Automotive customers before the end of this year.
Traka Automotive Mobile App offers secure mobile access

Paul Smith, Director, Traka Automotive said, "As mobile access to corporate IT systems becomes more prevalent for dealerships striving for greater efficiencies and higher staff productivity, we need to be able to offer secure mobile access to our key management software. We are already seeing early adopter dealer groups rolling out iPads and other smart mobile devices to staff to give them access to back office systems without having to go back to their desks. Some groups are even replacing traditional desktop computers with tablets and smart phones. In the light of this trend, we are moving early to pilot secure mobile access to our electronic key management solution."
Traka Automotive provides bespoke automotive electronic key management solutions for automotive dealerships. With hundreds of dealers relying on Traka Automotive's system to track and report on car key movements and locations every day, Traka is now the UK market leader in automotive electronic key management.
Download PDF version
Download PDF version