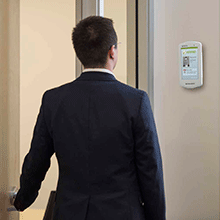 IOM Access Control Tablet fuses an access-control reader, biometrics, keypad, intercom, camera and other capabilities
SRI Identity™, a line of business of SRI International, introduced its IOM Access Control Tablet for mainstream access control applications at IFSEC International in London. The tablet, on display at the SRI Identity Stand (# E1250), fuses an access-control reader, biometrics, keypad, intercom, camera and other capabilities to establish a new benchmark for cost-effective value and functionality. It joins the SRI Identity portfolio of Identity on the Move™ (IOM) solutions that enable greater ease of use, security and personalisation for physical and logical access control, workforce management, enterprise operations and emerging applications within the Internet of Things.
Cost-effective and easy to install

Built on a scalable Android® computing platform, the new IOM Access Control Tablet can provide additional functionality beyond its access control functions such as time and attendance, two-way video communications, employee alerts and scheduling without additional equipment. Installation and support is simplified with a single device. With its ability to replace multiple devices, the new SRI tablet delivers real savings now, and provides for future enhancements.
"Our new IOM Access Control Tablet brings the convenience and capabilities of iris recognition technology to mainstream access control applications," said Mark Clifton, President, Products and Solutions Division, and Vice President, SRI International. "It provides the gold standard of biometric identification—iris reader technology—for superior access control and identity management at a price point that is highly competitive for a broad range of security applications."
Added advantages over traditional readers
The SRI IOM Access Control Tablet is a viable option to replace card readers in new or existing access systems, and provides advantages over traditional readers. Reducing organisational risk without slowing down operations, tests have shown this purely iris-based solution to be more accurate than published fingerprint data. Unlike less secure biometric modalities and security protocols, irises cannot be lost or stolen like badge cards or tokens.
As a security solution that combines previously disparate functions, the IOM Access Control Tablet reduces complexity and costs for equipment, installation and wiring. The product first debuted at ISC West 2016, the largest security industry trade show in the U.S
Download PDF version
Download PDF version