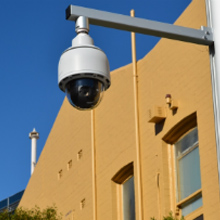 The 30x optical zoom allows
operators real time capabilities to
monitor unfolding events
35 Sony SNC-WR632C PTZ cameras have been selected by Parramatta City Council in Australia as part of its CitySafe project. Parramatta is one of Australia's busiest and largest Central Business Districts, with citizen safety and crime prevention being two of the key drivers of the Sony CitySafe surveillance system design.

Sony's full HD resolution SNC-WR632C cameras have 30x optical zoom and a pan speed of 700° degrees per second. The cameras also achieve a high frame rate of 60fps, meaning critical moments are more likely to be caught. The CCTV cameras cover areas including public surveillance in the town square, path areas and other public spaces with high foot traffic.
Download PDF version