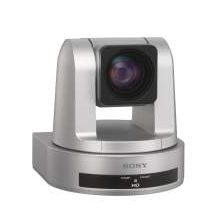 Sony expands its SRG series of full-HD pan/tilt/zoom cameras with latest addition of SRG-120DS
With the latest addition of SRG-120DS, Sony offers a total of six full-HD pan/tilt/zoom (PTZ) cameras under the SRG series. The all-in-one compact and lightweight design makes these cameras easy to install in a variety of locations while integrating seamlessly to different applications as either a primary or secondary camera.
Application to different verticals Apart from traditional markets, the versatile SRG camera series is a perfect choice to be incorporated as part of the visual communication facilities in multiple verticals including judiciary, healthcare as well as education sectors.
Judiciary
There is a rising trend to include visual communication in judicial systems globally for applications such as remote testimonies in legal proceedings, video arraignments, virtual visitations in prisons, among others. Sony's SRG camera series, capable of live streaming via IP for viewing purposes, can assist court procedures by reducing unnecessary delays by parties due to geographic differences or drastic climate situations as well as protect the identities of individuals due to sensitivity involved. The remote-operated camera line-up is also equipped with powerful optical zoom and wide-viewing angle that ensures that images stay clear and sharp. This allows two or more parties to communicate when these cameras are connected to a video conferencing device.
Healthcare
Apart from legal systems, the healthcare sector progressively incorporates visual communication in their ecosystem to streamline workflows. Sony's SRG camera series feature fast and silent pan, tilt and zoom capabilities which are extremely useful in noise-restricted environments including live telecast of surgical procedures in the operating theatres to lecture theatres or teaching rooms for research and discussion purposes. Further, practitioners can monitor patients for enhanced quality of care in hospital wards.
Education
The cameras are equipped with Sony's View-DR™ technology which effortlessly accommodates high contrast scenes, making sure that every presenter is correctly exposed
As tertiary institutions are setting up different campuses across the globe, lectures are increasingly conducted via live streaming or recorded for review, sharing and self-study. The SRG camera line-up, with the sophisticated 1/2.8-type Exmor™ CMOS image sensors, provides smooth, crisp detailed, full-HD (1920 X 1080/60p) images with extremely low noise condition. In addition, the cameras are able to balance the strong backlight with Sony's View-DR™ technology, enhancing students' learning experience. Images are projected clearly in the event where the lecturers use projectors or when direct sunlight is present.
The easily installed cameras series boost a number of remarkable features including:
The cameras boosts different connectivity capabilities to cater to different needs in video output ranging from HDMI, 3G-SDI, USB2.0, USB 3.0 to standard IP network.
The cameras can be controlled via the VISCA™ protocol over IP connections. They are also compatible with Sony's RM-IP10 IP remote controller to enable comfortable pan, tilt, and zoom operation with optical three-axis joysticks. Users can also control up to 112 cameras over IP connections by using five remote controllers. Further, camera control with the VISCA™ RS-422 and RS-232C allows the cameras to be controlled remotely.
The cameras are equipped with Sony's View-DR™ technology which effortlessly accommodates high contrast scenes, making sure that every presenter is correctly exposed. This expands the dynamic range for clear images under harsh backlighting with extremes of light and dark in the same scene.
Sony's latest addition to the SRG family
Building on the success of Sony's SRG-120DU, the brand new SRG-120DS desktop PTZ camera is equipped with 3G-SDI video interface. The versatile interface allows long distance system integration and users can seamlessly connect the camera with multiple devices including videoconferencing system and PC for lecture capture. The addition enriches the SRG family line-up to cater for different market demands and needs.
Sony's SRG-120DS will be available in Asia Pacific from April 2016. In conjunction with ISE 2016 happening in Amsterdam, RAI from 9 to 12 February, join us at Stand 1-H120 for first-hand experience with this latest addition to Sony's SRG series of cameras.
Download PDF version
Download PDF version