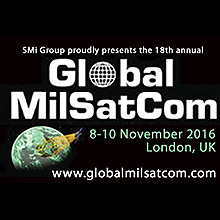 Global MilSatCom 2016 will provide updates on military SatCom programmes and emerging technologies
Over 450 Military SatCom experts from every continent, including 120 military personnel will meet in London this November at SMi Group's 18th annual Global MilSatCom Conference and Exhibition.
Europe's military satellite communications event will bring together over 450 of the industry's key senior military representatives alongside the world's leading SatCom solution providers and operators.
MilSatCom 2016 purpose
Global MilSatCom 2016 will provide updates on military SatCom programmes and new and emerging technologies. Also discussed will be the potential for greater exploitation of commercial services to satisfy end-user military requirements, how the large demand for more resilient and protected SatCom is being satisfied, and the potential for SatCom on airborne platforms in years to come as well as allied partnerships and interoperability as a solution for governments and militaries across the globe.
"This is my first Global MilSatCom Conference and it has been a very informative learning experience. I look forward to coming back as a delegate from Canada and contributing further". Canadian Department of National Defence.
In 2016 there will be over 450 attendees and over 20 Government and Military speakers. 3-day event programme features over 25 exclusive case-study driven presentations, 3 panel discussions and keynote addresses from UK MoD, UAE Space Agency, DISA and Department of National Defence Canada.
Places are extremely limited for this event. Those interested are advised to register before the 30th June to secure their place and save £200.
"As a newcomer to Global MilSatCom, I can tell you that I absolutely got a lot out of the event and I hope to get to future meetings. It was an excellent event and the SMi team did a fantastic job." U.S Air Force.
In 2016, there will be over 450 attendees and over 20 Government and Military speakers
Global MilSatCom 2016 event programme 5 addresses:
Day One Host Nation Address from UK Ministry of Defence
Day One Special Guest Address: His Excellency Dr Mohammed Al Ahbabi, Director-General, UAE Space Agency
Day Two Keynote Address: Clare Grason, Programme Manager, Enhanced Mobile Satellite Services, DISA
Day Three Keynote Address: Lieutenant Colonel Abde Bellahnid, Directorate of Joint Capability, SATCOMS & SAR Requirements, Department of National Defence Canada
Special Closing Address: Michael Radermacher, Director of North American & Global Military Business Development, OneWeb
Speaker line up for 2016:
Colonel Leonardo Musmanno, Head of Navigation, Surveillance and SatCom Division, Italian Ministry of Defence
Colonel Christophe Debaert, Head of French SatCom Programs, DGA France
Lieutenant Colonel Kenneth Sandler, Assistant Chief of Staff G6, U.S Marine Corps Forces for Europe and Africa
Wing Commander Rhys Taylor, Joint Communication and Information Systems (J6), New Zealand Defence Force
Lieutenant Colonel Frank Valentin Nielsen, CIS Operations Support Department, Danish Defence Command
Major Attila Horvath, SatCom Specialist, Hungarian Defence Forces
Major Nicolas Stassin, Defense Staff/ Strategy Department/ Defence Development Division/ Capabilities Section/ Enabling Space, Belgian Defence
Dean Olson, Senior SatCom Policy Analyst, DoD CIO, U.S Department of Defence
Deanna Ryals, Chief of International MilSatCom, U.S Air Force
Magali Vaissiere, Director of Telecommunications and Integrated Applications, European Space Agency and many more.
Plus, event agenda includes 2 new pre-conference workshops, taking place on the 7th of November 2016:
Workshop A: Architecting Space Systems. Hosted by The Aerospace Corporation.
Workshop B: The Low Earth Orbit Small Satellite Constellation Revolution. Hosted by Surrey Satellite Technology Ltd.
Download PDF version
Download PDF version