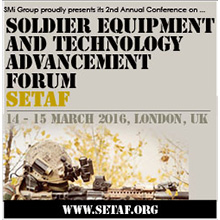 SETAF 2016 will bring together military and industry experts to lead focused discussion group
SMi Group is delighted to welcome on board Systems Engineering and Assessment Ltd (SEA), the latest speaker to sign up for SMi's 2nd annual Soldier Equipment and Technology Advancement Forum (SETAF) taking place 14-15 March in London.
Uniting military & industry experts
SETAF 2016 will bring together military and industry experts to lead focused discussion groups and help participants drill down on the latest strategic, technical and scientific research, all designed to allow those at the forum to return to their organisations better equipped to solve the next big programme challenges.
Join the following discussion groups with SEA's Land Project Manager Justin Prowse and Senior Principal Consultant Colin Rayment:
Situational Awareness: Effectively delivering data to the dismounted soldier for increased situational awareness and decisive decision making (with British Army and BAE Systems)
Approaches to enhancing soldier lethality via weapon system upgrades and increased co-operation with supporting arms (with British Army, John H. Northrop and Associates and United States)
The science behind the system (with DSTL, Thales and Fraunhofer Institute for Chemical Technology)
Confirmed attendees
With top-ranking military officers representing 10 nations and leading soldier programmes experts all under one roof, this is the event you cannot afford to miss. Our expert speaker line up 2016 includes key decision makers from the military sector (US Army, DSTL (UK), British Army, German Army, Swedish Armed Forces, Ministry of Defence (Netherlands)) and the industry sector (BAE Systems, Sagem, Rheinmetall Electronics, Thales) and many more.
Over 20 hours of informal networking, more than at any other soldier system meeting in 2016! Confirmed attendees include representatives from Ministry of Defence Singapore, Thales Norway, Bundeswehr, Ultra Electronics, MOD Abbeywood, Otis Technology, Bren-Tronics, Royal Military Academy Sandhurst, Fokker Special Products, and many more. Unique opportunities for discussion, including 2 morning coffee breaks, 2 networking lunches and 2 afternoon tea sessions. Make new contacts and form the relationships you can count on in the future.
After the success of our last conference, SETAF 2016 is guaranteed to sell out once again.
Download PDF version