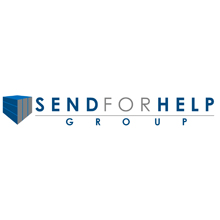 Skyguard and Guardian24 owner Send for Help's successes can be attributed to its product ranges, Alarm Receiving Centre & client management portal
The Send for Help Group, which owns subsidiary brands Skyguard and Guardian24, has been confirmed as the world's largest lone worker protection provider in a recent market research report.
Over 100,000 end users
The 'People Monitoring and Safety Solutions' report published by business intelligence specialists Berg Insight states, "The Group is now the leading lone worker protection service provider worldwide, with a combined subscriber base of more than 100,000 end users across several vertical market segments in the UK."
This follows Send for Help's acquisition of Belfast-based Bluechip Technologies Ltd (trading as Guardian24) in November 2014, and continued record growth for the Group's Skyguard subsidiary.
The report goes on to explain that The Group's successes can be attributed to their exclusive product ranges, state of the art Alarm Receiving Centre and client management portal - all developed in-house in the UK.
Highest level of Police response
The brand's products and service components are certified to the very highest possible industry standards including; BS 8484, BS 5979 (Cat II), BS 7858 and ISO 9001. Achieving such stringent accreditations has enabled brands to request the highest level of Police response in an emergency, via Unique Reference Numbers, which bypass the 999 system.
In addition, the companies' personal safety devices and ARC are part of only a few in the UK certified to the highly coveted 'Secured by Design' accreditation - guaranteeing national Police approval through their design.
The development of dedicated industry standards in response to strict Health and Safety Laws, has led the UK to become a global leader in lone worker protection services. Berg Insight's report estimates there are 370,000 monitored lone worker protection users in the UK, out of a total of 670,000 across Europe.
Huge market potential for lone worker protection
Send for Help Group's Chief Executive, James Murray commented, "This report reaffirms that our strategy of developing proprietary products, the monitoring centre and infrastructure, accredited to the highest possible standards, has enabled our brands to dominate the UK market.
With lone worker protection services at only 7% market penetration in the UK, there remains huge potential for growth in this country alone – our two brands' leading positions in their respective market segments ideally places them to capitalise on this future growth."
Download PDF version