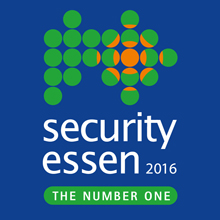 Young companies will offer stimuli to the industry with new products and process developments
For more than 40 years, Security Essen has been the meeting place of choice for the security and fire protection sectors. It's clear from the quantity of applications which have been received for the shared stand for "young innovative companies" that nationally and internationally established exhibitors are not alone in seeing this trade fair as a must-attend event.

This platform, which is funded by the German Federal Office of Economics and Export Control, is practically fully booked. With this shared stand, Security Essen is once again enhancing its profile as a driver of innovation, which recognises trends within the sector, reinforces them and then gives them their world debut in front of a specialist industry audience.
Innovative new security companies
Young companies introduce themselves here and offer important stimuli to the industry with their new products and process developments. Innovations from a great variety of aspects of security and fire protection technology are showcased – the portfolio on offer from the aspiring companies is very wide-ranging. Digitisation is an important thematic focus at the exhibition. To date, 13 exhibitors have received funding and they will use the shared stand to present their products and services.
These exhibitors include dihva – a company which is working on convenient smart home technologies; linking them up and developing them further. The company offers its own interface and a switch cabinet including a server which can be used to control all products related to security. Optonaval will be presenting further innovations: this lighting specialist uses only the most cutting-edge LED technology for applications including security lights combined with ambient lighting, high-resolution camera monitoring and high-performance security lighting as well as helicopter landing aid systems.
Digital security technology
Another participant is Digital Forensics, a company which offers complete solutions for the forensic analysis of network traffic, a hotly debated area of activity. The services of this young company not only assist the police and investigative authorities, but also help companies resolve security-related issues within digital networks. The team at EvoCount are also researching comprehensive data logging. This start-up offers flexible solutions for digitally recording visitor numbers. Their system, which can be modulated, makes it possible to provide a tailor-made solution to match customer requirements and to process all relevant data in a visually appealing way.
Download PDF version