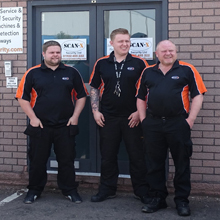 Scan-X Security solutions will help protect high profile patrons and visitors to the National Assembly
Scan-X Security, specialists in security screening, security x-ray machines and metal detection archways, landed a deal to secure the National Assembly of Wales in order to protect high profile patrons and visitors to their main site.
The Aldridge based security firm operates globally and has invested over £250,000 over the last twelve months following year on year growth with turnover increasing by 30% in the last year.
Complete security solution
Rob Wallader, Managing Director at Scan-X Security said, "We are very proud to have been contracted to secure such a high profile site as the National Assembly of Wales. We were chosen due to the high quality of x-ray machines and metal detection archways we provide and also because our experience enables us to provide a complete solution that also makes life easy for both our client and site users. For example, in addition to installing security equipment, we also provided a tray return system to save our clients work and also put in place wheelchair access through the security screening area for those visitors who require it.

"Although we are well placed in our market and regularly supply security machinery for the likes of: government contracts, facilities management, asset protection & large scale events, we pride ourselves on delivering a personal service to all of our clients - something which is making us stand out in our market".
Nuctech 6040 x-ray machines
To secure the Welsh Assembly site, Scan-X Security installed three Nuctech 6040 x-ray machines. These are dual view machines, which take images of whatever is being screened in two different directions. Providing two views of items that are being screened gives the security operatives a better picture of what's inside and therefore a greater chance of spotting potential threats. In addition to installing x-ray machines, Scan-X also supplied three metal detection archways from leading brand Ceia, whose products you would normally see in airports.
As well as priding themselves on their extensive range of security products, the Scan-X team boast a wealth of experience in the security industry as a whole, and have supplied machines to some of the UK's largest sporting events, AGM's, facilities and conferences.
Download PDF version
Download PDF version