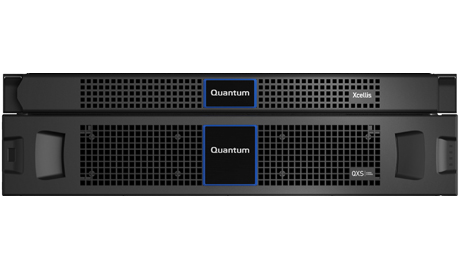 Xcellis™ Application Director enables customers to run VMS
or analytic applications with directly attached storage
Quantum Corp. has announced Xcellis™ Application Director, a new addition to its surveillance and security solution family which enables customers to run video management systems (VMS) or analytic applications with directly attached storage. With the new server, these applications can connect directly to Quantum's QXS™ Series disk storage or as clients in an Xcellis environment powered by Quantum's StorNext® data management platform. As a result, users can access data without adding to network traffic for a more efficient video surveillance infrastructure, regardless of scope.
Managing surveillance and security data

By incorporating Xcellis Application Director into a video surveillance solution, Quantum offers the unique ability to scale from simple environments with fewer than 50 cameras to complex infrastructures integrating more than 10,000 cameras, as well as other distinct advantages:
Large Environments: Because Xcellis is powered by StorNext, Application Director users can meet the most demanding performance requirements, scale to hundreds of petabytes and integrate easily into existing video surveillance workflows.


Small Environments: When coupled with QXS-3 Series, QXS-4 Series or QXS-6 Series disk storage, Xcellis Application Director offers a powerful solution enabling small camera count environments to achieve the same data management efficiencies as larger deployments. As an implementation grows, it also provides the flexibility to evolve into a tiered environment.
Anticipating future growth

Xcellis Application Director offers multiple methods of connecting to storage for efficient data management. This versatile approach allows smaller systems to directly attach to QXS storage systems and enables the redeployment of assets as the infrastructure changes, unlike other appliance-based solutions. As these smaller installations expand capacity they can connect their Xcellis Application Director to a StorNext-based environment. The QXS hardware can later be integrated as part of a StorNext infrastructure, allowing users to take advantage of a multi-tier storage approach utilising low-cost high-capacity disk, file-based tape, or cloud as a security infrastructure grows, and avoiding a complete forklift upgrade.
Extending benefits to smaller customers
Wayne Arvidson, Vice President, Surveillance and Security Solutions at Quantum comments: "Xcellis Application Director extends the benefits of Quantum solutions to a broader range of customers and eliminates the gap between appliance-based surveillance storage solutions and large scalable models that haven't historically been a good fit for small camera count environments."
Download PDF version