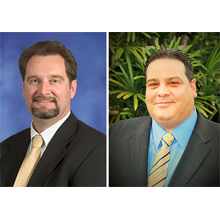 Kevin & Chris will work with Paxton's RSMs to provide presales system designs & conduct training courses
Paxton Access has announced the appointment of Kevin Reyes and Chris Donohue as Application Engineers to further strengthen the company's thriving support team.
Kevin and Chris will work closely with Paxton's Regional Sales Managers (RSMs) to provide presales system design, and conduct training courses in the field. They will also offer onsite technical support and advanced troubleshooting for existing systems. Kevin will cover the Western US territory and Chris will cover the Eastern US territory for Paxton Access, Inc.
Previous security & technical experience
Kevin Reyes, a native of California, studied Electrical Engineering before his first role within the security industry in 1983. Over the years he has honed his technical skills as a Security Consultant, Strategic Product Manager for Hirsch Electronics and Fire System Product Manager for Hochiki America.
Chris Donohue's previous role at Paxton was Product Manager and started in Technical Support with Paxton in 2010. Before coming to Paxton he was the Project Manager for Sonitrol. He is currently studying for his bachelor's degree in Business Administration and is looking forward to graduating next year.
Along with Chris and Kevin, Paxton is increasing our in-house technical support engineers to ensure our customer service stays the best in the industry. This will bring the staff totals to 26 UK Technical Support staff and 7 US Technical Support staff.
Download PDF version