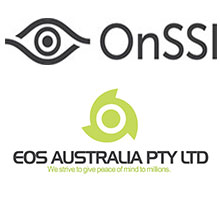 EOS Australia will manage wholesale sales activity throughout Australia and New Zealand
OnSSI, IP video surveillance software provider, has named EOS Australia Pty Ltd as the latest firm to join their distribution network. The organisation supported by Brassets International Pty Ltd (OnSSI's Master Distributor for the region) will manage wholesale sales activity for OnSSI across Australia and New Zealand.
Expansion of sales
"The addition of EOS Australia as a distribution partner enables OnSSI to expand sales opportunities in the Australia and New Zealand markets," said Mulli Diamant, Vice President of International Business Development, OnSSI. "The firm's combination of sales expertise, presence and the substantial experience of its staff makes EOS Australia an ideal distributor for Ocularis in this important region."
"We are excited to add OnSSI's world renowned Ocularis Video Management Software to our portfolio of security technologies," said Andrew Cho, Product Manager, EOS Australia. "Utilising our database of over 4,000 customers, our goal is to generate a high level of awareness of the many benefits of Ocularis for increasing security and operational effectiveness."
EOS has provided design, supply and support of video surveillance, access control and other security solutions for more than two decades, and the firm's management team has combined 100-plus years of industry experience. The firm prides itself on providing leading-edge technologies at an affordable price, and its employees are highly qualified to provide security consulting on projects of all sizes, from small domestic installations to major commercial applications. Headquartered in Sydney, EOS operates four additional branches in Australia and New Zealand, each of which maintains extensive warehousing facilities to serve its 4,000-plus customers in the region.
Ocularis 5
Ocularis 5 is offered in three models: Professional – designed for organisations operating small to medium multi-site installations; Enterprise – built for a wide range of mid to large IT-centric organisations; and Ultimate – created for large organisations requiring extended command and control and advanced long term archiving.
Amongst numerous other features, Ocularis 5 includes Critical Camera Failover to ensure continuous sight by switching to a failover camera in as little as two seconds; hardware efficiency, allowing generic settings to be copied across multiple channels for faster installation; and stronger network security with end-to-end encryption. Ocularis 5 also features better storage management with automatic optimisation of hard drive volumes and load balancing across multiple storage components.
Download PDF version