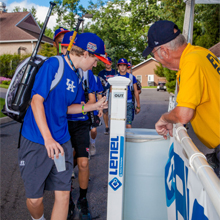 This is the 18th year the Little League World Baseball® Series has been secured by Lenel
Teams from around the world converged on Williamsport in central Pennsylvania for the 70th annual Little League Baseball World Series championship, which ran through August 28. And, as it has for the past 18 years, Lenel, a provider in advanced security systems, is there to help keep the iconic summer event safe and secure.
From Lenel mobile apps that allow on-site officers to monitor and share video to – new to the games – Interlogix technology to help protect the on-site police station, advanced security solutions are in place throughout the World Series complex. Lenel and Interlogix are parts of UTC Climate, Controls & Security, a unit of United Technologies Corp.
Latest in electronic security

Little League's long-term association with Lenel allows the organisation to keep the focus where it should be – on the games' young players, according to James Ferguson, director of security for Little League International.

"Lenel's donation of time, expertise and systems gives us the latest in electronic security," Ferguson said. "That lets us provide top level security, so fans, coaches, volunteers, families and players can enjoy and celebrate the games."
The Little League Baseball World Series (LLBWS) is a special summer youth sporting event celebrating sportsmanship, hard work and fun for leagues from 7,000 communities and 83 countries.

Ron Virden, General Manager, Electronic Access Control Solutions, UTC Climate, Controls & Security, shared that, "The company's mission is to provide safety and security for people where they work, live and play and our long-term LLBWS relationship is an excellent example. We are proud to be able to provide the most updated, unified security systems based on our industry-leading OnGuard security platform."
Remote monitoring and access control
"Lenel lets us provide top level
security, so fans, coaches,
volunteers, families and players
can enjoy and celebrate the
games"
Upon arrival, each player, staff member, volunteer and vendor is enrolled in the OnGuard system and receives a photo identification badge for use during the series. The personalised badges allow entry to selected areas of the facility. Only players and select staff are allowed access to the LLBWS dormitory areas where players sleep, eat and rest.
As badge holders move throughout the facility they must present their credentials at key checkpoints. The access control system taps into the video system presenting a live video feed and the cardholder's database photo for easy identification by security guards.
This year the OnGuard platform features the web-based dashboard OnGuard WATCH. This diagnostics tool offers an intuitive graphical interface that makes it even easier for LLBWS security professionals to gather data and respond quickly to system needs. The system will also use Lenel Prism, an open IP-based video management system, providing situational awareness for the LLBWS security operations center. The on-site team will also be able to remotely monitor and send video throughout the complex through Prism Mobile.
Other benefits of the system include:
Video analytics that help find lost children in the crowd or identify suspicious packages and vehicles
The ability to send video from the security operations center or remotely to first responders
Emergency evacuation with a roll call feature to facilitate everyone's safe exit out of the facility
Another first this year is the use of the award-winning UltraSync self-contained intrusion detection and smart hub by Interlogix at the LLBWS on-site police station. Sensor technology will allow officers to remotely control lights, lock/unlock doors and view footage from video cameras using the UltraSync mobile app.
Save
Save
Save
Save
Download PDF version