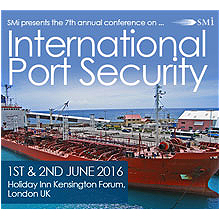 Captain Attilio Montalto, Italian Coastguard will give a presentation entitled 'Maritime Security and Security Controls'
SMi are delighted to announce the Italian Coastguard will join the speaker line-up at SMi's 7th annual International Port Security conference which returns to London on the 1st and 2nd June 2016
International Port Security 2016 will bring together key decision makers in the industry to discuss current issues surrounding port security and how we can minimise the threats that ports face.
Captain Attilio Montalto, Head of Maritime Security office, PSC Port State Control/Safety/Security, Italian Coastguard will be speaking on Day One of the conference with his presentation entitled 'Maritime Security and Security Controls'. Captain Attilio Montalto's session will focus on the different control systems applied to ships, port facilities and ports; management procedures of data about all movements in ports as well as uniformity of security levels for all ports.
Hosted over two days the conference will feature a wide range of case study based presentations which will focus on topical issues such as Terrorism, cyber security, technological systems, regulatory systems and change and many more.
"We have a fantastic array of speakers from across the world including representatives from Ports, Port Police Units, the IMO and the US Coastguard..." Chris Jones, Event's Chairman, Managing Director, Maritime Security Operations (MAROPS) Limited.
Running alongside International Port Security 2016 will be a half-day pre-conference workshop. The workshop entitled 'Preparing Ports to Mitigate against External Threats' will be hosted by Captain John Dalby, CEO, Marine Risk Management.
Download PDF version
Download PDF version