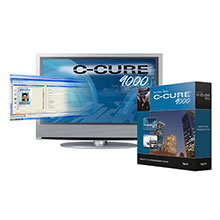 The new certification demonstrates ISD Tech's increasing footprint within the corporate enterprise sector
ISD Tech announced that is has been accepted onto the Tyco Security Products Software House Dealer Certification Programme.
C·Cure 9000
As one of the security industry's most rigorous technical certifications, the programme is designed to ensure that only the most highly trained security integrators install and support Software House solutions. By being accepted onto the programme this now enables ISD Tech to offer its rapidly growing customer base the implementation and maintenance of C·Cure 9000, one of the industry's most powerful and flexible security management systems.
Commenting Nicky Stokes, Managing Director of ISD Tech, said: "This registered certification reinforces our commitment to offer customers unified and flexible security solutions. The C·Cure 9000 offering allows organisations to choose best-of-breed video, access control, intrusion, fire and real-time location, as well as other security products providing complete situational awareness, which enables security operatives to respond more efficiently and effectively to everyday incidents through to full-scale emergencies."
Alan Riegler, Sales Director for Tyco Security Products, stated: "We are pleased to be able to introduce ISD Tech onto our channel programme as a fast growing and forward-thinking systems integrator. C·Cure 9000 will enable ISD Tech to offer customers a solution that is globally recognised as a leading, enterprise level security solution."
Download PDF version