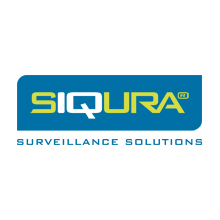 Siqura's latest security developments in asset protection, Integrated Security Management System, and new camera line will be on show
Siqura, (part of TKH Security Solutions) international supplier of advanced video surveillance solutions, is proud to announce that it will take part in Intersec Dubai, a trade expo showcasing security, safety and fire protection products and solutions. The company invites you to come and take a look at their two newest security developments in asset protection for critical infrastructures and Integrated Security Management System. Siqura will also present its new camera line.
Asset protection – long-distance intrusion detection
When working in remote or hostile environments, one needs to know whether his infrastructure is safe and functional. Announcing Siqura's newest solution, long-distance Perimeter Intrusion Detection (PID). Developed in collaboration with one of the Middle Eastern oil majors, this solution is ideal for monitoring and securing your long-distance pipeline infrastructures. It is sensitive enough to detect the minutest variations in a field of vision and can pick up changes within a range of two kilometres. Should the camera's virtual line be crossed, an alarm sounds in control room, allowing staff to monitor what is happening and where, and to respond rapidly. The long-distance PID solution is the ideal answer for complete protection of valuable assets.
Integrated Security Management System
On show will be the Integrated Security Management System (iProtect), an integration platform for analogue and IP CCTV cameras, video management and access control. An intrusion intercom and fire alarm are two additional possibilities. The central connection between the systems functions synergistically to ensure efficient and optimal performance, and you can unlock and standardise access protocols and processes. The user can not only carry out operational tasks, but can also generate reports that allow to monitor and further improve protocols and processes.
Better security for assets with new camera line
The new camera line enables more effective and efficient monitoring of assets. The entire line features 3MP sensors, increasing camera's coverage area by 50% compared to that delivered by 2MP cameras. As well as improved image resolution, the cameras offer a large number of additional options for image enhancement. Even under difficult lighting conditions such as high contrast, fog and darkness, the images are of higher quality than ever before. Naturally this also leads to improvements in the reliability of the Video Content Analytics (VCA).
The latest encoder technology and smart, advanced shooting options such as region of interest and corridor mode enable a reduction of 30–40% in the necessary bandwidth and storage capacity. The most distinguishing features of the new cameras, however, are in their intelligence, with detection options including face recognition, area intrusion, audio, left luggage and trip wires. All of these options contribute significantly to increasing the 'situational awareness', which is, after all, the main reason for possessing or purchasing a surveillance solution.
Siqura invites to come and see what they have to offer at Intersec, and look forward to meeting attendees at Booth SA-E37.
Download PDF version