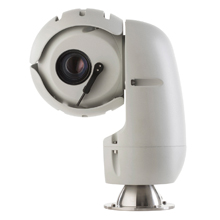 Hydra combines aesthetic design with high quality direct-drive mechatronics for ultra-smooth control
UK-based Overview Ltd, designs, develops and manufactures advanced market leading camera positioning technology and specialist sensors for the OEM/ODM market. Hydra ruggedised PTZ, the company's latest camera platform, will be a major focus on their stand in Hall 7.0, Booth 7G25 at this year's Security Essen show.
Aimed at the ruggedised, external PTZ market, Hydra combines aesthetic design with high quality direct-drive mechatronics for ultra-smooth and precise pan, tilt and zoom control.
Operating power
Hydra is powered by Atlas, Overview's latest intelligent brushless DC (iBLDC) motor, which is based on the hugely successful Titan motor technology. Utilising Overview's Servotorq™ technology, Atlas can provide approximately 60 times the operating torque of Titan, whilst retaining precision and ultra-smooth motion. The company's complete range of iBLDC motors will also be showcased at the show.
Intelligent lighting
The Hydra range includes SD and HD IP variants, with optional intelligent LED illuminator with both IR and white lights. A unique 'transparent' model will be on show, which is a fully-working life-size unit manufactured with a transparent acrylic enclosure, showing the inner workings of the intelligent direct drive mechanism and camera platform. This unique model will allow visitors to see how the Atlas compact, silent, high-torque motors are integrated into a PTZ platform.
In addition to the iBLDC motors, the company's range of camera positioning mechanisms will be demonstrated alongside new OEM Thermal Imaging camera cores.
The Hydra PTZ complements Overview's other camera platforms, including Limpet, which will also be highlighted on the stand. Limpet is a vandal resistant PTZ wall-mount dome that combines elegant design with easy installation.
The stand will also contain an innovation zone, that will allow visitors to see some of the future ideas and projects that the company is developing.
Download PDF version
Download PDF version