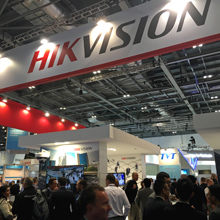 Visitors to Hikvision's stand were shown a number of key products and new additions to the Hikvision range
Hikvision, provider of innovative video surveillance products and solutions, has reported a greater number of visitors to its stand than ever before, at this year's IFSEC international security exhibition at London's ExCeL.
Showcasing a raft of new developments across the Hikvision range, visitors to the company's stand were shown a number of key products and new additions to the Hikvision range, proving the company is not simply a video surveillance manufacturer - but a total end-to-end system solutions provider.
16MP PanoVu Series camera
At the head of the range was the latest 16MP PanoVu Series camera. Designed for wide-area security monitoring applications, the PanoVu Series camera combines 8 x sensors with a high-powered PTZ camera, allowing end-users to replace or support multiple cameras with just one 180, or 360 degree view PanoVu camera, delivering a highly detailed panoramic display. PanoVu's advanced functionality incorporating video analysis and multiple target-tracking algorithm, was shown to deliver highly-effective alarm indication of intrusion detection, line crossing, and region entrance and exiting.
Turbo HD 3.0 solution
Alongside this was the acclaimed Turbo HD 3.0 Solution, which upgrades an analogue system to 5 MP-resolution, making high-definition surveillance systems possible without the costly replacement of existing coaxial cables. Engineered with high-calibre H.264+ compression, Turbo HD 3.0 technology reduces bitrates by up to 50% while maintaining high-quality video.
Thermal camera range
Also featured on the stand was the new Thermal camera range. Offered in static and PTZ versions, thermal only, or thermal and video imaging with 36x optical zoom, their thermal imaging capability extends to up to 1200m at resolutions up to 640 x 512 pixels, no matter what the light level or weather.
Standard Hikvision cameras were also displayed adapted for License Plate Recognition (LPR) applications, using free-to-download software, adding further application functionality.
Also demonstrated were new Hikvision intercom systems, including designer styled intercom door stations, with vandal proof and built-in biometrics / face detection models too. For door entry systems, Hikvision displayed a selection of new access control readers.
Meanwhile, Hikvision also introduced a series of security solutions for vertical markets, including Retail, Transportation, Building and much more. For instance, for mobile CCTV applications including buses, coaches and trains, Hikvision displayed their new PTZ camera designed for vehicle use – complete with magnetic base, 3G/4G control and built-in WIFI, 8-hour on-board battery and two SD card slots.
"We are really pleased with the record numbers of visitors to the Hikvision stand at IFSEC 2016," said Cynthia Ho, Vice President at Hikvision. "As an end-to-end security solutions provider, we were delighted to demonstrate our expanded range of security products to our UK and international customers, and look forward to supporting their business growth throughout another successful year."
Download PDF version
Download PDF version