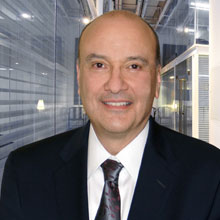 SIA will present Mr. De Fina's family with the 2015 Lippert Award during SIA honours night gala
The Security Industry Association (SIA) recently announced the selection of Frank De Fina, former senior director, strategic sales, for Hikvision USA Inc., to receive the 2015 George R. Lippert Memorial Award posthumously.
Mr. De Fina passed away unexpectedly in July 2015. At the time of his death, he was serving on the SIA Board of Directors. The SIA Lippert Award Committee, composed of previous recipients of the Lippert Award, unanimously chose De Fina from a field of nominees.
A giant in the security industry
"Frank De Fina was a giant in life and in the security industry," said SIA CEO Don Erickson. "He was a very kind man whose knowledge, experience and wit made extraordinary contributions to our community. It is with great respect that we present the Lippert Award to him. He is sorely missed, and we will take this occasion to celebrate his life's work at SIA Honours Night."
Mr. De Fina spent nearly 30 years in the security industry. Prior to joining the Hikvision team, De Fina served as executive vice president of sales and marketing for SightLogix, a manufacturer of smart thermal cameras for outdoor security applications.
Before SightLogix, he was executive vice president of sales and marketing for Samsung Techwin America, where he launched new reseller channels, led ambitious sales initiatives, and established strong partnerships with systems integrators serving the North American security market. Mr. De Fina previously spent 26 years at Panasonic, where he eventually became president and chief operating officer at Panasonic Systems Solutions Company. Part of Mr. De Fina's work with SIA included developing a Security Systems Technology program at Mercer County Community College in New Jersey.
SIA will present Mr. De Fina's family with the 2015 Lippert Award during the SIA honours night gala at The Current at Chelsea Piers in New York, N.Y., on Wednesday, Nov. 18.
"Working with SIA was something that Frank enjoyed very much, and I know he would be honoured to receive this award," remarked Mr. De Fina's wife, Patricia De Fina. "He was passionate about helping others, and his legacy will continue as young people benefit from the education program he put together for Mercer College."
The Lippert Award
The Lippert Award, founded in 1989, is named in honour of George R. Lippert, who dedicated more than 20 years of his life to the security industry and SIA. When evaluating candidates nominated for the award, the SIA Lippert Award Committee considered their long-term service to SIA and the security industry, the impact of their efforts on behalf of SIA and the industry, and their integrity, leadership and diplomacy as demonstrated in industry dealings.
Download PDF version