IP technology has revolutionised the home and business security market. Digital systems have many advantages compared to conventional systems used in the security and building sectors.
The innovative spirit of Fermax, which for more than six decades has invested in new technologies, has contributed to the development of its IP technology: LYNX by FERMAX. This article discusses some of the architecture projects that have relied on FERMAX's IP solutions, and the advantages and functionalities of LYNX.
IP technology transforms security
In a world with greater connectivity and integration, IP technology has transformed security systems, including the video door entry system, positioning itself as one of the best options in the market, as well as offering new standards in processing capacity and performance. LYNX by FERMAX is a state-of-the-art IP video door entry system which has been integrated in some of the most prestigious residential and commercial projects in the world. These projects are constructions that expect to take a step forward in the management of communication, security and comfort for residents.
LYNX optimally combines the benefits of integrating communication systems based on the TCP/IP protocol and the needs of real estate developers, systems integrators and end users, achieving the perfect combination of technology, engineering and design. Thanks to the projects in which LYNX has already been installed, its IP systems demonstrate its capacity and efficiency in large buildings, making complex installations easier with long distances.
Projects that integrate with LYNX by Fermax
One 57 (United States)
Designed by award-winning Christian de Portzamparc, One 57 is one of the tallest residential buildings in New York; a super luxury project in Manhattan.
Le Nouvel KLCC (Malaysia)
A spectacular real estate project in front of the Petrona Towers, designed by the famous architect Jean Nouvel and comprising of two 49-storey towers and 195 luxury apartments.
Miras Park (Kazahstan)
A unique and high quality residential complex, comprised of 8 blocks.
Settler's Cove (Australia)
An award-winning complex located in Queensland, one of the most desired areas of Australia.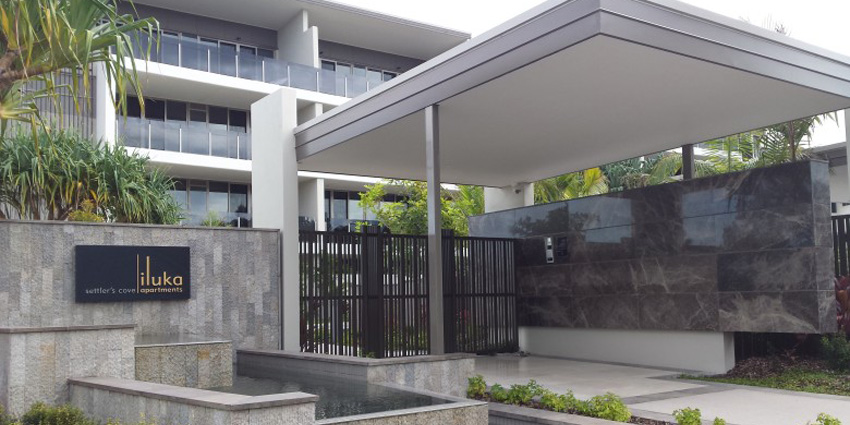 Settler's cove is an award-winning complex in Queensland
Why large architecture projects choose LYNX
Among its most outstanding features, FERMAX puts special emphasis on:
Unlimited technical capacity: The MESH network architecture as a distributed network brings robustness to the system and contrasts with most commercial offers. With a single installation of LYNX, it is possible to manage up to 5,000 monitors, unlimited point-to-point distances in the installation, and even unlimited channels for conversations and data transmission. LYNX is designed to allow different devices involved in a facility to talk to each other.
Full integration: Provides freedom of choice to configure the system and automate it according to user needs. The system can integrate different solutions for the communication, security and residential or commercial comfort: door entry, access control, home automation, video surveillance cameras, lift control – either through Fermax products or third-party applications. The end user perceives different integrated technologies as part of a single solution.
Extra Security: LYNX incorporates a 3DES and SRTP encryption and maintains a permanent, reliable and easy connection with the building staff, guaranteeing the protection and safety of each resident. It ensures the privacy of the conversations and makes any attempt to sabotage the system more difficult.
LYNX provides freedom of choice to configure the system and automate it according to user needs
Easy installation and configuration: It is a system designed to be installed by both digital integration professionals and classic installers of audio and video door entry systems.
Customisation: LYNX offers a multitude of configuration possibilities, with unique and personalised solutions for each project.
Complete management: The operation of LYNX Property Management or Guard Units is simple and intuitive, a software specially created for the Fermax IP system.
Outstanding product design: The devices and terminals associated with LYNX provide a level of design that is unequalled, which has turned Fermax into an international reference. Refined lines, elegance and simplicity, in addition to the careful selection of high quality materials and perfect finishes.
The guarantee of a specialist brand: LYNX is an advanced technological solution from IP protocols – combining solid experience in the video door entry sector and a constant capacity for innovating.
LYNX features and functionalities
The property owner or resident has many advantages when installing LYNX devices. The IP door entry monitor becomes the screen to manage inside the home, from the most essential feature such as door opening or calling the lift, to the control and automation of temperature, alarms, visualising the video surveillance video installed in the complex, or talking to the concierge or neighbours, alongside other advanced functions.
Download PDF version