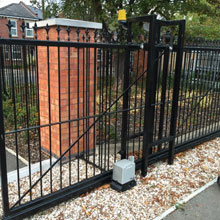 Doing any work on a powered gate system that does not result in a completely safe outcome could see you facing criminal charges
Electricians who carry out work on powered gates run the risk of criminal prosecution under health and safety legislation - even if the wiring and other electrical work undertaken follows the regulations and is to a high standard.
DHF warning
The warning comes from the Door & Hardware Federation (DHF) Powered Gate Group which represents the leading UK manufacturers, suppliers, installers and maintainers of powered automatic gates and automation equipment.
Liability for the operating safety of an automated gate can rest with the last person who has carried out work on that particular gate. If the gate is unsafe for a reason unconnected with its electrical operation - because its crushing or impact forces are too high, for example - then an electrician who has worked on the gate could still be responsible for its overall safety.
This is because he is under a legal duty to ensure the gate is left in a safe condition when repair or maintenance work of any sort has carried out, explains the DHF Powered Gate Group.
Risk of powered gates
Said DHF training officer Nick Perkins: "Since 2005 there have been seven deaths in the UK and Ireland, at least nine serious injuries and countless near misses caused by dangerous powered gates. It's estimated that only 30% of the 500,000 automated gates in service in the UK are safe to use as a result of the general lack of awareness of the legal requirements covering powered gates.
"So it's highly likely that a powered gate that an electrician has been invited to work on is actually not safe. So any work the electrician carries out on it would make him liable for the gate's ongoing safety under the Health and Safety at Work Act 1974, Electricity at Work Regulations 1989 and possibly the Workplace Regulations 1992.
"In 2010 an unsafe gate resulted in the tragic death of a young child. One of the two companies eventually prosecuted was the last company called out to carry out a repair to the gate."
Seek assistance of qualified powered gate professional
He pointed out that powered gates are considered to be machinery in the eyes of the law and as such are covered by the Supply of Machinery (Safety) Regulations 2008 (SMR). Some electrical or security professionals may not have complete knowledge of SMR, and may not have the specialist force/time measuring equipment to set up and check the safety of any "contact" safety systems used on the gate.
"Unless you have detailed knowledge of the legislation and applicable standards you are well advised to either seek the assistance of a qualified powered gate professional or get yourself trained, qualified and equipped before embarking on any form of powered gate work," said Nick Perkins.
"Doing any work on a powered gate system that does not result in a completely safe outcome could see you facing criminal charges as a result, not to mention the trauma and anguish that will result if your actions or inactions result in injury or death."
Download PDF version
Download PDF version