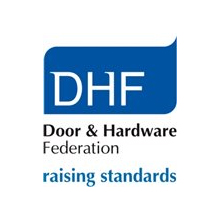 DHF member companies will be attending the safety diploma training scheme courses which are to be held throughout 2016
The Door & Hardware Federation (DHF) has accelerated its drive to raise industry standards by announcing a significant expansion to its Safety Assured training programme.
Personnel from all DHF member companies which manufacture, install and maintain industrial doors and garage doors will be attending the DHF safety diploma training scheme courses which are to be held throughout 2016.
Covers all aspects of door safety
The courses will cover all aspects of door safety - from initial risk assessment through to testing and commissioning - so that training candidates can obtain their coveted DHF safety diplomas. Topics covered in the courses will include law and regulations, use of standards, risk assessment, testing and inspection, documentation, repair and maintenance. Managers, engineers, installers and maintainers will be attending the training courses.
This significant expansion to the DHF's training offering follows the continuing success of the DHF powered gate safety diploma scheme. Over the past two years more than 500 personnel involved in the safety of automatically controlled powered gates, including installers, inspectors and those responsible for gate maintenance, have successfully completed gate safety training courses.
Introduction of DHF Quality Assured Standards scheme and Codes of Practice
The DHF represents the key players in industrial, commercial and garage doors and automated gates, as well as the leading UK manufacturers and suppliers of building hardware. It says the development of its training programme is the latest stage in an ambitious plan to raise the standards of its members' products and services to new levels. The plan has seen the introduction of the DHF Quality Assured Standards scheme and Codes of Practice. Also, the DHF has grown its technical and safety advisory team with the addition of audit inspectors and a training officer.
Said DHF CEO Bob Perry: "Our vision has been to establish DHF member companies as the recognised source of products and services which are legally compliant and are both quality and safety assured. The forthcoming expansion of our training programme is a significant step to us achieving this ambition. 'Raising standards' has long been the clarion call underpinning our drive for higher quality and compliance.
"Specifiers, contractors and end users are benefitting from the knowledge that the level of safety, quality and compliance of all our members is reinforced by comprehensive training and is subject to rigorous audit and inspection.
"Our success in achieving this is being increasingly recognised in the marketplace. There must be no place in our industry for untrained personnel who supply and install unsafe and illegal products."
Membership of the DHF is at its highest level ever. There are now more than 300 members and it is confident its growth will continue throughout 2016.
Download PDF version
Download PDF version