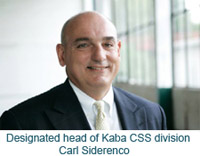 The Kaba Group is currently negotiating the acquisition of Computerized Security Systems Inc. (CSS) from Masco Corporation (Michigan, USA). CSS operates primarily in the USA, Europe, and Asia. It's Saflok and La Gard brands will complement Kaba's position for hotel locking systems and security locks. Now that the US Federal Trade Commission has finished its investigation of the planned acquisition, Kaba expects negotiations to be completed successfully within the next few weeks.
Marketing its products under the Saflok and La Gard brands, CSS is a globally leading manufacturer of electronic lodging and security locks. In calendar year 2005, CSS generated USD 73 million in sales.
Ulrich Graf, Director of Kaba Holding AG, enthuses that CSS is an excellent fit with Kaba: "The planned acquisition of Computerized Security Systems provides Kaba with value-boosting synergy potentials in development, production, marketing, and distribution. While Saflok's high-tech lodging systems close a gap in Kaba's product portfolio for the premium market segment, La Gard security locks round out Kaba's high-tech positioning in the lower and mid-range market segments."
To consolidate and further expand its global leadership in the security locks segment, on July 1, 2006, Kaba is creating a new global Safe Locks division that brings together all Group companies involved in high-security lock manufacturing. Once the acquisition of CSS is finalized, the new division will generate sales of around CHF 100 million. It will be headed by American Carl Sideranko, who until now has been General Manager of Kaba Mas in Lexington, Kentucky.
The acquisition of Saflok and its full range of access control solutions will complement Kaba product lines and result in a broader offering to all segments of the lodging and commercial access control markets mainly in the USA. Saflok and Kaba products service the hospitality and gaming markets, the vacation rental market, the multi-housing market as well as commercial, military and government facilities worldwide.
La Gard specializes in security locks for safes and bank vaults and other commercial applications. For Kaba, the acquisition of the world-famous La Gard and Saflok brands would be a significant strategic addition to its existing activities in the area of high-security locking systems and lodging systems.
The Federal Trade Commission has concluded its investigation of the planned acquisition and announced the conclusion of its review process on the FTC website. Consequently, Kaba expects the acquisition negotiations to be completed successfully within the next few weeks. The transaction has yet to be approved by certain antitrust authorities in Europe.
More on Kaba
Download PDF version
Download PDF version