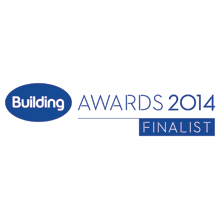 ASSA ABLOY showcased its commitment to innovative manufacturin in 2013 with latest updates to its Aperio portfolio
ASSA ABLOY Access Control has been shortlisted for the prestigious Building Awards 2014, Manufacturer of the Year.
The Building Awards 2014 celebrates and rewards excellence and outstanding performance in the UK construction industry.
ASSA ABLOY Access Control, entered manufacturer of the year, to showcase its commitment to innovative manufacturing design in 2013, with the latest revolutionary updates to the Aperio™ product portfolio.
Advances included the Aperio™ sensor with integrated capability to detect and transmit door status information in real-time; the world's first wireless lock range of security doors with the launch of Aperio™ L100 and the Aperio™ PINpad escutcheon that presents an extra level of access control for doors requiring multiple authentication.
Says Damian Marsh, UK Managing Director of ASSA ABLOY Access Control: "To reach the shortlist stage is a great achievement for ASSA ABLOY Access Control and the product development team behind Aperio™ who have continued to show a true commitment to innovation, despite extremely tough trading conditions for everyone involved in manufacturing and construction during the last twelve months."
"And whilst all the indications are of a full recovery in 2014, ASSA ABLOY Access Control has many more Aperio™ product enhancements scheduled for the year to come, as we continue to listen to our supply chain and end users and deliver access control product and service solutions that are simple to install, programme and maintain to almost any target sector market."
ASSA ABLOY's Aperio™ is designed to upgrade mechanically locked doors and wirelessly connect them online and offline to new or existing access control systems, with minimal modification to doors and premises, offering a cost effective and simple security upgrade.
Download PDF version
Download PDF version