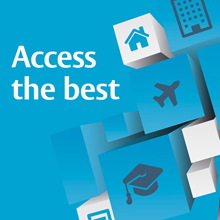 ASSA ABLOY products are shaping customer demands & setting out to change perceptions
Access control is changing. At IFSEC 2015 (D1700, Hall S17), ASSA ABLOY showcases the products that are at the cutting edge of the latest trends in the industry.
"One key market trend is the move from wired to wireless access control, especially IP-enabled wireless devices," says Chris Bone, Vice President Access Control Solutions EMEA at ASSA ABLOY. "Our data suggests wireless locks could make up 30% of the total market within a decade, up from around 15% right now. Customers increasingly demand flexibility from their access control systems, but don't want to compromise on security."
Quick and easy to install - Aperio wireless locks
Market-leading ASSA ABLOY products on show at IFSEC are shaping those customer demands. Quick and easy to install, Aperio® wireless locks are compatible with the RFID card technologies that existing access control systems use.
"Standards are becoming increasingly important," adds Chris Bone. "Customers demand compatibility between new and legacy technologies. They want wireless products, like Aperio®, that can plug right into a range of leading access control systems."
The Aperio® portfolio includes certified locks for a variety of openings, including security doors. Aperio® locks consume much less energy than traditional wired locks, require very little maintenance—a new lithium battery every 2 years, on average—and are the smart choice for any business looking to upgrade its access control system.
"Customers want wireless products, like Aperio®, that can plug right into a range of leading access control systems"
Standalone wireless access control system - SMARTair
SMARTair™ is a simpler, standalone wireless access control system that offers an easy step up from mechanical keys. It's proven in the field, serving locations as diverse as a prestigious Brisbane school and a small hotel on the Devon coast.
The SMARTair™ Pro package is aimed at small to medium-sized premises, and offers four ways for facilities managers to update site access rights — Standalone, Offline, Update on Card and Wireless Online. Administrators can pick a method to suit each door and combine them in a single installation.
SMARTair™ Genesis offers small facilities an out-the-box access control system which is affordable and easy to install. Based on the Update on Card offering, the system allows businesses to manage up to 30 doors in a secure, wireless electronic access control system.
Cylinder-type locks - CLIQ
CLIQ® technology combines electronic and mechanical security in a wide range of cylinder-type locks. CLIQ® locks are wireless, and powered by a battery inside the programmable CLIQ® key. Ideally suited to premises where security is critical, CLIQ® has proven its value in small offices, National Health Service hospital wards, and public utilities with thousands of cylinders—from Helsinki to Heidelberg.
ASSA ABLOY is also setting out to change perceptions. Research conducted last year in conjunction with IFSEC uncovered several common misconceptions about wireless access control. Several survey respondents believed that switching to wireless would be disruptive to current systems, or expensive to implement, for example.
"The joint research with IFSEC convinced ASSA ABLOY to launch a campaign to educate the market this year," says Thomas Schulz, ASSA ABLOY's EMEA Marketing and Communications Manager, Access Control Solutions. "IFSEC 2015 is the perfect forum for getting the right information to customers and for dispelling some all-too-common myths about wireless access control. We have interactive media on our stand to show customers our wireless technologies in action."
Download PDF version
Download PDF version