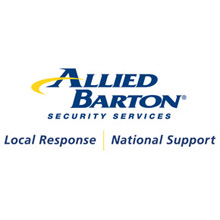 Myisha Pullum of AlliedBarton was recognised for her heroic efforts in July 2012
AlliedBarton Security Services, the industry's premier provider of highly trained security personnel, is proud to announce the winner of this year's Ralph Day Security Officer of the Year award is Myisha Pullum. Each year, one Security Officer in the United States is recognised for outstanding service and actions in the security profession with this award by the ASIS Security Services Council. The award was presented on September 23, 2013, at the 59th Annual ASIS International Seminar and Exhibits.
Pullum, an AlliedBarton Security Officer, was recognised for her heroic efforts in July 2012. Pullum was conducting rounds near the pool at the Coronado Shores condominium complex in Coronado, CA, when she heard a commotion in the pool area.
"Officer Pullum came upon an unconscious child with a parent who was attempting to shake him to consciousness," said Mark Merideth, District Manager, AlliedBarton. "Officer Pullum took control of the situation and began administering CPR. After five minutes of CPR, water was expelled from the child's lungs, and the child began to breathe on his own."
"Lifeguards from the City of Coronado, police and paramedics then arrived to assist," said Merideth. "Officer Pullum transitioned from her lifesaving role to secure the scene. She directed guests to leave the area and helped clear a safe path for paramedics to take the child to the ambulance. The responding police officers and paramedics commended Officer Pullum for her immediate actions and said she likely saved the life of the child. The child was treated at a local hospital and was released in good health."
"Security Officer Pullum's attentive response, professionalism and determination ensured the proper response to a critical situation where her expert actions were the difference between a positive outcome and a tragic event," said Bill Whitmore, President & CEO, AlliedBarton. "Officer Pullum's timely actions reflect her dedication to duty, the application of her training, and concern for the safety of the community she serves."
Download PDF version
Download PDF version