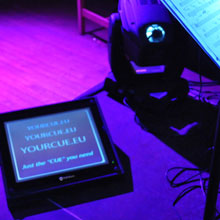 AG Neovo's SX-19P has been chosen for delivering high-resolution, crystal-clear pictures

AG Neovo is happy to have its displays serve another heavyweight partner, Yourcue.eu. As a European provider of teleprompter and a host of related services, Yourcue.eu helps its clients keep cues for theatre performances, concerts, conferences and seminars.
AG Neovo's SX-19P has been chosen for a simple but compelling reason. Yourcue.eu and its clients need a display that they can trust—a display that both performs and persists. On top of its capacity for delivering high-resolution, crystal-clear pictures, it is reliably solid. This last feature is utterly essential given the high frequency of Yourcue.eu's moving its displays around, on many occasions by means of a flight case.
For outdoor concerts, the SX-19P's hard glass and metal housing stands out as a doubly important feature as there is no predicting weather conditions and some of the audience in front rows tend to throw drink containers in the direction of the stage. Durability of the display minimises the odds of its operations being disrupted by the need for emergency repairs.
Additionally, inverted installation of the displays is made an option thanks to their capacity for 180° rotation. Yourcue.eu takes advantage of this feature by mounting the SX-19P in a special stagebox that can be readily readjusted to secure the desired angle.
When Yourcue.eu is called upon to supervise a concert or theatre tour, the SX-19P is often placed discreetly on the stage floor to present the script or lyrics as reminders to performers. At a conference or seminar, the display is generally installed in a spot on the podium as an aid to the speaker. As such, the number of displays needed varies from one occasion to another, or from one to 20 or so, depending on customer needs and Yourcue.eu's professional assessment.
"For Yourcue.eu, nothing matters more than making sure that no cue is missed," says Michel van Munster, AG Neovo Netherlands Sales Manager. " For its part, AG Neovo is committed to ensuring that Yourcue.ed and many other partners and clients do not miss theirs."
Download PDF version
Download PDF version