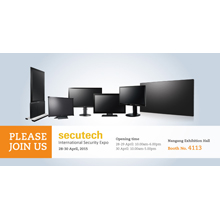 Application of displays range from CCTV & HD-SDI surveillance, multi-touch to anti-blue light
AG Neovo, a leading supplier of security and surveillance displays, will showcase its latest offerings and innovative solutions at Secutech Taipei 2015 for industry professionals. The applications of displays span from CCTV and HD-SDI surveillance, intuitive multi-touch, narrow bezel video wall, dual-sided signage, 4K UHD to the latest anti-blue light.
AG Neovo will be located at Booth 4113, 4th floor, Nangang Exhibition Hall from April 28 to 30 and sincerely invite every professional to experience AG Neovo innovations.
Mission-critical 24/7 round-the-clock operations
For security system integrators aiming for flexible integration, the RX-24 and SX-19P displays promise to help them unlock many new possibilities. On top of a wide array of connectivity options, their features include Anti-Burn-in™ and EcoSmart Sensor that ensure the mission-critical 24/7 round-the-clock operations. With NeoV™ Optical Glass and metal casing design, these robust displays deliver professional performance of a high-end security display.
Ideal choice for a spectrum of professional applications
Since HD CCTV has become indispensable for the security industry, HD-SDI integration has been perceived as a standard feature to displays. The HX-42 and HX-24 come with a built-in SDI in/out interface and make them the ideal choice for a spectrum of professional applications and public places, from banks, hotels to casinos.
Accurate & zero-pressure response from any touching objects
The TX-17, TX-15 and TM-27 are 10-point multi-touch displays. TX-17 and TX-15, in particular, incorporate advanced projected capacitive touch technology and IP65 rated front panel that allow to resistant to the ingress of liquid and dust. TM-27, with a flexible dual-hinge stand, enables to maximise multi-user comfort. The large-sized TX-42 display is crafted with advanced optical touch technology that provides accurate and zero-pressure response from any touching objects. With its protection of anti-fingerprint NeoV™ Touch Glass, advanced Anti-Burn-in™ technology and solid metal housing, the TX-42 ensures reliable performance in engaging public environments.
Superior picture performance and easy installation
The PN-55H features super narrow bezel for a seamless video wall setup and uninterrupted 24/7 industrial operations. Equipped with 800 nits high brightness, a wide array of connectors and built-in video wall management functions, the PN-55H brings superior picture performance and easy installation for applications in traffic management and surveillance centres.
Linking up surveillance and digital signage
AG Neovo recognises the potential of linking up surveillance and digital signage and is to be presenting the concept on its large-format DS-55 dual-sided display and DF-55 dual-sided kiosk, triggering the new opportunities for retail surveillance.
Superior image clarity & pleasant viewing experience
As a savvy display supplier, AG Neovo also offers the QF-28, the 4K UHD display, and the LE-22, the newly launched anti-blue light model as well as a rich selection of durable and reliable display mounts for superior image clarity and a pleasant viewing experience in security environments.
Download PDF version