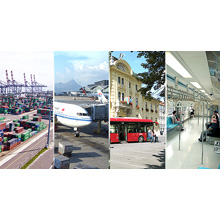 VIVOTEK will exchanges business ideas with professionals from aviation, maritime and public transport fields
Transport Security Expo, an international exhibition showcasing the latest in transport security technology and products, is set to convene on 13-14 November at the London Olympia this year. VIVOTEK, as one of the leading brands in the global IP surveillance market, is pleased to announce its participation in this annual gathering, not only to demonstrate VIVOTEK's latest solutions for transportation applications, but also to exchange business ideas with professionals from the aviation, maritime and public transport fields.
In the past decade, security issues concerning terrorism and other crimes in the transportation sector have increased significantly worldwide. Security inside or outside of vehicles and in public transportation have become a top concern since damage to transportation infrastructure directly impact not only the victims, but also the local and worldwide economy. As such, proactive vertical and horizontal assessment to risk, efficient and effective measures for protecting travellers' safety, approaches to minimise illegal initiatives and various security threats have been highly emphasised in the market.
Bearing the market trend and customers' demands, VIVOTEK has been committed to comprehensive development of best-in-class, reliable IP surveillance solutions for transportation. Besides having superb image quality, VIVOTEK cameras also feature IP66- or IP67- weatherproof, IK10-rated vandal-proof and/or NEMA 4X-rated housings for corrosion prevention, as well as vibration resistance EN50155 standard for professional mobile surveillance as prerequisites for products that are designed for transportation applications. VIVOTEK's transportation product lineup ranges from speed dome to fisheye to fixed dome network cameras, including but not limited to SD8363E, MD8562, FD8151V-F2, FD8372, FE8172/73 and IP8371E.
Steve Ma, Executive VP at VIVOTEK, indicated, "We put the diverse requirements of each vertical application at the forefront when designing our products. For transportation applications, VIVOTEK has invested heavily in the product development cycle. Today, we are pleased to take this opportunity to present our products and technology that are ideal for the transportation industry at Transport Security Expo and to exchange market insight and trend observations with professionals from around the world. Together, we are committed to making the world a safer and better place."
Download PDF version