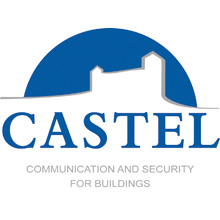 Xellip enables audio/video communications witha coded keypad functionality for access control
Specialist in IP access control systems, voice and image IP communication solutions, professional and security intercom systems, CASTEL will present at IFSEC its know-how, as well as its latest innovations.
This new intercom solution has been designed on an open full IP architecture and uses an open SIP protocol, as used by telecommunications companies for voice over IP.
The new Xellip digital IP intercom station enables audio/video communications with a coded keypad functionality for access control. The audio is full duplex (2 way audio) and video is via a colour digital video camera that can also stream the signal to 3rd party devices for recording.
Calling other intercom stations on the LAN is a simple action with the user either direct dialling the station number or using the in built directory.
Xellip is compliant with DDA requirements as is the requirement for most commercial applications today.
Open SIP protocol technology and interoperability means that Xellip uses non-proprietary and open protocol: RFC3261 standard and the most common audio and video codec (G711, H263,H263+, 264) ensure our openness to other systems. It allows ease of integration with IP PABX systems (IP Telephone systems) and thus re-defining the term "True IP Integration".
Xellip is the only SIP Intercom product on the market that can work on existing networks without the need for dedicated VLANS or dedicated Cat5 cabling infrastructure.
With its inbuilt web interface, programming is also easy making on going management straight forward. IT managers can easily access the unit remotely to change access codes, divert calls or even updates directory names without leaving their office.
To complement the Xellip digital IP intercom stations there are also IP desk stations for office environments and wipe down versions for use in hospitals, medical facilities, and food preparation areas.
Download PDF version