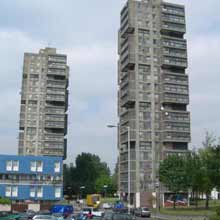 The existing door-entry system has been replaced with ISM's Ultimate 3000 audio and video telephone system
ISM continues to dominate the local authority and housing association door-entry market with two more high-rise installations in south London tower blocks at Amesbury and Durrington. Working in conjunction with installation partner, SCCI Alphatrack, ISM designed, supplied and commissioned the project for Lambeth Living, one of London's largest housing associations.
The existing door-entry system, operating across both buildings, comprised 160 flats and has been replaced with ISM's Ultimate 3000 audio and video telephone system. After many years of use, the old system was deemed non-serviceable, as spare parts were no longer available. Renewal was the only option for the housing association if ongoing operational and maintenance costs were to be kept at acceptable levels.
Designed and manufactured by ISM in the UK, The Ultimate 3000 system is an innovative product, developed to meet the precise needs of local authorities, housing associations and their tenants. Both towers can be configured as a simple single exchange, but it is also possible to network them using Genesys, ISM's patented control room management software. Benefits to the local authority include a reduction in manpower on-site, enhanced resident security and the ability to integrate CCTV, digital recording, fire and intruder alarms.
ISM was chosen to supply the equipment and was able to reduce installation costs significantly by making bespoke chassis that could be easily fitted into the decoder boxes on each landing. Video door-entry phones, available with a concierge call button, were replaced in each flat using Cat5e cable. At the entrance to each building, Ultimate 3000 digital vandal-resistant panels were installed; these are particularly well suited to harsh environments.
Grant Jenkins, Sales Engineer at ISM, said, "We've built up an enviable track record over 25 years of installing this type of system into large residential buildings for many local authorities in London. We're naturally the first choice when any of these tower blocks come up for tender."
Download PDF version
Download PDF version