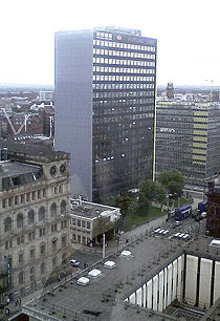 Property developer Bruntwood operates a large portfolio, and amongst the current projects in hand is the initiative to convert large multi story tower blocks into multi occupancy quality buildings.
When security was needed on fire exits they turned to the Alpro Hardware Division of IEC Limited to solve the problem. Installing ES7000 series hooklocks proved to be the answer both in terms of security and aesthetics.
The small and compact ES7000 hooklock is easy to install and once installed sits unobtrusively at the head of the door. It offers a viable alternative to the more traditional type face-to-face surface mounted magnet, having a holding force five times the holding force of the equivalent magnet.
The unit is available in both fail open and fail secure modes and has the added ability to operate under high side loads making the unit ideal for high security applications.
"We needed to be able to supply a product on this project that fulfilled both the security and fire exit requirements," commented Nick Bartlett, Alpro's Areas Sales Manager. He continued: "The ES7000 meets all of the criteria required and is also a very cost effective solution for this type of project, another example of Alpro's stated intention of understanding customer needs and reacting quickly to resolve issues."
Download PDF version
Download PDF version